Elves: I have a confession to make about elves. You know the Elf on a Shelf thing? I really shouldn't admit this publicly, but I'm a fan.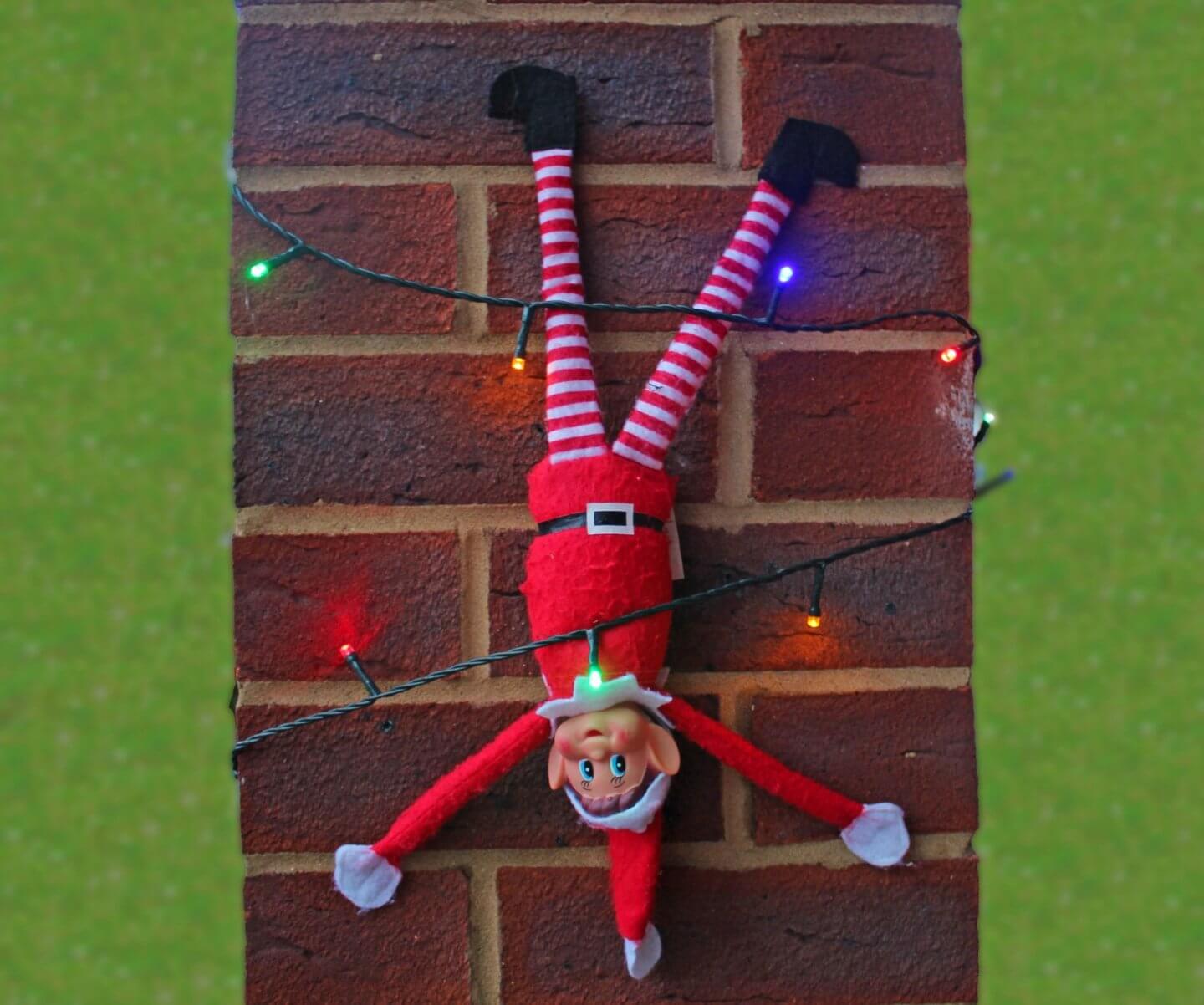 I know, I know, this is probably one of the most contentious issues surrounding Christmas. I'm sorry, okay? I'm really, really sorry but I've got quite into hiding elves around the house.
I really shouldn't enjoy it, but my kids love it when they find an elf in the most ridiculous situation. It's just such. . . fun. It shouldn't appeal to an individual of my age (or any age for that matter) but it just does.
I feel a great sense of accomplishment when I pull off a classic that makes my kids laugh. I got the best response the time I set-up an elf up so it was scaling a rope outside the house.
Then again, earlier this week both kids were impressed to discover there was an elf stuck underneath the rear windscreen wiper of the car. It's arms and legs were spreadeagled, it's face pressed up against the glass looking into the car. It looked really good and both kids found it hilarious on the drive to school.
The elf zip slide was another big hit. In fact, I may set another one up in a day or two because the kids loved it as the elves flew down the zip wire I built on the stairs.
Of course, it's even funnier when something goes wrong. I once hid an elf outside the house, looking in through a Velux window. It would have given anyone quite a surprise if they had looked up.
What I hadn't accounted for was the fact the weather would take a severe turn for the worse before my daughters, Helen and Izzy, could see the elf. What they actually found was a bedraggled, soaking-wet elf lying face down on the patio because it had slid off the Velux window in the wind and rain.
Yes, this is a guilty pleasure. A very guilty pleasure in fact. When it comes to Christmas, I am something of a purist. I like Nativity scenes, I like carols and I like to be reminded about the message of hope at the centre of the celebrations.
Elves, well they don't really fit in to the Christmas story. I had to think long and hard before I realised elves are meant to be helpers for Father Christmas.
Even then, just how has an elf in vile polyester clothing and a terrifying face come to play a part in our family's Christmas? Had such a concept been around when I was a boy, I would have been told in no uncertain terms that elves would not be hidden around the house.
I have considerably better things to do with my time as well. No matter what deadlines I am trying to meet, during the month of December I will take out the time to make an elf zip slide, leave an elf dangling outside the front of the house or spring load the thing so it blasts out of a school lunch box when it's unzipped.
So yeah, my love for Elf on the Shelf makes me feel uncomfortable, but love it I do. Judge me all you want.
Oh, um, the spring-loaded elf in the lunch box, I haven't done that one yet. I'm still working on it. Expect a follow-up blog post when I do.
Interested in this blog post? Well have a read of these...