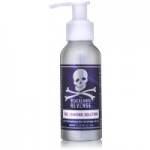 Regular readers will be aware that I recently shaved off my stubble so that I could experiment with a range of different shaving products. It was an interesting couple of weeks because;
a) nobody commented on it, not even my wife and
b) I developed a strange habit and kept stroking my face because it felt so unnaturally soft.
These issues aside, some of the products that stood out were produced by The BlueBeard's Revenge. It's shaving lotion was particularly impressive and I will certainly use it next time I go clean shaven.
One of you has the chance to win a bottle of The Bluebeard's shaving lotion and cooling moisturiser. These two products have a combined value of £19.98. It's very easy to take part, just follow the Rafflecopter instructions below.
Gender neutrality is very important to this blog so please don't think this giveaway is only for the men. It clearly says on the Bluebeard's website that the shaving lotion might prove useful for women who are in the habit of shaving their legs.
Having discovered a rather amusing online pirate translator, I shall now wish you all the best of luck in pirate talk: Extra best 'o luck to all ye pirates that enter th' giveaway. I woe ye reward be Bluebeard's treasure.
Interested in this blog post? Well have a read of these...