Under normal circumstances, I have a regulation 1mm of stubble on my face. It's been this way since child number two arrived back in 2012.
At first this lax shaving regime was down to laziness but my wife very quickly grew to like it and so it stayed. Finding myself with several different shaving creams and lotions and knowing that some of you will be looking for Father's Day gift ideas, I have gone clean shaven so I could test them out. Outlined here is a round up of my experiences and thoughts.
The Bluebeard's Revenge Shaving Solution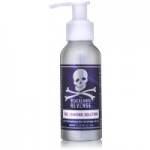 I gave this stuff the hardest job of all. I used the shaving lotion on day one, when my stubble came off. In the past, when I've removed stubble after having it on my face for a protracted period of time, the result has been horrible, regardless of the shaving cream I've used. It's often left me feeling like I've had sandpaper rubbed over my face. Having had such difficult experiences in the past, I didn't go into this expecting much of The Bluebeard's Revenge.
In fact, I was very, very impressed with the results. The manufacture's website states that the shaving solution contains ingredients that help the razor to glide over the face while having just enough contact with the skin. It also contains Decelerine which is found in shaving balm and moisturises the face. Based on my experience, these ingredients come together to work very well.
The shaving solution was easy to use and the nice thing about it is that it doesn't fluff up all over your face. This means you can see exactly what you're doing, unlike rival products that leave you covered in an opaque white film.
When finished, I was left with an incredibly smooth face and neck. I didn't have a single cut or blemish and there was certainly none of the sandpaper-like discomfort. I liked this product a lot. Expect to pay £9.99 for a 100ml tube. Available from Asos, Amazon and Holland and Barrett.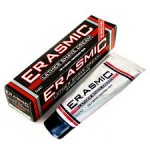 Erasmic Lather Shave Cream
This is best described as a no-nonsense product. In fact it's just one from the large Erasmic range of shaving products. There are no gimmicky slogans and no flash packaging. I've seen different prices quoted but expect to pay around £1.99 for a 75ml tube. At this price, Erasmic is the option for any individual who is on a budget.
Erasmic contains camomile and glycerin to lubricate and moisturise the skin. There's a reason it's called lather shave cream; it certainly lathers up with ease when mixed with a little water.
I found it to be a perfectly serviceable shave cream. The results were good and I've noticed from looking at online grooming forums that there seems to be a loyal customer base that considers this a very traditional product.
That said, I was left a little sore around the neck. I also found it a little heavily scented for my personal taste although that will obviously be down to each individual.
If money's tight or you just want a basic grooming product with no frills, Erasmic would be ideal for you. Stockists include the Savers chain of stores.
Bulldog Original Shave Gel
Bulldog makes a big thing of using natural ingredients. The shave gel is no different and boasts aloe vera and jojoba as part of the eight essential oils included in this product.
It promises a smooth shave and didn't disappoint. My razor seemed to glide effortlessly over the skin and didn't leave me with any soreness or irritation. There was also no discernible scent.
At £3.99 for a 175ml tube it's also not going to damage your bank balance. At this price, it represents very good value for money. Bulldog is available form a number of high street outlets including Sainsburys.
His Heaven aftershave balm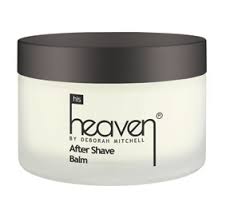 This un-perfumed aftershave balm comes from the Deborah Mitchell range of products. I have rarely bothered with after shave balm in the past because I generally want to get straight on and moisturise. This stuff, however, has changed my opinion. It was fantastic, although with a price tag of £55 for a 50ml jar, you'd certainly hope it would do a good job.
It contains tea tree, along with other anti-ageing ingredients. The Deborah Mitchell website states it can be used "liberally" depending on preference, i.e. once or twice a day or simply once a week.
As I've already explained, when I initially lost the stubble I was expecting my skin to feel very tight. The shaving solution was great but I used some of this afterwards and I'm sure it was beneficial. I didn't feel like I had to mosturise the bottom half of my face. I've been using it ever since and I'm going to be rather sad when the jar is eventually empty. If you can afford this option, it's weel worth considering. Available from the Deborah Mitchell website.

Interested in this blog post? Well have a read of these...