Is this a colourful, eye catching example of urban art or a shambolic, unruly mess? It's up to you to decide!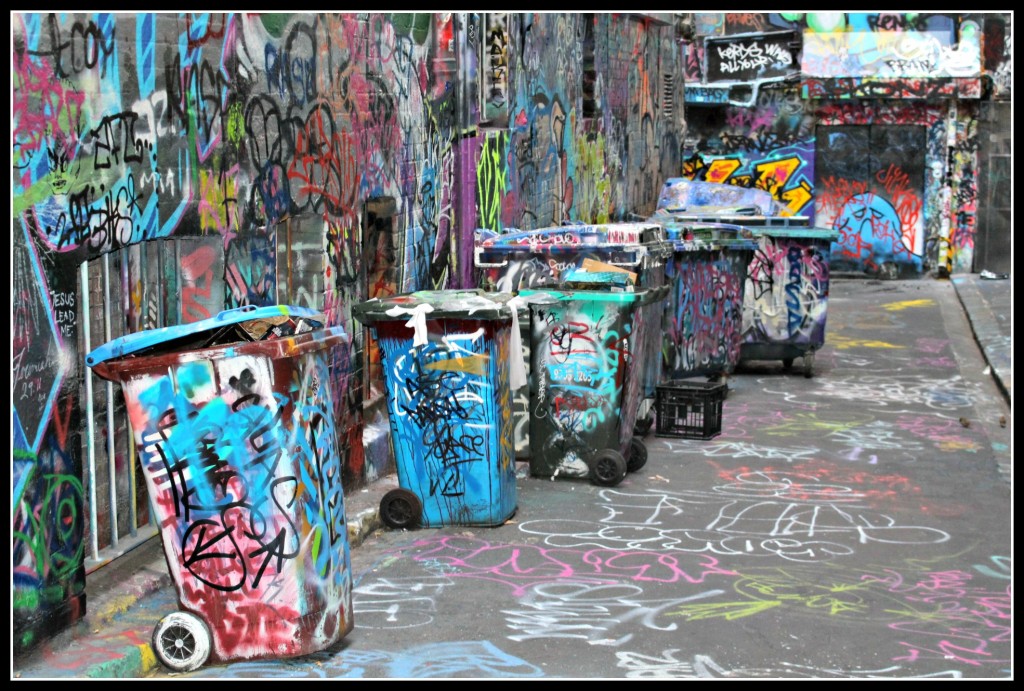 I took this photograph earlier this week when I made a brief visit to Melbourne in Australia (why was in Australia? Click here or here to find out more). It's of a back alley just off Hosier Lane in the centre of the city.
There are several streets, or lanes, in the city where graffiti artists go wild. If what I'm told is correct, the artists do this with permission from the city authorities.
Hosier Lane was the most heavily graffitied example I came across. When I visited on Wednesday, there was a constant stream of tourists posing for photographs and even a Chinese wedding party having pictures taken with the graffiti as a backdrop.
While exploring the lane, I ducked down a side street and was presented with this. As you can see, barely a centimetre is untouched. Even the bins and road have been painted.
Quote of the week has to go to my daughter, Helen. I was going through my photos with her and came across this one. Her response on seeing the picture was an absolute classic; "But it looks like Croydon daddy."
Alas, I have never seen anything quite like this in that much maligned South London suburb! There is a desperate shortage of palm tress, no kookaburra's and considerably less sunshine in Croydon.
Enough about the Cronx, as I have heard it called. I'll come back to the original question; unruly, mess or eye catching urban art? Please leave a comment expressing your opinion.
Interested in this blog post? Well have a read of these...