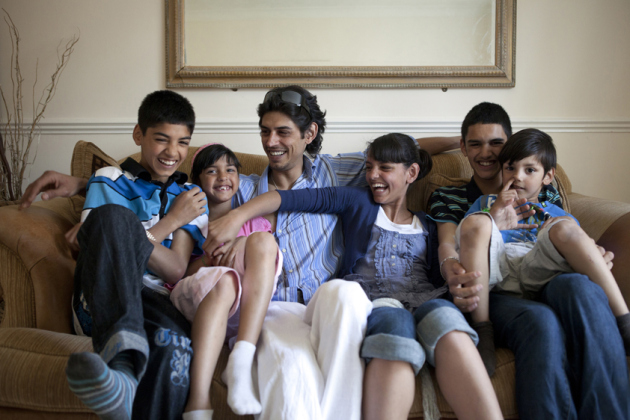 I met William Mcgranaghan a couple of months back. Billy is not only one of the tallest people on the planet but he's the founder of Dad's House, an organisation that provides help and support to lone dads.
One of the most striking facts I've learned from Billy is the huge number of lone dads in the UK. I'd have put the figure in the low tens-of-thousands but Dads House claims there are 200,000.
Put into context, there almost ten times as many lone mums. Although there are many more lone mothers, Billy believes lone dads are at a disadvantage because there is much less support for them. He speaks from first-hand experience having becoming a lone dad some years ago and you can read his story here.
Dad's House run a number of projects including free cookery classes, life coaching and social events such as football matches and pub nights. Most of these take place in London but it's now branching out with a UK-wide photographic exhibition.
Building on the success of a similar project with renowned photo journalist Natalie Naccache, Dad's House is to tour the UK with an exhibition of images of lone dads called In Dad's Shoes. The images were taken by Harry Borden who has over 90 pieces hanging in the National Portrait Gallery and has taken photographs of, amongst others, Tony Blair, Rupert Murdoch and Margaret Thatcher.
Billy said: "We want to champion the cause of the lone father by celebrating parental love, a notion which is not gender specific. By doing so we want to show that fathers are a relevant and much needed part of the family equation.
"The exhibition will also raise awareness of the kind of support available to lone and single fathers, so that they can access that support more easily."
You can see the exhibition at the Builder's Arms Pub, Kensigton Court Place, London W8 5BJ. Information about future venues will be placed on the Dads House website.  
Dad's House is also looking for sponsors to support this important project. If you are happy to do so then email info@dadshouse.org.uk. 

Interested in this blog post? Well have a read of these...