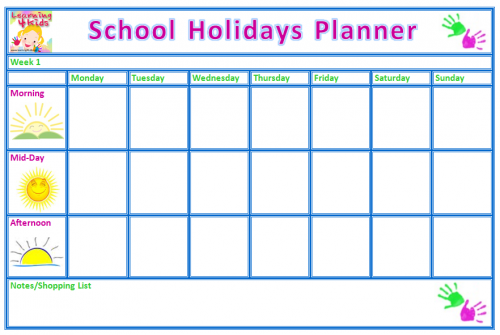 The Easter holiday is upon us. Like families across the world, we have taken a break from the usual crazy, demanding, morning routine. Even so, after a week of the holidays I find I'm missing the set pattern of getting the kids ready each school day.
I find there's a comforting certainty to it. You know what has to be done by what time. I know it makes life terribly regimented, but when the routine isn't followed for a protracted period, I get a bit lost.
I'll concede there's one element of the morning routine I don't miss; the school run. I am quite happy not to be making that journey by car twice a day.
I was fascinated to read the experiences of Tim, who writes the Slouching Towards Thatcham blog. Tim's wife recently went away for work, leaving him to run the household and handle the morning routine on his own for six days.
After several days, Tim got the hang of it and admitted he had a better idea of how he could help in the mornings. He also said he was looking forward to the return of his wife, although no surprises there.
I think it takes time to master the morning routine. When Helen first started school, I was dreadful at it. All it would take was a missing shoe or sock and the whole routine would come to a juddering halt. More than once my wife received a panicked phone call from me.
The call would go something like this;
Mrs Adams; "Hello"
Me: "No time for pleasantries. Yes / no question; have you seen the car key? / Helen's left shoe / Elizabeth's comfort blanket?"
Mrs Adams; "No."
Me; "INSERT EXPLEITIVE HERE Okay, thanks, bye."
The intention wasn't to be rude, I was simply in such a rush I couldn't stop. To be fair, what didn't help was that I was working part time during that period and had to get to the office.
On the days I worked, I also had to drop Elizabeth off at a nursery with an inflexible approach to serving the kids' breakfast. There was a notice on the parents' notice board clearly stating it would only be served at certain times (leaving me deeply unimpressed as it happens; I'm paying for this, you should make the effort to feed my child if I'm five minutes late). Things were so stressful in the mornings during that period that I used to joke with my wife that nothing was allowed to "f*** with the morning routine."
Over time I've learned to become a lot more organised and regimented. Much of the preparation takes place the night before (See this blog post that I recently wrote).
It makes for a calmer, more peaceful breakfast time and every now and again the kids get ready early and I allow them to have a play (don't be fooled, this doesn't happen often).
As I say though, we're in the midst of the holidays. I'm enjoying spending time with my children. It's great to spend proper time with them. Even so, I do miss the morning routine.
Interested in this blog post? Well have a read of these...