During last year's Christmas holidays, Mrs Adams and I had some casual discussions about moving house. We weren't convinced that we were in a position to move, but family members and enthusiastic estate agents persuaded us otherwise.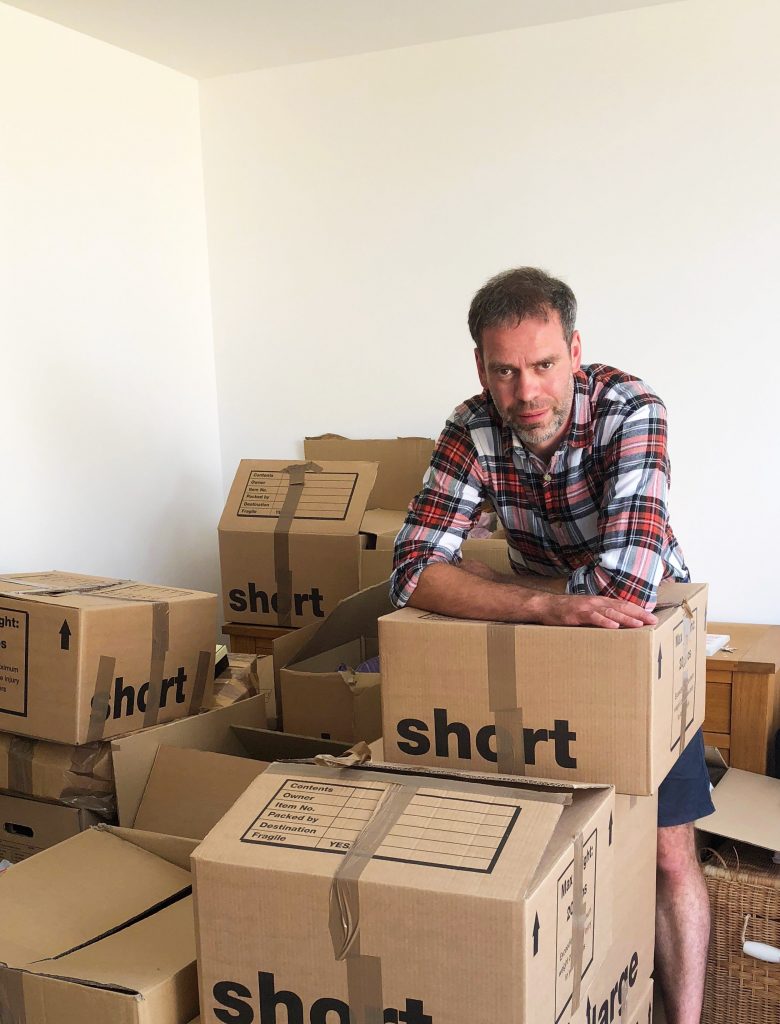 It's been a long journey, but six months later we have moved into a new family home. It's a journey I have charted on the blog, and what a journey it has been.
There's no question, it's been stressful. Our seller set a definite move date and we had to adhere to it.
As seems to be the way with an increasing number of house purchases, the exchange and completion dates were very close together. This led to complications booking a removal firm (as an aside, I simply have to say a big thanks to the guys from Fantastic Services who stepped in and helped with various aspects of the move at short notice. Expect more on the blog soon).
The move has also cost more than we expected. Although I had created a spreadsheet detailing all manner of projected costs, I hadn't allowed for our first house purchase to fall through after we'd paid our mortgage lender to value the property.
Having debated whether to go for an older property with character or a modern property that would be easier to maintain, we went for the latter. What we hadn't accounted for was the fact new properties seem to be designed to accommodate flat pack furniture. As a result, we've had to buy the kids new wardrobes because the solid, well built, perfectly serviceable items they did have wouldn't fit up the staircase.
That spreadsheet I mentioned? Well, we've veered right off it.
There have also been some humourous moments. Take, for instance, the Story of the Sofas.
Having acquired a new, large sofa before leaving our old house, we wanted to get rid of the two, small, old leather sofas that we'd had for the previous decade. A local charity didn't want them and so with some reluctance I listed them on a well-known selling site.
It looked like they weren't going to sell but eventually someone offered me 1p. I wasn't fussed by this, I simply needed the sofas gone so 1p was a definite improvement on paying to have them removed.
I was jubilant. I informed Mrs Adams that the sofas were definitely going to be rehoused.
The sale came to an end and it was only then I took a closer look at the buyer. He was based in Latin America.
The bid was genuine, but he hadn't realised I was based in the UK. He seemed to want the sofas a great deal and asked me to look into shipping them across the Atlantic Ocean.
Needless to say, I wasn't prepared to do that so had to refuse the sale. While this added to my 'to do' list, I couldn't help laughing about the situation.
As for the new place, we're still settling in. We had something like 66 boxes to unpack. I think we've managed to unpack about 40 of them so far. There's more to do, but progress is visible every day.
Several days after moving in, all of the bedrooms have a full compliment of curtains. If there's one thing that annoys me about moving house, it's being in the moved-in-but-not-using-proper-curtains stage.
Having shared a bedroom for several years, Helen and Izzy each have their own rooms. Now they have their own spaces, we're hoping they might keep their rooms tidier than the shared room they had in the old house. Yes, I appreciate this is possibly a little naïve, but the bickering that used to ensue when they were expected to work together to tidy their room was legendary.
The school run is also much easier from our new place. This is a major bonus as the school run from the old house drove me to distraction.
Although we've moved, I have to be honest and say it still hasn't sunk in.
We'd lived in our old house for about nine years. That's the longest I've been in one place as an adult and I don't think I'd fully appreciated quite how settled I was there. Not, you understand, that we've moved far, but some social connections are, I fear, lost forever and that's sad. I just hope I can quickly establish new connections.
There's still more to do. We need to install bathroom cabinets and mirrors. We also need a further sort out as our new kitchen is much smaller than the one we left behind. I think we're going to be giving away and recycling quite a bit of kitchenware.
I also have to completely re-arrange the garage. At the moment you can't move in there and a lot of it simply needs placing on some shelving that is presently empty and waiting to be filled.
Not, you'll understand that I'm complaining. I totally appreciate that we've very fortunate to have been able to move and that many people can't afford to buy. I honestly don't know what our kids will do. Family homes, I dislike the word property, it's too impersonal, is just getting so expensive. Who knows, it may not be a realistic aspiration for future generations.
Enough of my half-baked philosophy. It's still early days in our new house. I see a busy few weeks ahead but we're in and we're getting settled. As I sit here writing this, however, I simply wish I could find the power cable for my beard trimmer!
Interested in this blog post? Well have a read of these...