I took this picture late at night last Sunday when I unexpectedly found myself in Manchester (more about that in a moment). It's the view from Quay No. 9 on the Media City UK complex.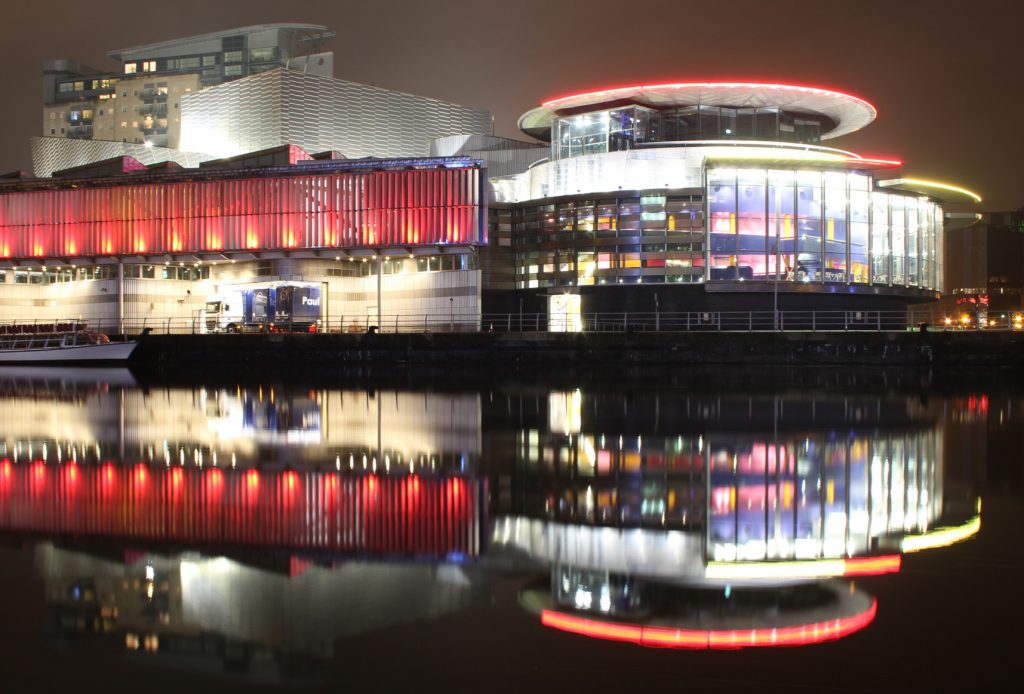 For some time I've been wanting to get a decent photograph of a reflection. While this isn't the flaw-free reflection I was hoping for, I like to think it is a reasonable first attempt.
I simply put my camera on a gorillapod, lined it up and adjusted it so it had a long exposure time. I suspect the slightly blurred effect on the water is a result of the exposure time being slightly too long.
Alas, I didn't feel all that comfortable dedicated further time to see if I could get a better picture. It was late at night, there were very few people around and I had noticed a scallie or two in the distance showing an interest in what I was doing. In fairness, they were probably completely harmless, but returning to my hotel seemed like the better option!
So what was I doing in Manchester? I had been asked to appear on the BBC Breakfast sofa with Sarah Jackson, chief executive of the charity Working Families.
We were both to go on air to discuss Working Families' latest 'Modern Families Index' and what's been dubbed The Fatherhood Penalty. I won't go into the details here, you can read about them in this blog post.
Unbeknownst to me, BBC Breakfast is no longer filmed in London, which would have been a short train journey. These days it is filmed at the BBC's Media City studios so I had to arrange some childcare and travel up the night before. It was a lot of effort but it was a great experience and for a good cause.
It also gave me the opportunity to go out do some urban photography late at night. I have linked this post to the marvellous #MySundayPhoto photography linky hosted by the brilliant Photalife blog. Please do click on the badge below to visit the linky and see what other bloggers have been getting up to with their cameras.
Interested in this blog post? Well have a read of these...