I shouldn't be writing this blog post. I had to have an argument with myself about the fact it would bring further attention to Piers Morgan and his high-profile comments about Daniel Craig using a baby carrier. I should know better, but I simply can't help myself.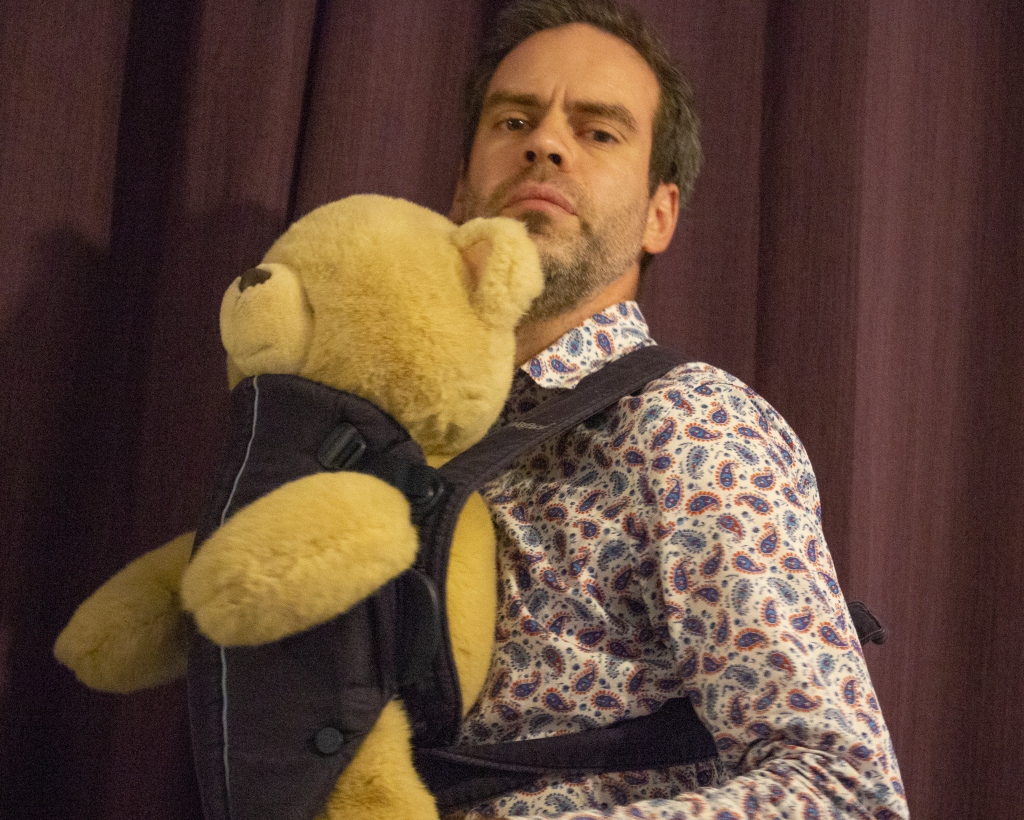 It's not the fact Morgan questioned Craig's approach to fatherhood that bothers me. It should bother me, but after several years as a stay at home dad and latterly as a school run dad (or whatever I should call myself), I am largely immune to such remarks.
What bothers me, offends me in fact, is that fact Morgan questioned Craig's masculinity. Do such attitudes really still exist in this day and age?
I once heard of a dad who refused to use a pushchair considering it women's work. This, however, was a story from 50-odd years ago and it's the only such story I have ever heard.
You've probably seen the remarks already, but in case not, have a look at Morgan's twitter timeline. In brief, Morgan said Craig was emasculated for using a carrier and went on to say that men who use carriers (he uses the US phrase papoose) are only doing so because their wives and girlfriends tell them to.
I've always felt that caring for children is a massive responsibility. It really doesn't matter if you're male or female, childcare is tough.
A baby carrier can make it that bit easier. They're not as bulky as a buggy, they're easier to use on cross-country routes and they leave your hands free to do things such as housework.
My youngest daughter never really took to being in a carrier. My eldest, however, lived in one for the first 18 or-so months of her life.
I took her everywhere and she never objected. If anything, I had trouble getting her out of the carrier.
In fact, when we recently moved house, we had a massive clear out. Helen's baby carrier was one item I simply couldn't part with. I have such happy memories of going for walks with her strapped to my front that I just had to keep it.
Among those memories was the time I took her into town in her carrier to get passport photos taken and she vomited everywhere, the time I had to turn her around in the carrier because the wind was bothering her, the mum and daughter who stopped me in the street to admire my newborn, the dad of five who did exactly the same thing etc. You get the picture. That carrier was an integral part of Helen's early days.
If anything, I feel a little sad that her sister never took to the carrier. Sure, we had a carrier for Izzy and used it from time to time, but she usually objected to it.
That aside, did I feel emasculated for wearing a carrier? The thought never crossed my mind. Did my wife tell me to wear a carrier? Absolutely not.
We simply don't have that kind of relationship. I'm just too awkward. If you tell me to do something, I'll do the opposite.
Now we come to the crux of my argument and my concern. Yes, this was little more than a social media spat. Yes, by this time next week we'll all be much more concerned with what Kanye West has said about Melania Trump's earnings or something equally vacuous, but us dads don't have all that many public role models to look up to.
Fatherhood doesn't have the same status as motherhood. We're slowly getting there, but dads remain below mums in the family pecking order and so the role models don't exist.
Young boys and teenagers don't need high profile individuals like Piers Morgan telling them what is and is not masculine, especially in relation to being a dad. Girls and young women don't need to hear that it's emasculating for a man to use a baby carrier.
Using that logic, it could be considered unladylike for a woman to wear a heavy crown, ride a horse and have ultimate command of the UK's armed forces. This, however, is an opinion I suspect you'll never hear said in public.
Morgan has been a judge on Britain's Got Talent, a television programme very popular with youngsters. He was also involved with the children's newspaper First News. As such, his words resonate with kids so comments like the one he has made should be used with care.
Masculinity comes in many forms. Men can be straight, gay, sports lovers, music lovers, artists, teachers, lumberjacks, ultimate fighting champions, ballerinas, whatever. Caring and being responsible for your offspring, I can think of nothing more masculine and this is a message youngsters of both genders need to hear.
Let us also spare a thought for the real hero of this tale; Daniel Craig. Whatever your thoughts about papoosegate, Craig rocked the dad look as he strolled around Manhattan.
With baby strapped to his front and straps from a rucksack flying around behind him, he looked just look I did when I used a carrier. It bought back many memories. As an aside, with his knee-length lycra shorts underneath loose-fitting running shorts, dad trainers and baseball cap, I think Craig has also done wonders to make it acceptable for men to wear activewear.
His most famous character, 007, is an unrepentant, misogynist hard-man. That image of Craig just quietly being a dad, that's the image boys and girls need to see.
Interested in this blog post? Well have a read of these...