Just the other day I was given the opportunity to try and answer an impossible question. The question was thus: Just how are men and masculinity represented in the media and how does this reinforce stereotypes or, indeed, reflect positively on men.
Luckily, I wasn't attempting to answer this question on my own. I was participating in a panel discussion at the Being A Man Festival in London with a motley crew of fascinating guys.
It was also a surprisingly popular session. Having been directed to an obscure room on the top floor of the Southbank Centre, I found myself being directed back down again to the Southbank's Clore Ballroom, a huge space that was almost filled to capacity by the time the discussion got underway.
In some respects, this was a bit of a homecoming for me as I found myself on exactly the same stage back in 2016 as part of the Women of the World (WoW) Festival. On that occasion, we were discussing the division of domestic chores in a session chaired by none other than Laura Bates of the Everyday Sexism project. It was great to have the opportunity to return to the Southbank Centre and share my views at WoW's counterpart.
The participants
Chairing the session was Chris Hemings, a journalist and author of Be A Man – How macho culture damages us and how to escape it. The other participants were myself plus:
Clive Mason, a sign language specialist, deaf-person's advocate and the longest serving presenter of See Hear
Cliff Jaonnou, editor of Attitude magazine
Mahtab Hussain, an artist whose work focuses on multi-culturalism and cultural diversity
Neil Stanhope, who established and runs the digital agency Underscore.
My thoughts on Men in the Media
I was invited to participate through my links with the Movember charity. I was present to discuss issues surrounding men's mental health and how they are poorly portrayed in the media. With my background, I had a particular interest in sharing my thoughts on how the media portrays fathers.
It was impossible for me to speak at this event without talking about the new BBC sitcom Motherland. If you haven't seen it, the show portrays life for a bunch of alpha-mums whose children all attend the same school.
I confess, I have watched the show. I have laughed at it and even related to some of it. Even so, the show has left me feeling deeply uncomfortable at times because of the way it represents both men and women.
The few men that appear in the show are two-dimensional. They are either camp, effeminate stay at home dads or alpha-men, uninterested in family life and found on the golf-course, stag weekends or team-building weekends with colleagues.
Motherland's portrayal of men encapsulates everything that is wrong with the media's portrayal of modern fathers. It features none of the men who I regularly see in the playground on the school run. There are no men who work from home, it features no men who work four-day weeks so they can spend a day a week with the kids or men who work shifts and do the school run when shift patterns permit.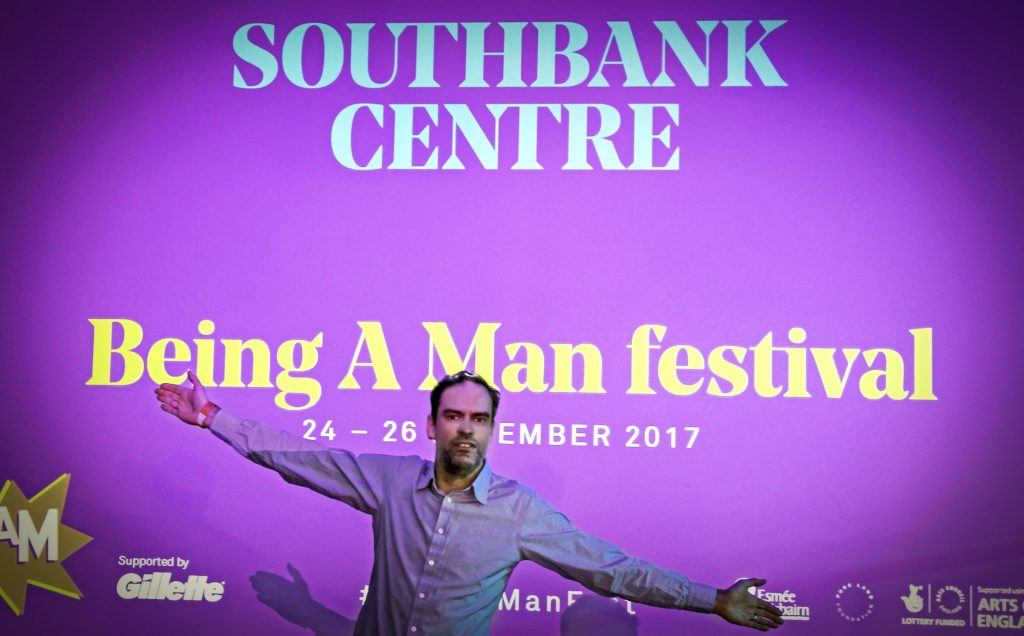 It's unfair of me to simply point the finger at Motherland. I could say similar about Outnumbered, Coronation Street or the mainstream news media. There is very little recognition of the fact many modern fathers, unlike previous generations, are trying to have it all: career, relationship/marriage and be active, involved fathers. As with many mums, they find the strain of 'having it all' too much and this leads to mental health issues (read the story of Chris Livett, something I published on the blog just a couple of weeks ago to celebrate 10 years of Movember operating in the UK).
The crux of what I was saying is that fatherhood is rarely represented positively or realistically in the media. Dads do not deserve special treatment and the negative aspects of masculinity should be highlighted. All the academic research, however, shows an involved father has major benefits for himself and his children and this message rarely seems to feature in the popular media.
Other points of discussion
Clive Mason offered a fascinating perspective. He put forward a challenging argument: When do you see disabled men in the media? The answer, of course, is hardly ever.
He also made the point that being deaf can be a lonely experience. Mental health issues among the deaf are higher than the general population and their under-representation in the media does not help.
Challenged about the gender pay gap, Neil Stanhope said his business simply could not exist without the efforts of women. He was also very candid when asked about being a breadwinner and admitted he had many roles as a businessman, business owner, husband and father. He also said his business suffered because he doesn't get in to the office until 10 or 11 in the morning as he likes to dedicate time to his kids in the mornings.
Mahtab Hussain had a lot to say about Asian men struggling with their identity. This could be down to faith and ethnic background and many, he felt, are seeking solace in 'bigorexia'. This is when men take to the gym and build themselves up, developing an identity as a strongman. Along the way, however, they can develop body confidence issues.
One of the first statements Cliff Joannou made piqued my interest. He said that 24% of homeless people identified as LGBT. It had never even crossed my mind this would be a particular issue for gay men and women.
Joannou also went on to say that masculinity can be defined at a young age by toys and other influences. By the time boys are teenagers, their views on what it means to be male are often entrenched, he said.
As for Chris Hemmings, he had quite a bit to say about the way the advertising world works. Men are fed certain ideas about what it means to be a man. Through role models such as the model David Gandy, men are being sold the idea that James Bond is the ideal man. It doesn't acknowledge the fact men have many different interests or backgrounds and that masculinity means different things to different people.
Pizza with the family
With the session completed, I had to dash off to catch up with my family and have a late lunch of pizza. I did, however, accompany my meal with a couple of masculine beers (drunk from a glass, not swigged from the bottle).
This was a fascinating and good-humoured discussion to participate in. It's also a subject that I feel should be discussed more. Failing to represent boys accurately in the media could do enormous damage to future generations. There's huge discussion about women and body shaming, positive body image, work / life balance and so on but us guys have some catching up to do.
Would you agree? Or maybe you think the media represents the world very accurately? Please do leave a comment below with your thoughts and ideas.
Interested in this blog post? Well have a read of these...