This parenting thing: it's a constant battle to fit square pegs in round holes, right? This is what it feels like to me.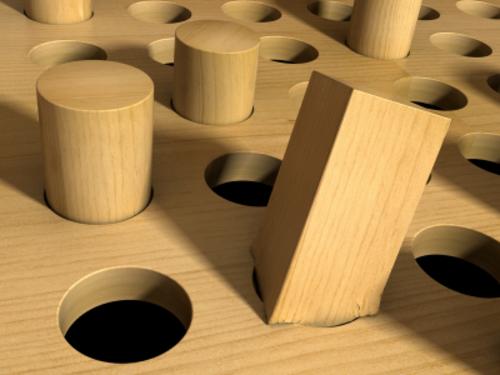 To be honest, I think I'm having a bit of a tough time of it because of the developmental stages of my kids. Izzy, our four year old, has reached an age whereby she is forming her own very strong opinions.
Needless she has always had her own opinions. These days, however, her opinions are very strongly held indeed. Very, very strongly held.
A declaration that we're going to the park is no longer met with: "Yippee, can I go down the curly slide?" Instead the response is often: "Oh, I don't want to do that. I want to watch Paw Patrol."
Persuading her to do something other than what she wants can be tricky. I've learned that she has to feel like she is in control. Giving her a choice sometimes works.
"We're going to the park, which would you like to go to?" will get a more positive response. Even then it's not universal.
She's also become an expert at wanting something awkward just as we're about to walk out the door on the school run. "Daddy, can you please get me my owl toy, you know the one with the two brown ears and wings."
This will solicit a blank stare from me and a meltdown from the little one if I refuse to do it. Having to trawl through all the kids' soft toys to find one particular item when I have to get her older sister to school on time is not my idea of fun.
In fact we've had to have words about looking for lost toys between eight am and eight thirty in the morning. Izzy is having to learn that it's simply not the done thing.
Then we have her older sister, Helen. Her stunt, just as I did when I was her age, is to start building LEGO models at eight am. Persuading her to stop so we can get top school on time can result in a sulk.
Age is also an issue here. Helen is also forming her own opinions of the world, but for very different reasons.
She's now in Year Three at school and has reached an age where things have to be "cool." This moment was always to come and I guessed it would be around this age, even so it's a bit of a sad moment. It shows she's growing up and peer pressure is coming into play.
Just the other day she had a non-uniform day at school. Mrs Adams and I had some ideas about what she should wear but no, Helen had to wear a particular top and red dress.
On this occasion her choice was very good. Even so, persuaded her not to wear the pink tights as they clashed spectacularly with the red dress she wanted to wear. It would have been reminiscent of the  art teacher at my old secondary school who expressed her artistic side by wearing clashing colours.
In addition to getting fussy about clothes, she refuses to wear plimsolls in her PE lessons. These days it has to be trainers and her Mr Man drink bottle has been retired from use in favour of something more grown up.
That last one doesn't surprise me too much. It's just a sign that she's growing up I guess.
I am realistic. I never expected or expect my kids to do what I want all the time. At this point in time, however, it does seem like life is a constant battle to fit the proverbial square peg in to the round hole.
Worst thing is, I bet those of you with older kids are probably going to tell me it doesn't get any easier. Come on, someone prove me wrong please?
Interested in this blog post? Well have a read of these...