May I introduce you to Martin Williams, working dad and founder of Radar PR? Martin is the fourth individual brave enough to feature in my series about men who set up their own companies to achieve better work / life balance.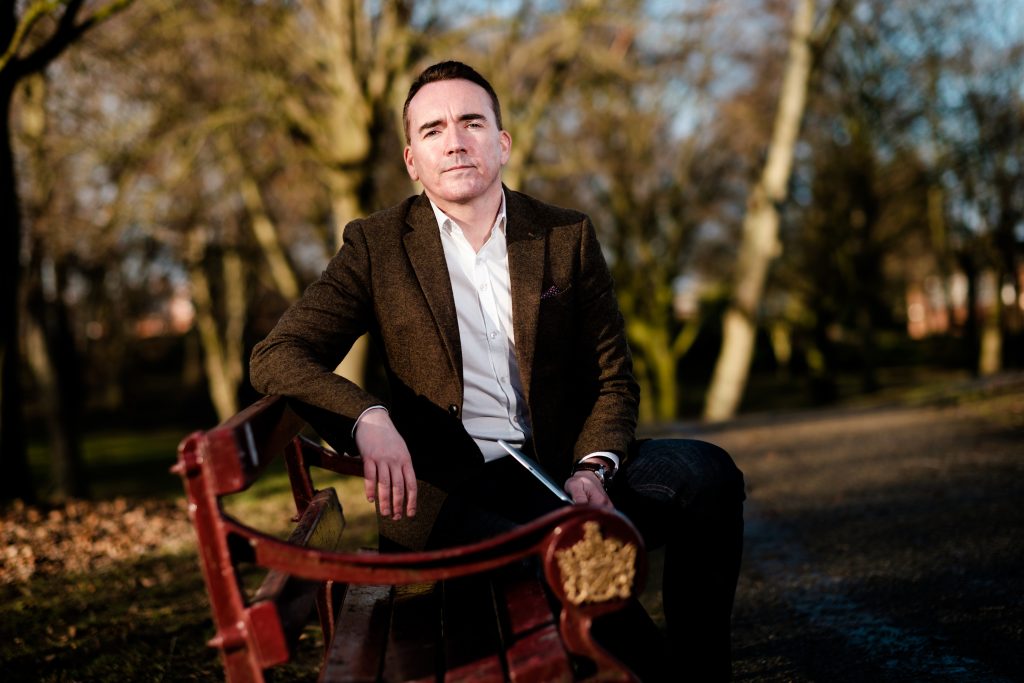 When I started looking for dads who had taken this route, I was, to my surprise, inundated with examples from the PR world. I was contacted by so many I had to turn people down because I wanted to represent a broad cross-section of occupations. 
I used to work in communications and PR myself so when my email inbox was getting stretched to breaking point from dads working in the PR world, it made me reflect on my experiences in the industry. There are a lot of small, boutique PR agencies run by women who balance their job with family life. It made sense that there must be some guys doing this too. 
In this interview, Martin made some great observations about working culture. He queries the culture of presenteeism and why staff should use holiday entitlement to attend sports day or something as mundane as a dental appointment. He also talks very candidly about sharing childcare with the mothers of his three children. Have a read and see what you think. 
1) You'd better start by providing some background to Radar PR.
My company, Radar PR was launched on Valentine's Day this year – it's just me, working from home in Prestatyn with an occasional office in nearby Caerwys. I predominately provide PR, photography and social media services, but am also experienced (I don't like the word expert, we can always improve and learn) in crisis communications, video, copywriting and digital media.
2) Why did you set up Radar? presumably you had a conflict between work and family life?
After 20 years in paid employment – 15 as a journalist and five as head of communications at Wrexham Glyndwr University – I felt it was time for a fresh start. I had become a little stale, at least in my own mind, and felt I had taken the role as far as I could.
For years I had been referring businesses and friends to other people, so I thought – if I were to do the work myself – it was something I could make a living out of eventually. Around about the time of my 40th birthday, having just trekked the Sahara desert for a cancer hospice, I decided to go it alone.
The home-life balance was certainly a factor. Up at 6.30am and out of the house for 7.30am before an hour-long commute to work, and the same coming home. I would pick up the children at 6pm, and have less than an hour with them before bed. That's not how I wanted it to be for the rest of their young lives.
3) Better tell us all about your family, how many kids, ages and whether they are at school / nursery etc.
Harry is four, Olivia is seven, and Mollie is 16. Harry and Olivia are at school in Rhyl, while Mollie has just taken her GCSEs at school in Penrhyn Bay.
4) How do you and your other half organise childcare? Is it a 50/50 thing or how does it work?
Mollie is from a previous relationship and I have her every weekend. My ex-wife and I sadly separated three years ago and share Harry and Olivia 50/50. All amicable, and we both get to see plenty of them. Of course, it's never enough. Waking up without your children at home is the most difficult and heart-wrenching feeling in the world, but I've become almost numb to it. It's always tough, but I've learned to manage those emotions as best I can.
5) Do you think employers appreciate that technical advances mean most office based roles can be dome remotely (this is a bug-bear of mine! I think most employers are stuck in the dark ages).
I personally believe you can now do the majority of jobs remotely, especially office-based and administrative positions. My role can be done from anywhere. I visit my clients regularly but all I really need to do this job is a mobile phone, a laptop and a pad and pen or dictaphone (or mobile) for taking notes.
In my last job this became a factor. If people do not see you sat at your desk, no matter how diligent you are, they believe you're not working as hard as, say, someone who is sat at their desk all day looking out of the window doing nothing.
They feel your presence is more important than your productivity, which I think it an archaic and ignorant view. You trust your staff and make life as flexible as possible for them then they are more likely to be happy in their work, go the extra mile and be loyal to their employer.
Forcing them to take annual leave for a sports day, dental appointment or other small slots of time is also a bugbear of mine. Most of us go over and above our hours and job descriptions (I certainly did) and that should be taken into account, not just for parents but everyone.
6) Do you believe the Fatherhood Penalty is going to be come a huge issue in years to come (IE dads downgrading careers so they can strike a better work / lie balance) .
Yes, I think there's already been a shift in that direction. Equality works both ways, and like many fathers I want to spend more time with my children. This could result in dads facing many of the same pressures, particularly financial, that mums have over past decades, which would make it a struggle.
For example, taking a job with less hours or less pay, and stress, to be at home more with the kids. There really does need to be more support for working mums and dads, together or apart.
It's the same situation with parents – again, usually mums – who are forced to completely quit their job because childcare is so expensive. I've seen that a lot, and it's a source of frustration for them.
So much money is thrown at people who have no interest in applying for or finding a job, rather than those who do want to work but are hamstrung by the financial implications of being a parent in 2018.
7) What do your kids think of your working arrangements?
They love it. I am a ten-minute drive from their school and will never again miss a sports day, nativity play or parents' evening.
The children are a big part of the business and as my office doubles up as a haven for their toys and teddies, they've labelled it the 'Radar Room' and even made me a big poster for the door.
It's not my company, it's our company. They're very proud and love the fact that Daddy is able to pick them up earlier so we can spend quality time together.
8) Can you ever see yourself going back into the workforce?
You can never say never, but I am enjoying the flexibility of being my own boss. I have been lucky to spend the vast majority of my career working for organisations that value their staff, have a friendly working environment and a clear vision of the road ahead.
I have many wonderful friends from those days and seeing them every day is something I do miss. That camaraderie. You don't get that sitting on your own at a laptop in a coffee shop or kitchen. There are pros and cons.
9) Any final thoughts you'd care to add?
I've always had the same ethos, from 2002 – when I first became a father – to 2018. The children are my number one priority. That will never change. It isn't easy balancing work, a family, children and the pressures of the modern world. As a single dad or mum it's even harder, but it is achievable if you know when to switch off and relax. That's something I need to do more. I should take my own advice!
More about this series of posts
If you'd like to read examples from other dads that have set up their own businesses to improve work / life balance, you can click on the links immediately below. I will be publishing more examples in the weeks to come.
If you have any thoughts on what martin has said or on improving work / life balance, especially for fathers, please do leave a comment below. You can also contact me on social media on all the usual channels at @dadbloguk.