In my latest article highlighting dads seeking to improve work / life balance, I speak to Claus Stig Christensen who runs classic car rental company BookAClassic.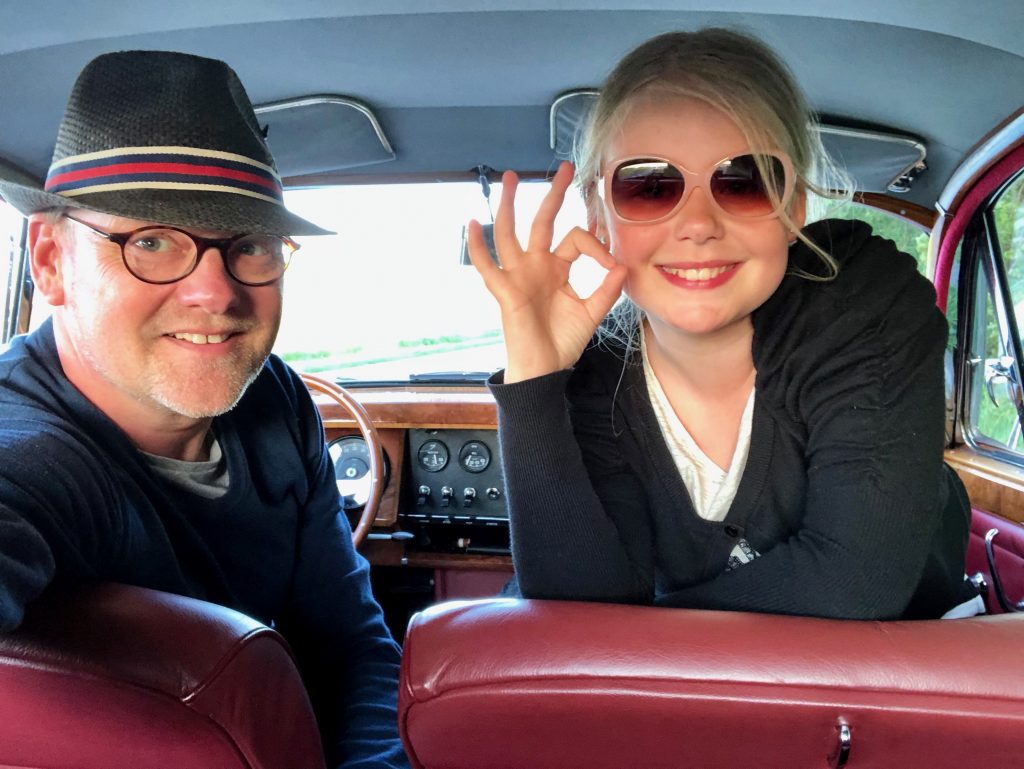 Claus is a single dad to his daughter Filippa. It was his story, told with great humour, that inspired me to start this series. While Claus didn't specifically set up the company to improve work / life balance, it has enabled him to combine his love of cars, family life and travel.
I think his story, rather like that of Alex Hirst, founder of the Hoxby Collective, shows how technology has a role to play in helping parents better balance their family and work commitments. While Claus is based in Denmark, BookAClassic and its staff are UK-based. Claus makes regular visits to Britain but tech frees him up to run the business from afar. 
Here Claus explains what inspired him to establish the company, how he makes it all work and what Filippa thinks of the cars.
Why did you set up BookAclassic? Could you not get the flexibility you needed to balance work and family life as an employee?
I set up BookAclassic because I saw a business opportunity that could combine my love for classic cars and traveling with my career.
It started when I was a poor student back in 1991. I did not have the money to store my Vespa for the winter so I came up with the idea to offer it as window decoration in fashion shops on the high street.
It took me just one hour and I had rented out my Vespa to three shops for the winter. And in return, I got clothing worth about £400 – this sparked the idea that classic vehicles could be a cash cow instead of a money pit!
In my twenties, I found an old Jaguar MKII and fell in love with it. It cost all the money I had but when I drove it, people approached me and asked if they could hire it for their weddings and events – even today it still gets attention when we're out.
Back then, I didn't have much money for spare parts and maintenance so I said 'of course!'. This kick-started the business and it made sense to rent out other people's cars as well.
I'm educated in exports so I thought why not try it in other countries as and see if they also like the sharing idea and they did! Although, I must admit, I didn't expect it to go global.
Being self-employed and a single dad is the perfect combination. I get to decide my working day and plan it around my family. Once she has cycled home from school, my daughter Filippa and I can walk our dog Benny, do her homework or anything else we fancy.
I can then pick up work again later in the day when she goes to bed. My working day is quite flexible in that way and that is lovely. All the travel I do to grow my second child BookAclassic is done the days when Filippa is with her mother.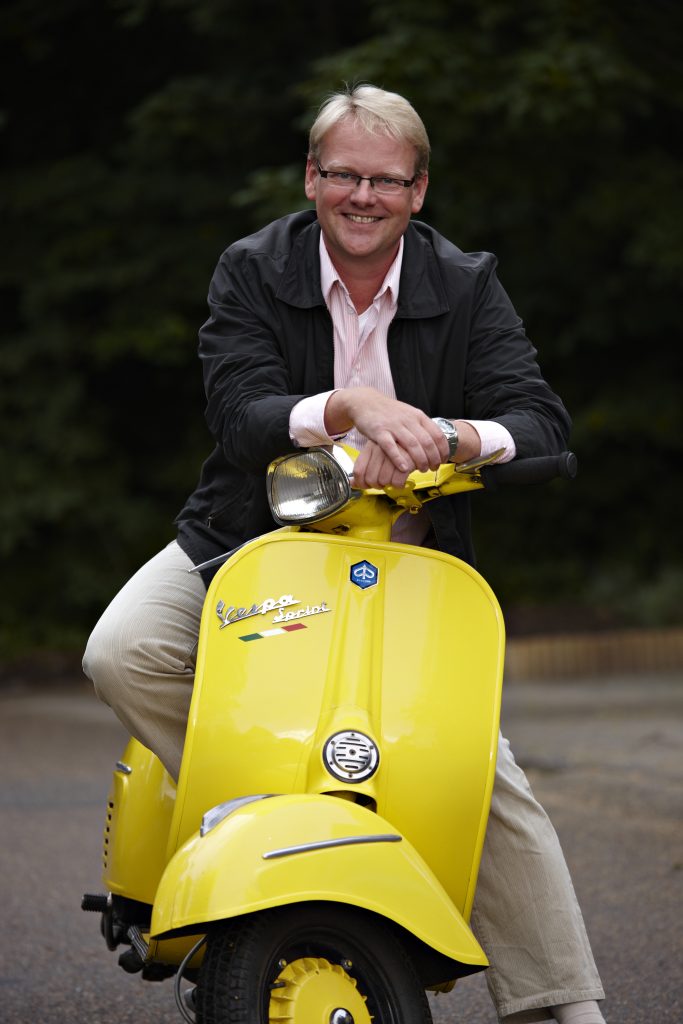 What can you say about your family's background?
I'd almost given up my dream of having kids but met a wild Swedish girl and was just having some fun before suddenly she was pregnant. Sadly the relationship did not last more then a few years after Filippa was born. The upside is that Filippa can't remember her parents living together so for her living apart is business as usual and it works well.
Even at two-years old she had me figured out, and knew how important she was to me. Cleverly saying: "Pappa, I'm the one that makes you happy!"
When I review cars, my daughters always give me their opinions on what I'm driving. Does your daughter Filippa give frank feedback on your classics?
Sometimes on a Sunday drive though the countryside Filippa will say of the Jaguar: "Listen Pappa, The Old Lady has learned a new squeak sound."
Yes, Pappa has noticed that as well…
Does Filippa have a favourite classic car?
She is quite loyal because when I ask her she says: "My favorite is our Old Lady." But I have a suspicion that she was a bit more exited with the Ferrari 430 Spider we took for a spin a year back.
I always tell her that she can accomplish whatever she sets her mind to, and we should work on her becoming the first female Le Mans drive to win it all. Although, I'm not sure her passion for speed and petrol is that big yet… time will tell.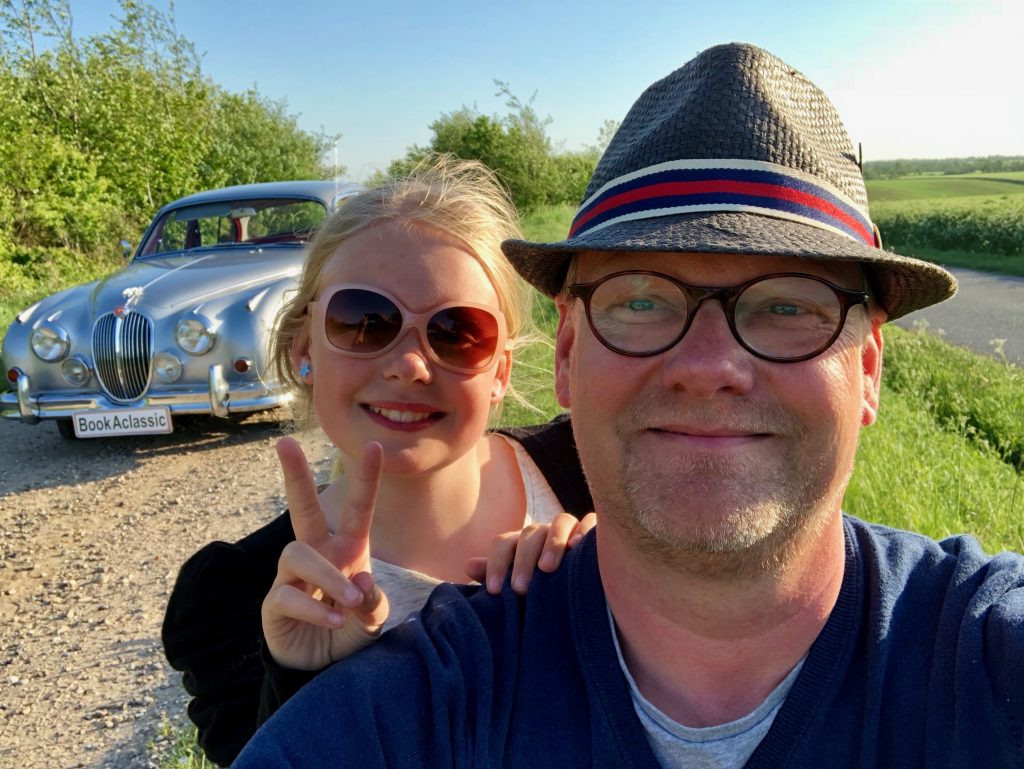 What classic car would you recommend for the family market?
Myself, Filippa and Benny are a small family so we could easily fit in to a classic Triumph TR6 or a Alfa Romeo spider but if it was a modern iconic car, it would be a Maserati GT. For now, our every day drive is a Mini Cooper. Filippa loves driving fast through corners in it but I'm not too sure Benny likes it that much, though.
More to come
This was the third in my series of interviews with dads who balance family and work commitments by running their own businesses I have several others planned in the coming months. I hope you've enjoyed Claus's story and if you have please do leave a comment below. If you like to feature in this series, please do get in touch as I'm always keen to hear from dads and how they balance work and family life.