Imagine being nine months pregnant and having a date in the diary to be induced. When you are induced, it fails. The pregnancy continues for over a year. For a variety of unfathomable reasons, visits from doctors become sporadic and no attempt is ever made at a C-section. Put very briefly, this is the fascinating storyline behind The Patient, the latest novel from Nick Tyrone.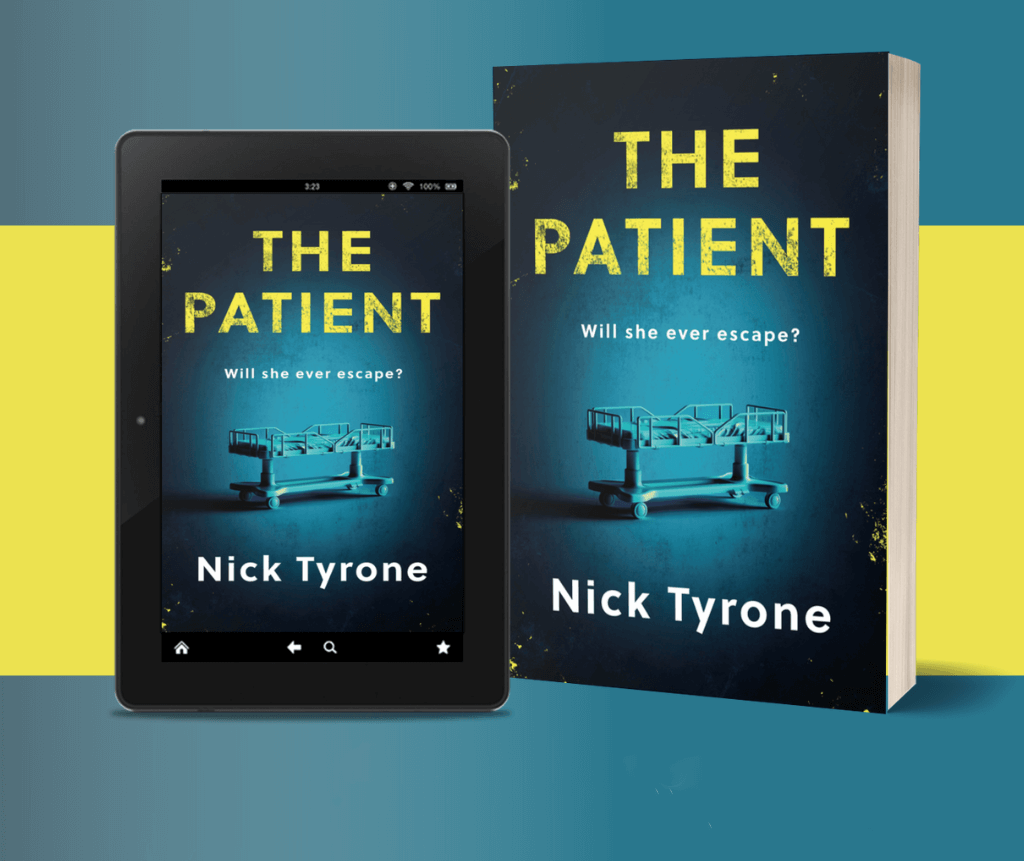 On the one hand, it's a very relatable novel for anyone that has visited a labour ward. On the other, it's a story that asks some serious questions about gender roles, fathers, how women are treated in society and the ethics of medical experimentation.
The novel starts as Mrs and Mr Sincope, a moderately successful, young London couple, make their way to hospital for Mrs Sincope's induction. Mr Sincope hasn't really given the birth or fatherhood any thought whatsoever. While on the way to hospital he promises his wife that he'll read up on the subject "later," which gives you a good measure of this pugnacious little man, a man who has simply assumed his wife will become a stay-at-home mum once baby Faith, as their daughter is to be called, has arrived.
Mrs Sincope, meanwhile, is emotionally scarred by her alcoholic father and a mother who nearly killed her as a teenager. She overcame these difficulties to have a successful executive career, only to enter into a marriage with Mr Sincope because she thought he was the best man she could get. Over time, her union with Mr Sincope, a man who loves a cheap polyester suit, sucks the confidence out of her
When the couple arrive at the hospital, the story really gets going. During the first few chapters of The Patient, I found Tyrone's description of the hospital a little confusing. It seemed to be a dystopian place of Tardis-like proportions with odd features like one-way windows in the corridors. The longer Mrs Sincope stays in this institution, however, it becomes clear this is no ordinary hospital.
Soon after arriving at the hospital, the mysterious Dr Blots enters the scene, the man who ultimately takes responsible for Mrs Sincope's care. He is an odious character with the worst bedside manner of any medical professional. He ducks in and out of the story as it progresses but in the final half of the book, his unhealthy interest in Mrs Sincope becomes clear.
Much of the rest of the book takes place in the confines of Mrs Sincope's hospital cubicle. Various nurses and doctors come in and examine Mrs Sincope, rarely asking for permission before inserting their fingers into her vagina to check on the dilation of her cervix, seemingly a comment on both her powerlessness as a woman but also a hint of what the final chapters of the book reveal.
Mr Sincope eventually tires of the situation. As his wife continues in antennal-ward limbo, he firstly returns to work before taking drastic action to avoid having to visit his wife in hospital.
In a pivotal scene, a female doctor, Dr Sharp, launches a failed rescue attempt so Mrs Sincope can be treated at another hospital. It says a lot that the only character to take pity and aid Mrs Sincope is a woman.
This is a book that really does have to be read until the very end. Only in the final few pages does the entire story come together thanks to a character called George. Once he enters the book, the loose ends start being answered.
I was a big fan of Nick Tyrone's previous novel Politics is Murder. Tyrone, who is a political journalist and policy specialist, was on home turf with that novel. It was a very funny, madcap adventure that followed a policy wonk on a murderous spree, taking out various dreary middle-aged men from within the Westminster scene.
The Patient is a different novel altogether. Tyrone's humour comes through in various scenes but two stand out. Both of these stand out scenes take place in pubs. In one scene, Mr Sincope believes his wife will shortly give birth so dashes into a nearby pub for Dutch courage only to discover it's a gay bar for older clientele who have a deeply troubling interest in long-dead footballers.
In another scene, Mr Sincope ends up visiting the worst drinking hole in Manchester while visiting, Gerry, Mrs Sincope's father. While a dog fight takes place in a back room of the pub, an argument ensues about whether it was correct for Mr Sincope to ask Gerry for his daughter's hand in marriage or whether such behaviour is inappropriate because it reduces women to property.
The Patient isn't quite as fast-paced as Politics is Murder. Then again, anyone who has ever spent time on a labour ward will know that giving birth is rarely a fast-paced activity!
Nick Tyrone has been very clever in how he handles gender issues. While we all know that men like Mr Sincope exist, I'd like to believe they are small in number, but I'm sure any reader will recognise something of Mr Sincope in various men they know. It also serves as a warning as to the direction medical experimentation could take in a post-Brexit, deregulated UK in which the dilation of a woman's cervix may well be measured in inches, not centimetres.
Of course, you probably want to know how long Mrs Sincope's pregnancy went on for. I'm afraid you'll have to read the book to find out. Suffice it to say, it was a very long time. Oh, and if anyone ever offers you large, pink pills, take my advice and politely decline.
The Patient by Nick Tyrone is published by Headline and on general release so available from all good book retailers. The paperback version has a cover price of £9.99.
You can check out my other book reviews by following this link.
Interested in this blog post? Well have a read of these...