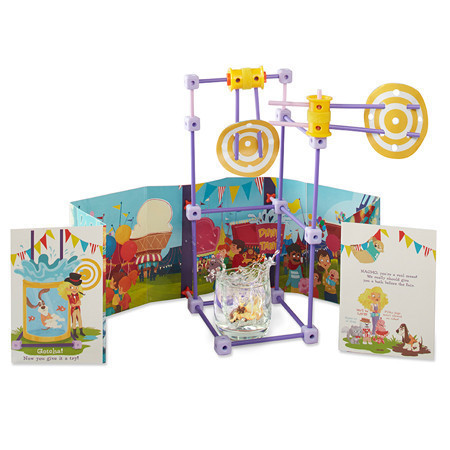 Goldieblox is a construction toy designed to appeal to girls. It's new to the UK market but has been available in the US for a while.
The concept was the idea of Debbie Sterling, an engineer turned toy mogul. Debbie is on a mission to nurture an interest in engineering among girls (apparently only 14% of the world's engineers are female). In her words she wants to "disrupt the pink aisle" of toys made specifically for girls.
On the one hand I applaud this vision. I have, however, got some concerns although I'll come on to that in a moment.
The kit that my eldest daughter, Helen, got to try out was the Dunk Tank. Using plans provided with the kit, you build a stand on which you sit a small toy. You place a small bowl or cup at the bottom and throw a soft ball at a target. Hit the target and the stand gives way, sending the toy into the water.
Helen loved it and we had great fun building the dunk tank together. Helen went on to make a number of other items including a helicopter and some bits and pieces that weren't quite recognisable. As far as I'm concerned this doesn't matter, she was having fun and she was using her imagination, which is what this kit is all about.
I should add the kit was in gender neutral colours; purple, yellow etc. There was no pink or blue in sight but the character Goldie Blox (note the character's name is two different words, unlike the company name) appears on all the packaging.
Helen quite likes construction toys so this has made a nice fit into her collection. So successful has it been that a number of the components have already been lost.
I said I had some concerns. They are, I confess, personal in nature. I think Goldieblox has laudable aims of inspiring an interest in engineering in girls. I would be delighted if one or both of my daughters became engineers.
That said, I struggle with the idea of any toy being marketed for a particular gender. One of the toys Helen plays with most is a magnetic construction kit that is marketed brilliantly to boys and girls (Oh, and yes, like Goldieblox it is US in origin. For some reason they take these things much more seriously Stateside).
That is no reflection on the product. It works well and Helen enjoys using it. If you're thinking of a slightly different gift for a young, female relative, this is one you might want to consider.
There are a total of five kits in the series including the Dunk Tank. They're meant for girls between four and nine years of age and kits cost around £20 each. They are available from Amazon and other retailers.
To see my disclosure policy concerning reviews etc please follow this link.
Interested in this blog post? Well have a read of these...