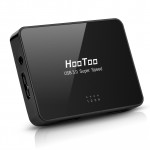 HooToo produces a wide variety of computer peripherals including several different multi USB ports. If your family is anything like mine, USB ports are in short supply with kids' toys, cameras, printers and the like all vying for space. This product (the HT-UH005 to be precise) is very easy to use; simply plug it into your PC via one of its existing USB sockets and that one port instantly converts into four.
I'd never used anything like this before and was full of questions. Would it make my PC work slowly? Would it be easy to transfer files between the various storage devices? Would it charge my iPhone?
I spent a morning with the HooToo plugged into my computer. I stuck two USB sticks into it, plus my iPhone and camera. I fully expected my PC to topple over but was very pleasantly surprised to find it continued to work perfectly. Swapping files between the various storage devices was straightforward and the iPhone silently charged without incident. In other words, I found it to work exactly as it states on the packaging.
As for the specifications, this model will work with Windows 7, 8, 98, Me, 2000, VP and Vista. It will also work with Mac OS 10.2 or above (I haven't had a chance to test it with an Apple device so can't comment on performance with these products).
The device is very small. It's about as thick as your average USB stick but smaller than a credit card so it wouldn't be too obtrusive on your desk.
One thing to note, however, is that it does require mains power. Needless to say, a power cable and data cable are provided.
I found the HooToo to work very well. If you need extra USB storage then this could be the tool for you.
Expect to pay around £17.99. You can buy the HooToo from Amazon.
Interested in this blog post? Well have a read of these...