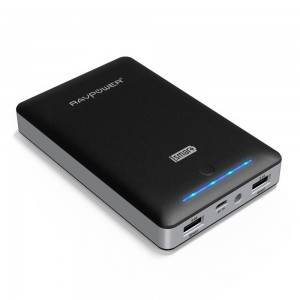 We've all been there; the moment you desperately need your mobile phone or tablet and it turns out the battery is completely flat. Friends of mine rely on battery packs similar to the Ravpower Deluxe 15000mAh. At long last I got my hands on one!
I'm sure you're all familiar with this technology, but this is basically a charger (also referred to as a battery pack). If your mobile / tablet is flat, you connect it to the Ravpower and it will charge the device.
I've been relying on this charger for several days and it has worked perfectly. It's taken an hour and a half to charge my iPhone completely and I have got several charges out of it.
The charger has two charging ports to you can charge two devices at the same time. One of the ports provides 2.4A of power so is slightly quicker than it's neighbour which gives out 2.1A.
You can tell how much juice the Ravpower is holding because it has four blue LED lights on the top. Each LED represents 25% of power so you know when to charge it and it can be charged either by plugging into the USB of a PC or via the mains.
In fact the LEDs flash while the device is charging. Although the LEDs are the wrong colour, it reminded me a bit of Kit from the original Knight Rider series.
A really great feature of this battery pack is the pure white LED on the front that's been designed so you can use it as a torch. It's a nice touch and it works well.
There are two comments I would make. One is that the charger cable is very short. It's not a show stopper, but this may cause problems every now and again depending on where you're charging the Ravpower.
The other comment I'd make is that I have seen smaller battery packs. Don't get me wrong, it's slightly larger than an iPhone so it's not huge by any stretch, merely that I have seen smaller chargers. That said, I think this is a particularly powerful product. On this basis, size does matter!
These items have been selling for £99.99 but they are presently available on Amazon for a considerably more wallet friendly £22.99. Shop around by all means but at this price I think this represents a good deal.
Disclosure; I was provided with a Ravpower Deluxe 15000mAh for review purposes. Thoughts and opinions are entirely my own.
Interested in this blog post? Well have a read of these...