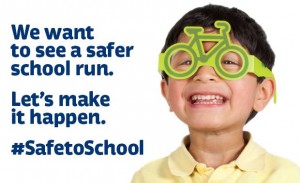 It's Thursday* and we're midway through our experiment to walk or scoot to school as part of Susntrans' #SafeToSchool campaign. I thought I'd give you a brief update to let you know how things have been going.
We started the week on Monday by scooting to school. I say "we", Helen scooted while I walked and pushed toddler Elizabeth in the pushchair.
I wouldn't normally let Helen travel to school this way but she thoroughly enjoyed the experience and told me it was "awesome". Unfortunately there was a small upset when she scooted into someone in the playground. I've decided that dad will take charge of the scooter when on school grounds in future.
The remaining journeys have all been undertaken on foot. Thankfully the weather has been on our side with glorious sunshine every day.
Interestingly, the one thing I've noticed from this exercise is that it can be very tough manoeuvring a pushchair along some pavements. I use a large, all-terrain buggy every single day of my life, but for the purposes of this exercise I thought I'd use a lightweight 'umbrella stand' style pushchair.
It's a completely different experience using a lightweight buggy and it can be very challenging pushing Elizabeth along some of the quieter streets on the way to school. That might sound counterintuitive, but the quieter pavements are often narrower, frequently plagued by overgrown plants and have been dug-up and patched-up so many times by the utilities companies they're in a dreadful state.
The buggy has hit bumps and been bounced off the pavement and into the road a couple of times a couple of times on narrower (…and thankfully very quiet) stretches. I've also had to step out into the road to avoid bushes that have become overgrown and block the path.
It seems that the bigger pavements where there's higher footfall are maintained to a better standard. I see the logic behind this, but it doesn't make the journey any easier.
I'll post a summary of our experiences at a later date when this experiment has come to an end. In the meantime, there's plenty of information about Sustrans and #SafeToSchool on its website.
*This blog post was supposed to have been published yesterday (Wednesday, 11 June). Unfortunately there was a small crisis on the home front and I had to take toddler Adams to hospital after she slipped while trying to get into a push-along toy buggy. It was nothing more serious than a sprained ankle and Ibuprofen is doing a wonderful job. Alas, an afternoon in A&E meant a small delay in publishing this post.
Interested in this blog post? Well have a read of these...