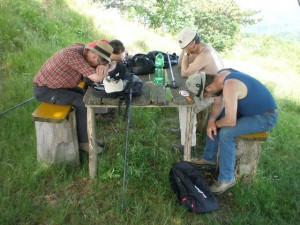 Come on, admit it. That rule about limiting the children to watching 30 minutes of television a day has been completely and utterly flouted hasn't it?
I have to confess my application of that rule has been a little liberal over the past week or so. The reason; school holiday fatigue. No matter how much I desperately hoped I wouldn't feel this way, I'll admit this final leg of the school holidays is proving a little tough and I am exhausted.
That said, I have had some absolutely wonderful times with the kids over the past six weeks. I've had some great chats and done some amazing arts and crafts with Helen, my eldest daughter, and I can see just how much she's grown up. A highlight for me was spending a day with her in Calais but that's just one of many unique moments during the break.
As for Elizabeth, my youngest child, well, the holidays have been a period of great change for her. At the start of the break she changed nursery and we reduced her hours (she was always part time but we cut the hours back considerably). The increased time at home seems to suit Elizabeth much better and she loves the new nursery setting. She's also become much more vocal and is picking up a couple of new words each day.
It's been an awesome few weeks and I've loved it. The girls have enjoyed themselves and Helen tells me she doesn't want to return to school.
Almost every other aspect of my life, however, has come to a juddering halt. Back in July I planned to sort out the necessary paperwork so I could file my tax return. It hasn't happened. While I've managed to keep the rest of the house in reasonable order (just), our bedroom hasn't been cleaned in weeks. In fact I told my wife about three weeks ago it wouldn't get cleaned again until September and that she'd just have to live with it.
On top of this, the garage is full to bursting of stuff that needs to be taken to the recycling centre. This follows a de-cluttering exercise I started just before the summer holidays began. I haven't had a chance to visit the centre or finish de-cluttering the house.
Constantly finding activities to keep the kids active has been tricky. With two children of different ages, they rarely want to do the same thing. What does unite them both is the desire to make a mess. That's fine, but I have to clear it up.
Although I've tried to avoid it, I'm afraid I haven't always been able to resist putting the television on when I need some peace and quiet. I feel so guilty for doing it even though I know that infernal machine will hardly go on when Helen returns to school. After six weeks 'though, I need some peace and quiet so I can get stuff done. It's also amazing how much you can get done during one showing of Frozen.
Image sourced from Pixabay. Photo credit: Erge. Picture reproduced under Creative Commons agreement 1.0. For a link to the agreement and further info, see my Disclosure page.
Interested in this blog post? Well have a read of these...