Some time ago I hosted a twitter Q&A session with Employment Relations Minister Jo Swinson on the subject of shared parental leave. That was back in February 2013. It seems like a lifetime ago, indeed, Swinson herself has become a mother in the meantime. Thankfully the proposals were included in the Children and Families Act and will come into effect from 5 April next year.
In other words, if you've just discovered you're pregnant (or your partner has) then you will be among the first to take advantage of these new rights. Put very simply, every woman will have the right to two weeks maternity leave. Once that has ended, mum and dad will have the right to 50 weeks shared parental leave that they can share between them.
The move should allow dads to become more involved in the early days of their children's lives. It will also provide much greater flexibility to families so they can organise their family life in a way that suits both parents and children.
Jo Swinson has described the move thus; "Any couples receiving the happy news that they are due to have a baby from 5 April onwards can now start planning ahead safe in the knowledge that they have the option to choose to share the care of their child and time off work in the way that suits them best.
"Introducing shared parental leave is a significant step towards changing workplace culture, making it just as normal for fathers to take on childcare responsibilities as mothers.
"From April next year mums and adopters will have real choice about when they return to work, dads will have more time to bond with their children and employers will benefit from lower staff turnover and having a workforce that is more flexible and motivated."
The following infographic shows how the system works. If you are one of those who will be eligible to take shared parental leave, congratulations! Wishing you a smooth pregnancy, easy birth and all the best as an expanded family. You can also keep up with developments by following the #sharedparentalleave hash tag on twitter.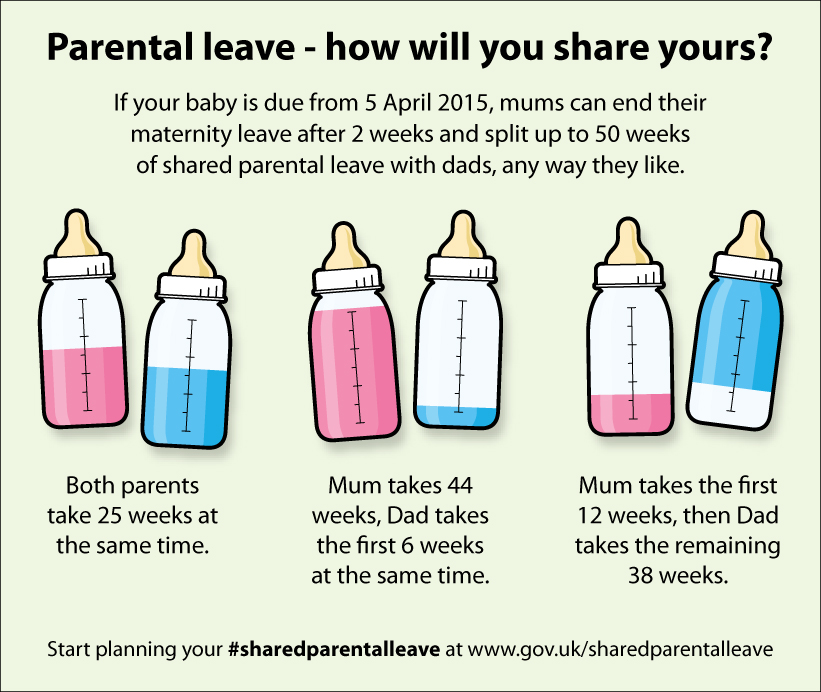 Interested in this blog post? Well have a read of these...