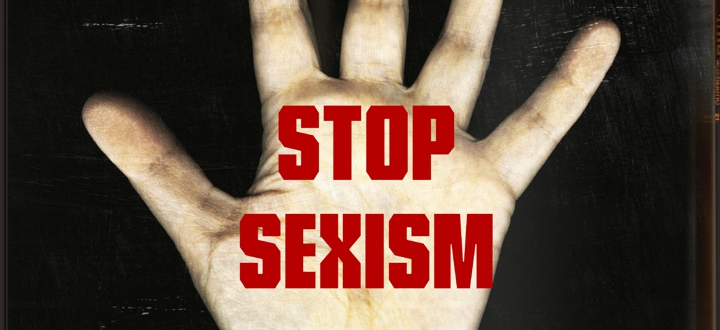 There was a little bit of unexpected excitement in my world yesterday. Toddler Adams and I, you see, were invited on to the Victoria Derbyshire Programme on BBC2. The subject being discussed was sexism in schools.
The catalyst for this conversation was a set of guidelines that has been published by the Institute of Physics. Have you ever heard of the Institute of Physics (IoP)? No, I hadn't either until I read about it in the Sunday newspapers at the weekend.
The IOP is a charity with a remit to "advance physics education, research and application." It's missed a trick by failing to add "increase awareness of physics in the media". This is exactly what the IoP has done by publishing a document called Opening Doors, a guide to good practice in countering gender stereotyping in schools.
Whether this was the intention or not, the IoP has done something incredibly sexy. Using funds provided by the Government Equalities Office, the IoP has worked in partnership with 10 schools to highlight areas where gender inequality exists in the secondary school system. Equally importantly, it's put forward ideas for dealing with them.
Opening Doors stretches to 26 pages. I'm not going to repeat everything it says. Nonetheless, it has highlighted that teachers need to be very careful about the language they use. It has found that career guidance could be improved. It revealed many schools timetable subjects in a way that means you either follow a feminine or masculine path of subjects (my italics and my choice of words). It also suggests that language such as "gay", "man up", "sissy" and "cupcake" are often used in the school yard (and sometimes even by teachers) and this should no longer be tolerated.
At this point I think it's necessary to give a little bit of background. Girls have often shied away from studying physics. The IoP has long recognised this as an issue. In previous reports it has investigated the reasons for this. It found that girls attending independent same sex schools were much more likely to study the subject than those at mixed sex state schools. In other words, the environment a child was studying in had a huge impact on what they studied.
With the Opening Doors report, the IoP has taken a step further. It has questioned why boys are more likely to study physics and less likely to study languages and English Literature. It has even queried why poor academic achievement by boys isn't seen as a gender issue.
I have found the report and its suggestions to be fascinating reading. I won't claim Opening Doors is perfect. I'm personally very supportive but parts of it do make me wince a little. Although well balanced, the good practice it highlights almost exclusively benefit female school pupils.
A further worry is the way the report has been interpreted and applied by some schools. I've read two different news reports in two different newspapers stating that schools have established girl-only groups to police playgrounds and report any sexist language they hear to teaching staff. This is a foolhardy response that sends completely the wrong message to both boys and girls.
Even so, the IoP has shone a light on some genuine problems that need addressing. It has branched out of its traditional comfort zone of physics. Explanatory notes on the IoP's website state: "We know we have a problem with gender stereotyping of subjects in schools. This is particularly an issue for girls in maths, physics and engineering, boys in modern foreign languages and a general underperformance in GCSE grades. (This) is an excellent way to explore what happens in schools and outside, and what all of us can do to change it."
Isn't it fascinating that it's taken a relatively obscure organisation like the IoP to challenge such perceptions? More to the point, the IoP has done it very well.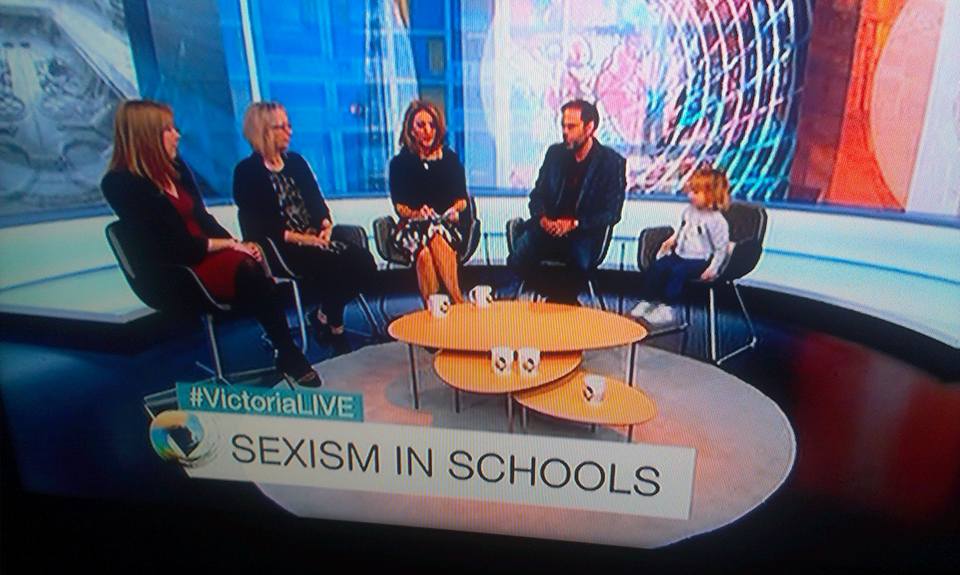 Oh yeah, as for the Victoria Derbyshire interview, it was a good discussion and well balanced. Toddler Adams thoroughly enjoyed it. She interrupted part way through and asked me to read her a story. We also bumped into Daniella Westbrook backstage and she was incredibly complimentary about my little one.
Most interesting of all was what happened afterwards. I was walking down Regent Street in London, just a couple of minutes away from BBC Broadcasting House, where the discussion had taken place.
To my amazement I was stopped in the street by a woman who had seen the show and recognised us both (needless to say, I was flabbergasted at this and didn't quite know how to respond!). It turned out she was a retired school teacher. She explained that during her professional life she had, without thinking about it, used sexist language with her pupils.
Waving her index finger in the air she said "I was wrong." It seems the IoP has struck a chord.
Interested in this blog post? Well have a read of these...