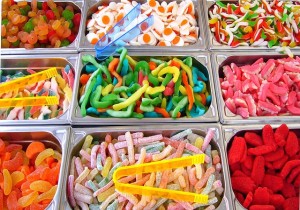 This blog post is going to make me sound like a miserable killjoy, but I don't care. I am, you see, fed up of people giving my children sweets. I'm not going to pretend my family eats a perfect diet, but I do make an effort to get it right and teach the children about healthy eating.
Unfortunately I seem to be fighting a constant battle to stop people giving my kids processed, sugary rubbish. Not just any rubbish, but processed rubbish such an unnatural colour it could, for all I know, have been dyed with effluent from a nuclear power plant.
The catalyst for this blog post was an incident that happened at the weekend. I'd taken my two kids out on an organised walk. We arrived, we signed up, we made our donation and then the woman taking care of all the admin said; "And we have a little something for the children."
Before I could stop her, she opened up a biscuit tin that was full of the most horrendous sugary junk and offered it to my eldest daughter, Helen. The tin having already having been placed under Helen's nose, I didn't feel I could wade in and stop her from helping herself.
This really annoyed me as Helen had already eaten a couple of sugary snacks earlier in the day. Thankfully I managed to intervene and stopped the toddler from getting her hands on any of this stuff.
The same thing regularly happens when I take the kids to the hairdresser. Before leaving they're often offered some awful lollipop. I'd understand if they were reluctant to have their hair cut and needed something to make it seem like a more appealing experience, but this isn't the case at all.
The one that really annoys me, however, is my local swimming pool. After swimming I sometimes take the girls into the café as a treat. The first time I did this, Helen ordered a cup of hot milk. When it was served, it was piled high with marshmallows. I'm not exaggerating, I think it was piled as high with them as it was deep with milk. I thought this was just daft and felt I had no option but to complain.
Needless to say, every time we go back to that swimming pool café, Helen asks for hot milk in the hope she hits the marshmallow jackpot. I'm not a total killjoy, I still allow her to have a few, but I make clear to the staff the marshmallow count is to remain in single figures.
So what's your experience? Do you object to people offering your kids sugary snacks? Do you think I should relax and let the kids eat this stuff?
I have linked this post up to SuperBusyMum.Net's Mad Mid Week Blog Hop. Do visit and take a look at some other marvellous blogs.
Photo credit: Shirley Hirst. Published under Creative Commons agreement.
Interested in this blog post? Well have a read of these...