Mum friends. It's a phrase I hear often. Mums will often talk about how they appreciate the support of their mum friends and how they couldn't get by without them.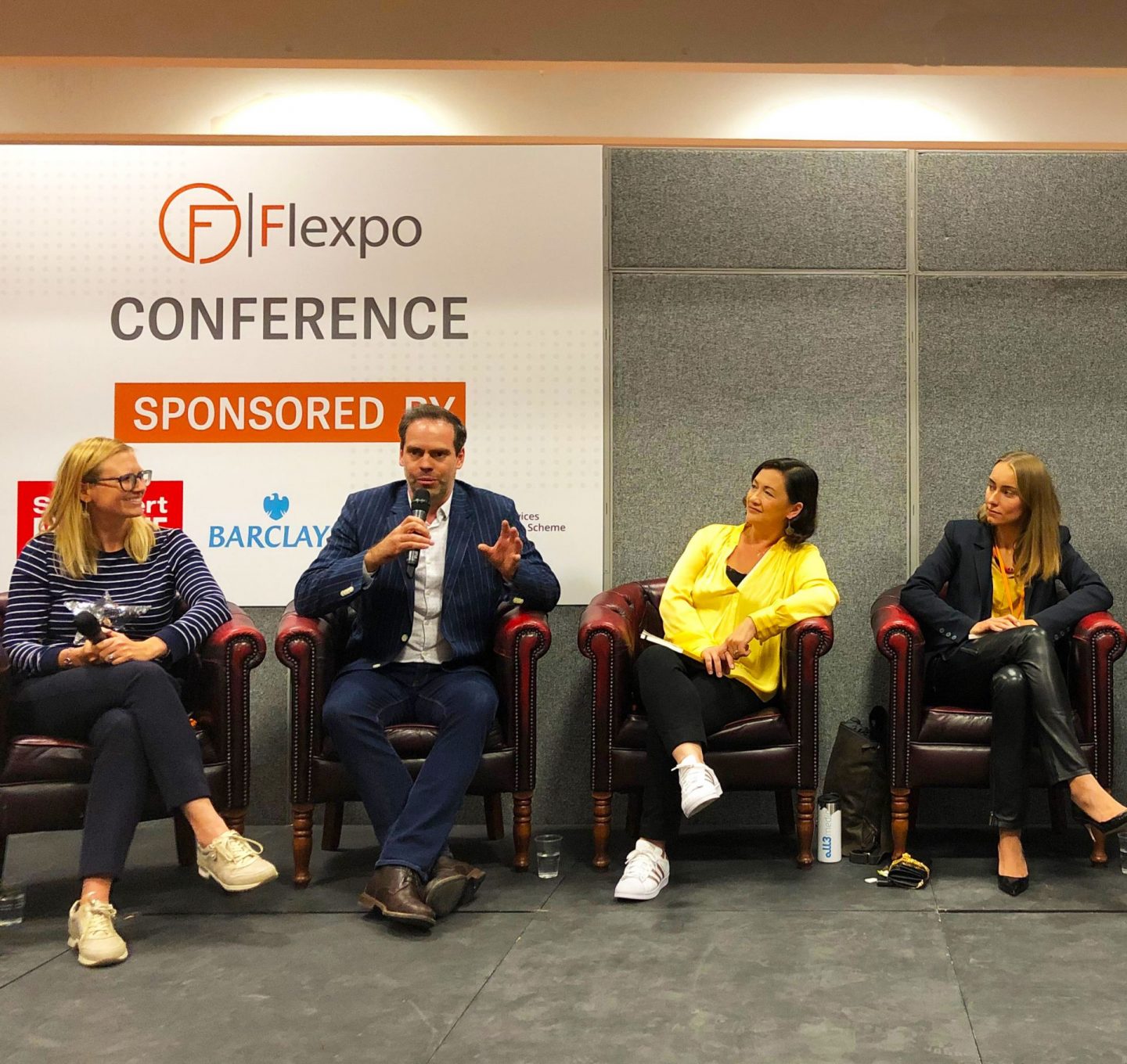 The subject of mum friends came up last week when I took part in a panel discussion at the Flexpo flexible working event at Sandown Park Racecourse. We were focusing on the issue of returning to work after a long absence (IE, after having kids).
The panel was chaired by Lucinda Quigley of Working Parents and featured a mix of people, from Joy Foster, founder of social enterprise TechPixies and Angela Chan an expert in media diversity to Sarah-Jane Butler, founder of childcare advice and information service Parental Choice.
I was there to offer the male perspective and highlight the challenges I have faced leaving the corporate world to become a stay at home dad and then establishing my own freelance blogging business. Like anyone establishing a business, I have faced more than a few challenges along the way.
Many brilliant points were made during the discussion but there was one clear, recurring theme: Getting the correct support in place to enable you to balance work and family life. If you are going to return to work, whether full-time, part-time, in a job-share, working compressed hours or setting up your own business, this is something you need to think about. We were all in agreement that you may need to ask family for help, source flexible childcare or even consider getting a nanny.
Time and again, however, the conversation came back to the informal social networks that exist at the school gate. After hearing the same point raised several times, my heartbeat was going at about twice it's normal rate because I just had to leap in and comment.
These informal social networks cannot be taken for granted. You simply cannot assume they exist for everyone, especially for minority groups such as grandparents and stay at home dads.
Eventually the microphone was passed to me. Having heard such a lot of discussion about relying on friends for support (I was astounded when one panellist said she had about 15 friends to call on when she was in need) I said there was one thing dads returning to work needed. I said they need "mum friends."
It's a bit of an odd thing for me to say because I'm not a fan of the phrase. It's very exclusive and promotes the idea of the 'mum bubble.' That aside, my comment was based on deeply personal experience.
Mums are in a much better place to understand the pressures I face as the main carer for my kids. Thing is, I'm not part of a circle of mum friends. I've been main carer for my kids for eight years and I long ago came to accept that I'll always be an outsider.
I explained to the audience that I've been told to go and make dad friends. I have many dad friends but for the most part, they cannot be relied upon to provide support when I need it most. They are usually working full-time and have a different mentality and a different mental load.
I can call on them to go for a drink if in the evening if i want a chat or to meet up for a meal or to go out at the weekend with the kids. I could not, however, call on them for help if I were running late and needed my children collecting from school or faced some other emergency.
That's not a criticism, it's simply the realisation I have come to after years of being the main carer for my kids. The full-time working dad is usually making a massive contribution to family life, but when it comes to childcare, his contribution is often limited to evenings and weekends. He's probably doing a very good job of it, taking kids to sports clubs, attending 'Saturdad Groups' and so on but the mentality is different. He's primarily focused on being the financial provider for the family. That's very different to being the main caregiver.
The full-time working dad has rarely, if ever, had to set up and use a Wisepay account, make parents evening appointments, drop everything to attend an emergency dental appointment for their kids or collect them from school if they have fallen ill during the school day.
As it was once put to me, "It's not a case of mother knows best, it's a case of practice makes perfect." It may sound a bit harsh, but for this reason, dad friends are generally not well-placed to assist another dad in urgent need or, more specifically, support a dad returning to work after a period of absence.
Socially and domestically, men and women are still poles apart. Yes, I've seen change over the years I've been a father, but there's still a long way to go.
I had to explain during the panel session that, in my experience, mums simply don't offer dads help. Again, that's not a criticism, it's just the way we are all conditioned to think, regardless of gender. Women are raised to be social and men are raised to be more insular, to be strong and are not supposed to need help. This is a very unhelpful way to look at the world and it makes it harder for men to do what should be normal: Work flexibly and enjoy family life.
The legal barriers stopping men and women requesting flexible working have been consigned to history, but the social barriers are rigidly in place. They're built on very solid foundations and it's going to take a long, long time to break them down completely.
This isn't one-way traffic. As I said above, us men are raised to be strong and insular. We're not supposed to ask for help when we need it. As a result, dads such as myself are not always very good at coming forward and asking mums at the school gate for help.
Added to this, it is awkward approaching someone of the opposite gender for a favour when you don't know them very well. If that favour involves visiting their home when their spouse isn't around (as you often do when looking after someone else's child or organising play dates) it's even more awkward. For some people, such behaviour is perfectly normal. For many, it isn't.
Getting back to the panel session, I appealed to the audience to think of men who are returning to the workforce or starting their own businesses after taking Shared Parental Leave or some other reason. These guys need exactly the same levels of support as mums. They need the support informal social networks can provide, but they probably have very few people, if anyone, to rely on.
This has been my experience. When establishing my micro-business, I've not had a crowd of mum friends to call upon and the thing is, I volunteered for this. I've been the main carer for my kids and slowly transitioned from stay at home to work from home dad.
It's presented me with various challenges, but I've had it easy. Spare a thought for the dad who is returning to the workforce or adopting flexible working having faced some major life trauma such as widowhood or divorce. These guys have had no steady transition, they've had to make major changes to their lives very suddenly.
To digress for a moment, the Flexpo event was brilliant. It was great to be involved and to see major employers such as Barclays, Robert McAlpine and Thales promoting their approach to flexible working. It was also good to see it provided a platform for the kind of discussion I was involved in.
There were also exhibitors at Flexpo promoting flexible co-working spaces, flexible childcare options and so on. The event had a wonderful figurehead in the form of Anna Whitehouse, well-known for writing the Mother Pukka blog and her Flex Appeal flexible working campaign. It was a clear sign that flexible working is going mainstream.
Flexible working may be going mainstream, but I've felt for some time the social barriers holding men back don't get enough recognition. Flexible working needs to be normalised for women and men and for that to happen, more men need to do it. It's very difficult for them to do so without those informal social networks in place.
If you know a guy who wants to work this way, don't be shy of asking him if he needs help or what you can do to help him. He'll probably feel elated that you've asked.
Interested in this blog post? Well have a read of these...