The other day I found myself at home on my own. It was a rare moment; these things don't happen often.
Helen was at school, Elizabeth was at pre-school and I was supposed to be in London for a meeting of the All Party Parliamentary Group on Fatherhood. Alas, I had transport issues so had to bail at the last minute.
With an empty house, however, I decided to put together a quick YouTube video about social isolation and how it impacts on stay at home dads. I was, after all, wearing smart clothes that would look good on film (vain? Moi? Absolutely!).
Social isolation is, of course, a massive issue for mums. I would never want to play that down and I know mums who struggle with it.
The thing is, us SAHDs face some particular issues. Support groups for dads, for instance, invariably run at weekends for the benefit of working fathers. It can also be difficult to be accepted into tight, social groups of women who have probably been socialising and known each other since they were going to NCT classes before they even had kids. Also, if mum works full time and commutes, you can bet she has no "mum friends" of her own in the locality and this has an impact on the entire family.
As a blogger, I regularly read blog posts written by women about the importance of having supportive "mum friends". Having a supportive group of friends is equally important to dads, especially stay at home dads, but it's much more difficult for them to establish such social networks.
I shot this video, placed it on my YouTube channel and Facebook page and thought little of it. I wasn't even going to embed it in a blog post. To my surprise, however, it has proved quite popular and so I thought I would place it on the blog. Please do have a watch and tell me what you think.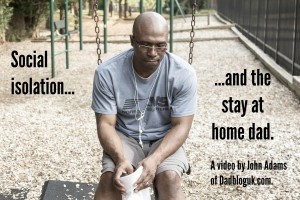 Interested in this blog post? Well have a read of these...