If I were to think of areas of my life where I've seen major advances in technology, checking a child's temperature is not one that immediately springs to mind. Within my lifetime, however, things have changed hugely and a new product has entered this sphere: The Nurofen for Children FeverSmart.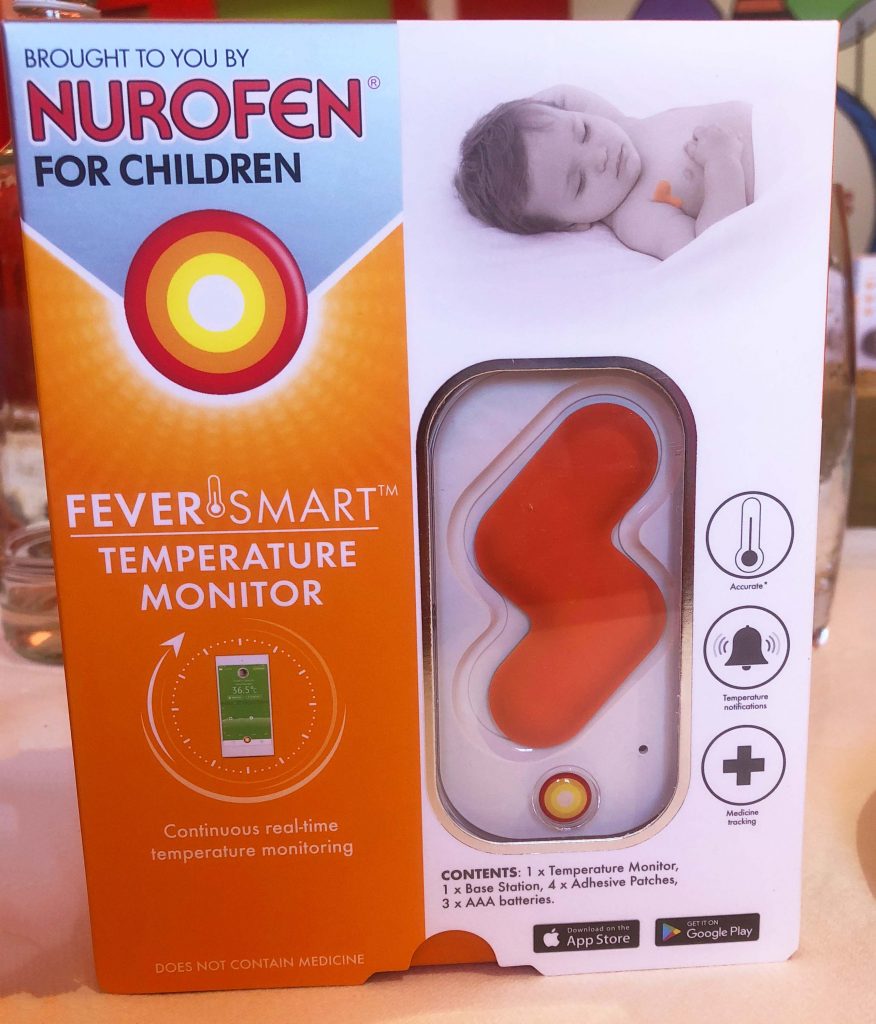 I remember being a child and my mother placing a glass thermometer full of mercury in my mouth. I would sit there, thermometer loosely held between my teeth, terrified of breaking the thing knowing the contents were toxic.
When my brothers were born several years later, their temperature was taken using a thin bit of plastic placed on the forehead. When my kids were born, we had progressed to using digital thermometers and we've worked through a variety of products that you place under the arm, in the ear or mouth.
The FeverSmart is different still. This Z-shaped monitor sticks to the body and using an app on your wireless device, gives you constant feedback as to your child's temperature. It also issues alerts if their temperature increases above 38 degrees Celsius .
The Detail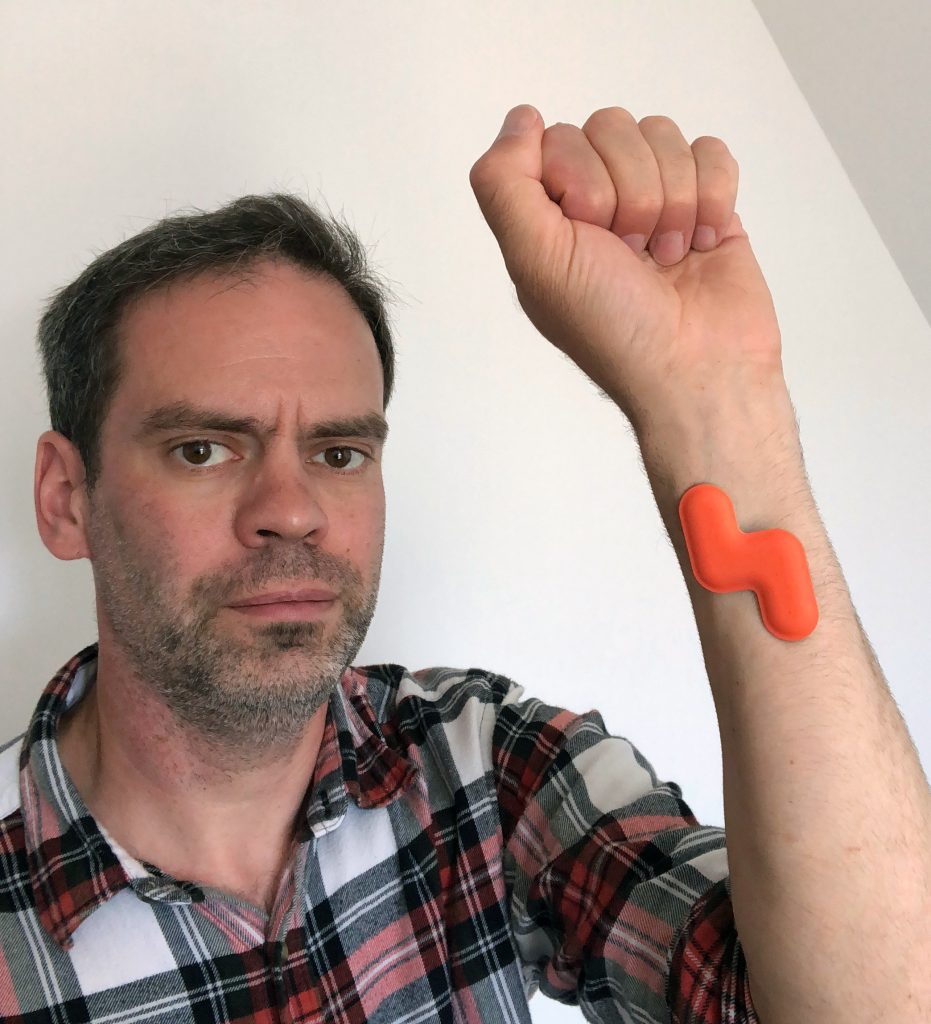 That's a brief introduction, so let me give you a little more detail. While anyone can use this item, it has been designed with infants in mind.
This explains the odd z-like shape. It's extremely difficult to swallow anything of that shape and size (8cmx3.5cm). You stick the monitor underneath your child's armpit using disposable silicone adhesive patches.
When not in use, you place the monitor in a small base unit that contains three triple AAA batteries. This keeps it constantly charged (keep this in mind, we're going to revisit the base unit in a moment!).
Naturally, you have to download the Nurofen for Children FeverSmart app. Using this app, you can set up a profile for all your family members. Whenever you need to, you apply the monitor to your child, start a new 'monitoring session' on the app and you'll get a live feed as it monitors your child's temperature.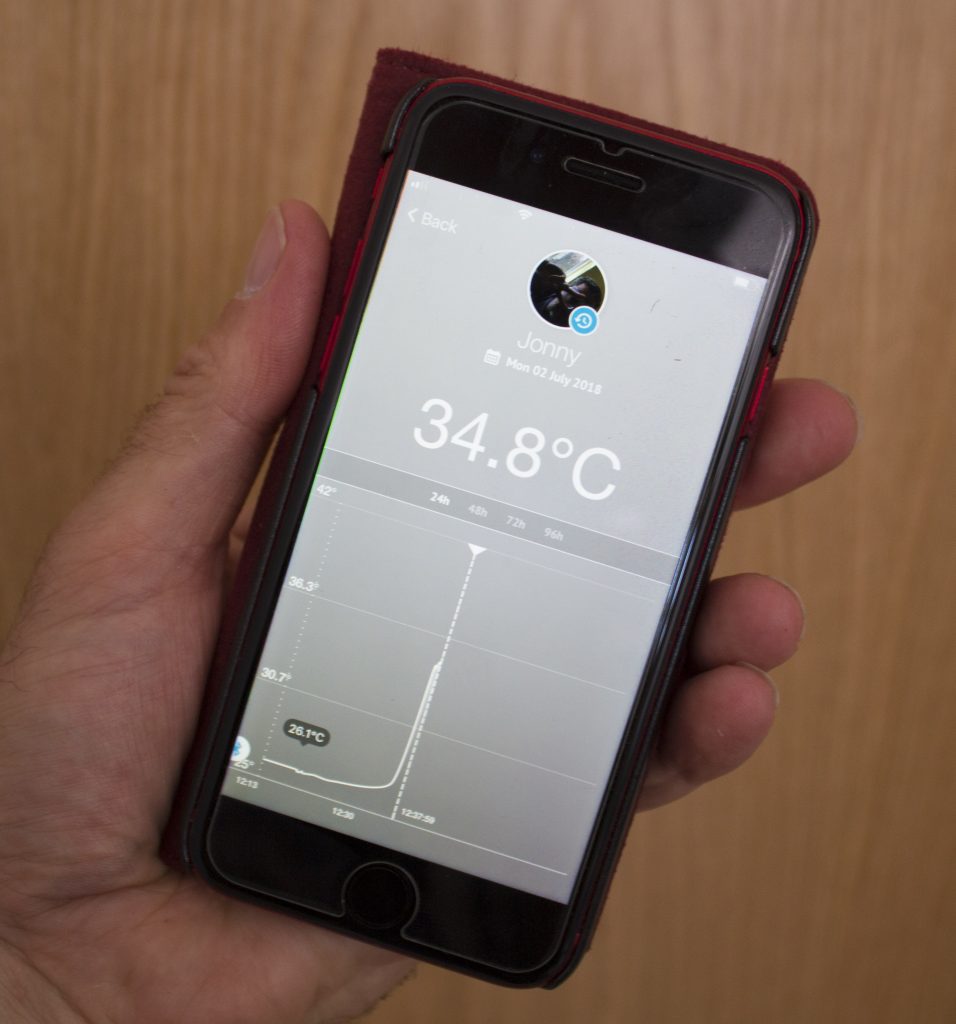 The FeverSmart in action
Needless to say, I don't have babies, but I do have two young daughters; Izzy aged five and Helen nine. I was given an introduction to the FeverSmart by the Nurofen team at an event in, of all places, Hamley's toy store in London.
The team was very keen to stress the benefits of monitoring an infant's temperature using a FeverSmart. I made the point that older children are aware of their health and may actually get some reassurance from knowing mum and dad are constantly monitoring their temperature.
A couple of days after the event in Hamley's, my eldest daughter woke up and complained of stomach pains. She was clearly distressed and so we agreed to check her temperature using the FeverSmart.
The FeverSmart took a few minutes to warm up after being attached to her body. Once in place and warmed up, it worked very well and, sure enough, Helen was reassured knowing I was keeping an eye on her temperature.
I also learned something about the FeverSmart. The base unit I mentioned? It has to be kept within 1.5m of the child. It's the base unit that communicates with your phone via Wi-Fi, not the orange monitor that's attached to the body. Move it too far away and the signal drops so if you're taking a child to the doctor etc. that base unit must come with you.
Luckily Helen's temperature was within normal limits. She also recovered very quickly so there was no illness to worry about.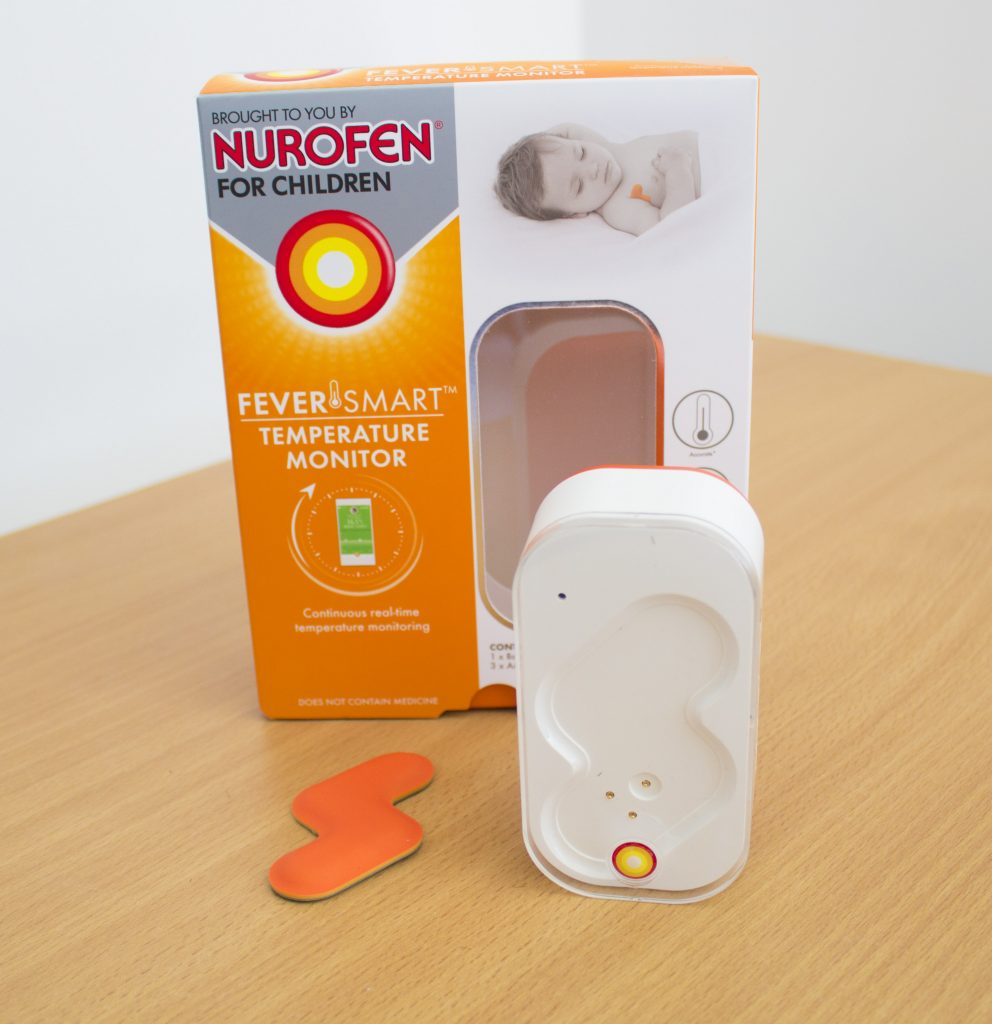 Trial Number Two
While Helen was wearing the monitor, it fell off a couple of times. That said, she was being very active and I subsequently discovered that Nurofen recommends children wear a light layer of clothing when wearing the monitor. This, Nurofen claims, should help keep it in place.
I decided to give it a go myself. It was so unobtrusive I completely forgot I was wearing it. During my test, it did everything I expected and confirmed I was a healthy temperature.
I must also add the app has been very easy to use. It's worth noting that the app stores your records so you can, if necessary, show them to your GP so they can see exactly what's happened to you / your child's temperature.
In summary
I could not fault the FeverSmart for ease of use or for the easy way it takes your child's temperature. If you are using one, just remember that the base unit has to be kept close to the child for it to work properly.
I also thought the way the app keeps a record of your temperature to be very clever. In the correct circumstances those records could be very useful for a medical professional.
When in use, I would urge you to keep in mind the advice about wearing a light layer of clothing to ensure the monitor stays in place. I can't imagine there would be any issues with a baby wearing the monitor underneath a babygro, but I would keep a close eye on older, more active children just to ensure it doesn't fall off.
The FeverSmart is available from Nurofenforchildren.co.uk, Amazon and Boots and has a recommended retail price of £84.99. If you want to find out more, there's loads of information online at the Nurofen for Children website. Alternatively follow the #FeverSmart or #NurofenForChildren hashtags on social media.
Readers of Dadbloguk are lucky! If you'd like to buy your own FeverSmart, simply follow the above link and use the discount code FEVERSMARTDadBlogUK30 to receive 30% off your product until 4 August, 2018.
And finally
I'm keeping the FeverSmart safe. The next time one of the children complains of being ill I would certainly use the monitor to gauge what their temperature was doing. It is a clever concept and while I think older children would be reassured knowing mum and dad were monitoring their temperature, I think it probably is best used with infants.
Disclosure and legal information: UK/NfC/0618/0045  Always read the instructions. This commissioned post was produced in association with Nurofen For Children. 
Interested in this blog post? Well have a read of these...