Are you thinking of making the transition to home working permanent?  If so, you're probably considering creating a home office. To create your new home office, you could go as far as adding an extension, installing windows, putting down new floors and buying office furniture. But the reality for most of us is far from budgeting for picture windows and the cost of karndean flooring. In fact, the majority of us are just trying to refurbish a spare bedroom to make it look semi-professional.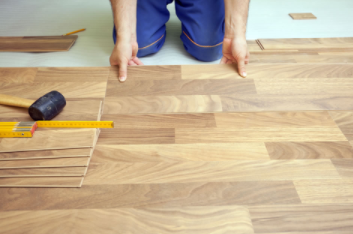 However, this doesn't mean you need to settle for a simple desk in a bare room. So, how can you turn the spare bedroom into your home office?
Practicalities
The first question to ask yourself, is have you got enough room? If the spare bedroom is still being used as that, consider swapping the bed out for a sofa bed. This will give you more room for your day-to-day office work, whilst still being able to accommodate the occasional guest.
What's the lighting like? Small windows can be a problem if they're not letting in enough light. Remove any heavy curtains that may be blocking daylight and consider installing roller blinds instead. This will give you flexibility. Allowing the maximum amount of light to flow in when you need it but also give your guests the privacy they need. Think about adding some extra lighting to the room too, so that you can work early mornings and evenings when necessary.
Positioning your desk
Don't be tempted to simply push your desk into one corner of the room. Corners are often the darkest part of the room and you'll be surrounded by walls whilst you work, which can be claustrophobic.
If you can place your desk so that you can look out of a window, then that's ideal.  If not, see where the light falls in the room and try to position yourself so you get the benefit from it.
Adding a few personal touches
There's no harm in adding a few personal touches to your workspace. Obviously, you don't want to crowd your desk with too many items or surround yourself with lots of distractions. But neither do you want to be working in an uninspiring or austere space.
Make sure your walls are decorated with family pictures or cheerful artwork, rather than being bare. Add homely items such as books, plants and colourful storage boxes to the room. You could add a small bookcase or shelf for these so that your desk space remains uncluttered.
Interested in this blog post? Well have a read of these...