The Royal National Lifeboat Institution (RNLI) has made headlines over recent days courtesy of a certain media commentator (some would say politician). At this time of year, the RNLI doesn't need such distractions as it's busy enough guarding beaches and keeping waterways safe during peak holiday season. What should families be keeping in mind if we're heading to the beach or elsewhere? RNLI water safety expert Liam Fayle-Parr has kindly spoken to me and offered some superb tips.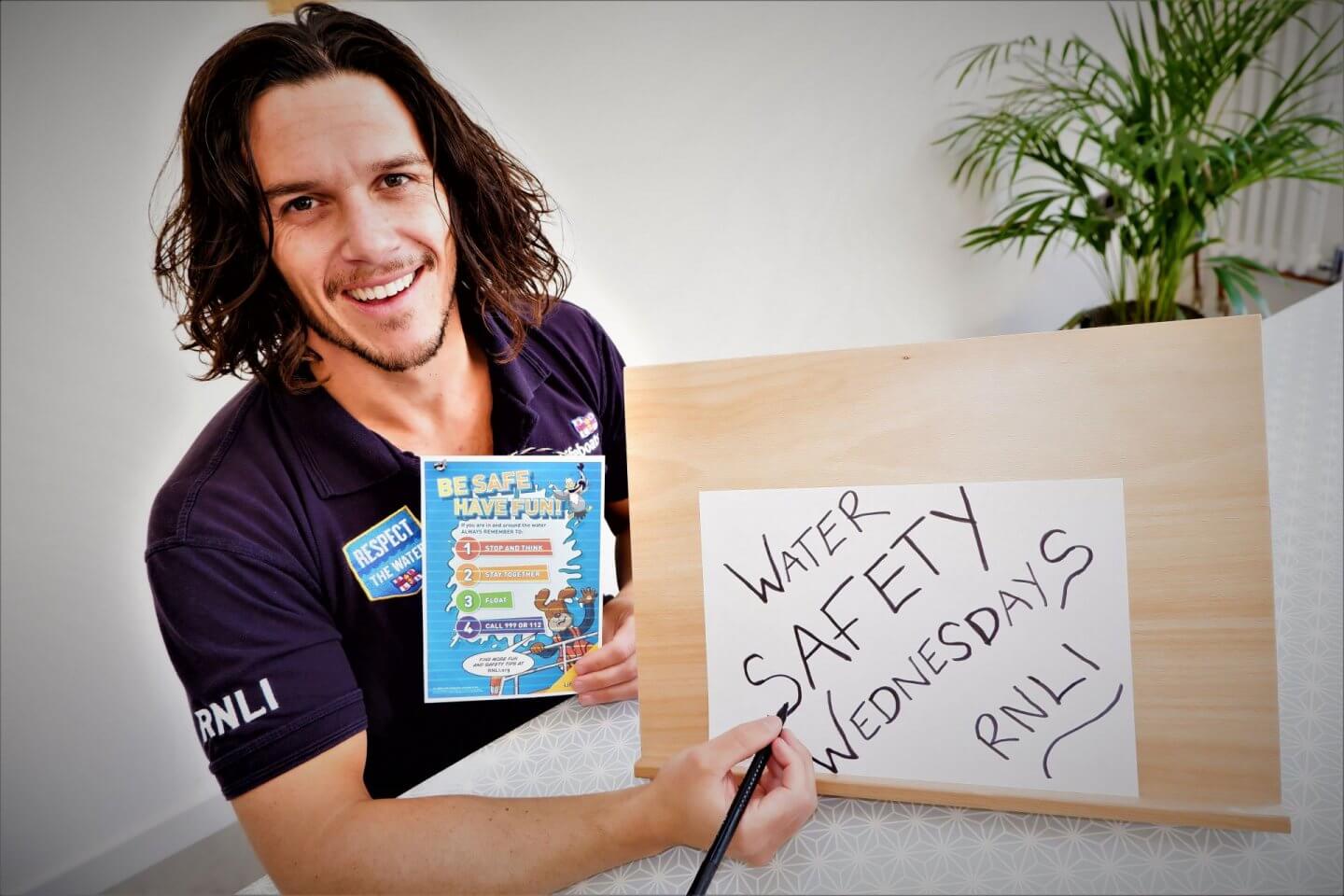 Dad of two Liam will be known to some readers. He and his boys starred in the Water Safety Wednesday series of videos that the RNLI produced during the lockdowns, when most children were schooled at home. Read on to see what Liam says about keeping safe around water, what various flags mean on beaches, how to react if you get in trouble and how to educate children about water safety.
Can you introduce yourself and your role at the RNLI?
Hi! I'm Liam and I work for the Royal National Lifeboat Institution (RNLI) Water Safety Team. I live in Lowestoft (the most easterly town in the UK), and working with a team of RNLI volunteers, we do everything we can to share water safety messages and educate the public on how to be safe when they're in, on or by the water.
I joined the RNLI ten years ago as a beach lifeguard, and still hold my beach lifeguard qualification to this day. Although I haven't had a shift lifeguarding for a few years, I still absolutely love the beach. Whenever I get the opportunity, I am out on the river canoeing with my young boys (Jude, nine and Beau six), taking them down to the beach and getting in the North Sea.
I'm so passionate about the enjoyment that comes from spending time in or by the water, however, also know how quickly things can go wrong in those environments. Having a lovely time with your family, should never be at the expense of your safety.
Tell us about the Water Safety Wednesday series?
Before the pandemic, RNLI volunteers and lifeguards would visit schools and share vital water safety messages in the run up to summer. That opportunity was lost with the closure of schools and lockdown restrictions, so the RNLI had to act quickly to somehow reach those children and share our youth education messages (Stop and Think, Stay Together, FLOAT and Call 999 or 112 in an emergency).
At the time, there were lots of people using online platforms to teach children and help families through their home schooling. 'P.E with Joe' for example was hugely popular.
The idea of hosting online water safety sessions came up in one of our meetings, and within a week or two, I was delivering 'Water Safety Wednesdays' through Facebook Live on the main RNLI page. I had lots of support from the RNLI Education Team with the content of each episode. We really wanted every episode to be as engaging and interactive as possible for the children watching. It was fun trying to think of ways of achieving that with only a laptop and the things in my house. That's how we ended up with mock-ups of beaches in wheelbarrows, Jude dressing up as Spiderman to do a FLOAT demonstration and a jug of water being poured over my head.
The series ran for six weeks starting in April 2020. We have since then revived the series a few times for important events like October half term and Christmas.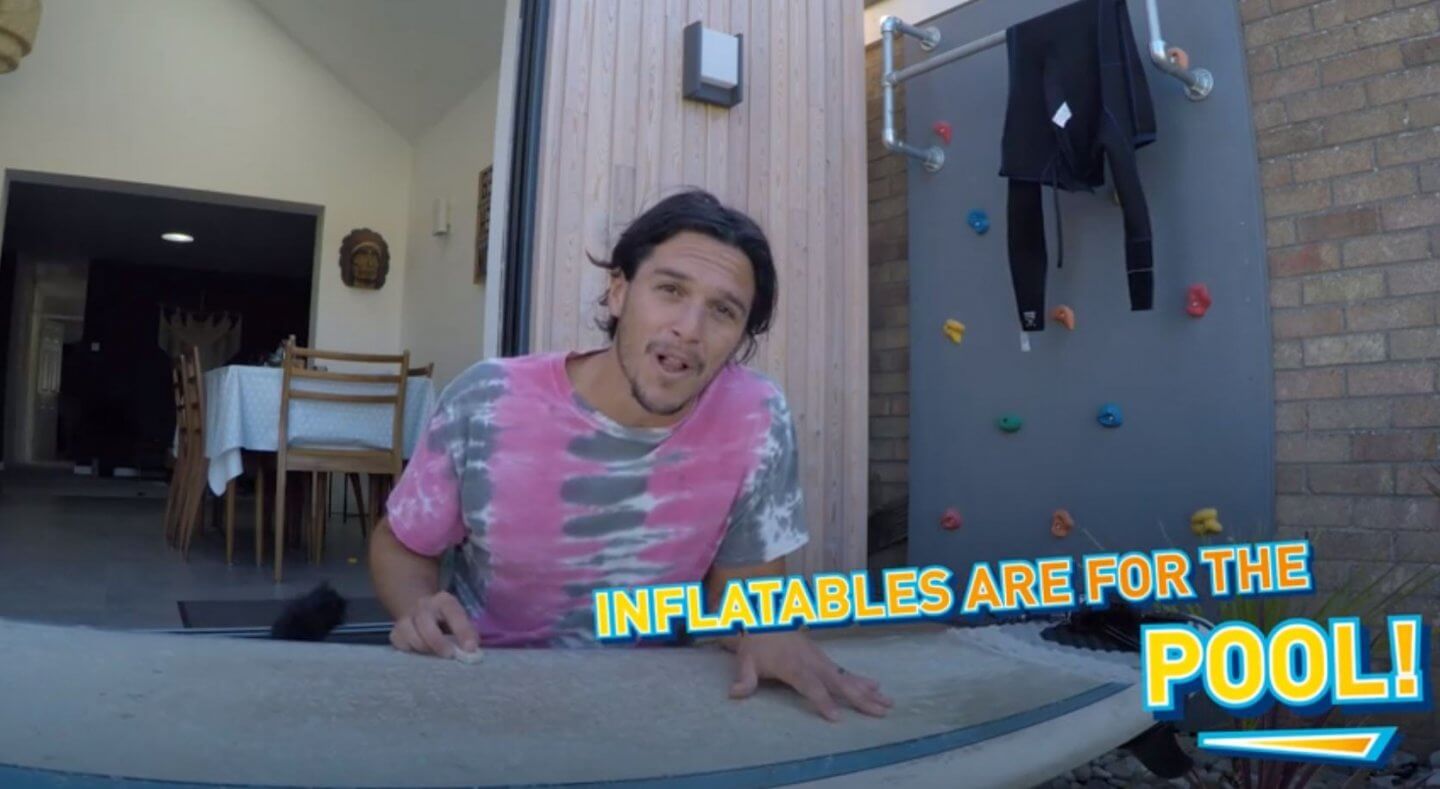 Water safety is the reason I was keen to speak to you. The summer holidays are underway and people will be going to the coast. What tips do you have for staying safe on a beach?
Visit a lifeguarded beach and swim between the red and yellow flags. Even though I'm a qualified lifeguard myself, I still always go to a lifeguarded beach. I know how well the lifeguards are trained and it is reassuring to know that if something does happen, they're on hand to help. I have hours of fun with the children just in the shallows with bodyboards between the red and yellow flags. Just make sure the bodyboard has a leash so they don't get separated and wearing a wetsuit can help them stay warm.
Don't use inflatables. Inflatables are so risky at the beach. The RNLI deals with high numbers of incidents relating to inflatables every year. I rescued two teenagers who had been blown out to sea a few years ago and it all happened so quickly! Even a light breeze on the flat of the water can blow an inflatable out to sea quicker than it can be paddled back to shore.
Always take a phone. Everyone has a phone nowadays. Make sure you take it with you just in case something goes wrong. A waterproof phone pouch will protect your phone and can be hung around our neck so it's there ready if you need it.
If you get into trouble, Float. If you're in trouble in the water, floating on your back could save your life. Practice the 'FLOAT' position and teach your children how to float too. There's an instructional video on 'How to Float' linked at the bottom of the article.
Call 999 in an Emergency. If you're at the coast and you see someone in trouble, call 999 and ask for the Coastguard. Get the call in immediately, don't wait, every second counts.

What do the various flags on a lifeguarded beach mean?
When you first arrive at a beach, you should be able to spot a sign giving you all the information about the beach you're visiting and any potential hazards that are specific to the area. These are very useful to help you enjoy the beach safely, As well as signs, there will be flags on the beach if lifeguards are on patrol:
Red and yellow beach flag
Between two red and yellow flags is a lifeguarded area. This is the safest area to swim, bodyboard and paddle.

Black and white chequered beach flag
For surfboards, stand-up paddleboards, kayaks and other non-powered craft. Launch and recovery area for kitesurfers and windsurfers. Never swim, go paddling or bodyboard here.
Red beach flag
Danger! Never go in the water under any circumstances when the red flag is flying.

Orange windsock
Indicates offshore or strong wind conditions. Never use inflatables when the windsock is flying.

And what if people are near a river or canal, what are the main things families should keep in mind?
Stick to the set-out paths and again, take your phone just in case something happens. Make sure your phone is fully charged before heading out too. Slips, trips and falls are a leading cause of incidents. Remember the edges can be unstable, water is cold and always moving plus there could be underwater hazards.
What are the common water safety risks that families encounter on the beach?
Whenever there is an incident (however small), it can be very traumatic for everyone involved. For example, as a beach lifeguard its quite common to have reports of missing children, especially when the beaches are busy; and every time it happens it's very distressing. No one ever goes to the beach or out on the water expecting that they might need rescuing or need to report their child as missing. Good planning can mitigate against many risks. Make sure you have the right gear, read the safety signs, check the weather, take time to understand the tides (the Met Office website and app can help you with this) and arrange a meeting place, in case you get separated. Stay close to your little ones and tell them to stay close to you. A momentary distraction talking to a friend and you could so easily get separated and lost in the sea of people and windbreaks on a busy beach.
Have you any tips for how parents should talk to children about water safety?
Even if you don't live near the sea or a river, it is so important for us all to instil a healthy respect for the water in our children, so they are prepared when they start venturing out into the world more independently. As a starter, get them to watch this short 'Water Safety Education Video'.
On the RNLI Youth Education homepage, we have loads of teaching resources and activities for children of all ages. I'd start there, and then wherever you can, relate it to the real environment i.e. a beach that you visit in the summer. When you are by a river, ask them which way it is flowing to show that its moving. Point out the underwater hazards. When you're running the cold tap to brush your teeth, explain that the sea is that temperature or colder and ask them 'What would it feel like if you fell into water that temperature?'
As they reach their teenage years, teach them about the risks and personal responsibility to keep themselves safe. These are transferrable life skills that will serve them well whether they're at the beach, crossing the road or learning to drive.
Above all, its down to us to set the best example we can. No pressure!
I've previously written about staying safe while using a stand-up paddleboard or kayak. Would you recommend people take a training course before taking up these common paddle sports?
Finding an accredited paddle sports company to show you the basics before getting out on the water is a great idea. A session like that will not only teach you how to enjoy the sport more safely, but it will also teach you paddling techniques to make you more proficient on the water too.
Make sure you have the correct equipment; wetsuit, buoyancy aid, leash (in fast flowing water a quick release waist leash not an ankle leash) and a means of communication in a waterproof pouch as a bare minimum. Let someone know you are going out and an approximate time you'll be back. If you are long overdue, they can then raise the alarm.
Let's say someone does get in trouble in the water, what should they do?
If you find yourself in trouble in the water, you can help yourself get back to safety by learning to float. Often, in the UK and Ireland, water temperatures are just 12°C which means, if you enter the water suddenly, you could start to gasp uncontrollably and start to breath in water, which can quickly lead to drowning.
Our advice is:
If you fall into water, fight your instinct to thrash around.
Lean back, extend your arms and legs.
If you need to, gently move your limbs around to help you float.
Float until you can control your breathing.
Only then, call for help or swim to safety.
If you can, stay with your kit, it will help to keep you afloat and make you easier to find.
It helps to practice floating when you're in a safe place and we would recommend sharing this advice with your children and family.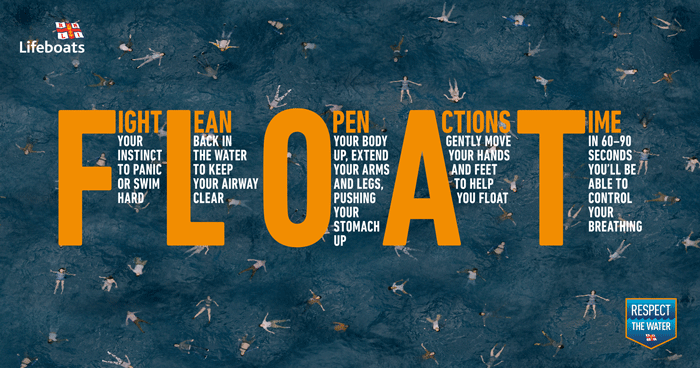 Thinking more widely about the RNLI's work, can you give readers a sense of how important the charity's work is?
The RNLI is the charity that saves lives at sea. It doesn't matter who you are, or how you got into trouble, if you need help at sea, RNLI lifeboat volunteers will be there for you. The RNLI provides a 24-hour search and rescue service around the UK and Ireland. Since 1824, we have saved over 143,000 lives and continue to rely on public donations.
On the beach, every second counts, which is why, since 2001, the RNLI has also operated seasonal lifeguard patrols at beaches around the UK and Channel Islands, reaching over 240 guarded beaches. Highly trained and equipped, RNLI lifeguards spot danger as it develops and respond instantly. They also provide safety advice and a reassuring presence on the beach
It's not just UK and Ireland shores the RNLI is keeping safe. Globally, around 360,000 people drown every year. The RNLI is helping other lifesaving organisations to tackle drowning in their own countries. Through work such as supporting lifeguard training in Bangladesh and implementing children's swim-survival lessons in Tanzania, the RNLI and its partners are putting lifesaving into the hands of local communities.
If you would like to support the lifesaving work of the RNLI, please visit this web page where you can donate.
How can people support the RNLI's work?
The best way to support us is to stay safe near the coast and near the water. Share our safety messaging with friends and family, help us to get the word out!
Perfect for children, our Storm Force Membership helps us to save lives for just £12 a year. The subscription includes four issues of the Storm Force magazine, online access to our Crew Room with great activities and rescue videos plus a membership pack with crew bag, pencil case, stickers and more.
You can also support us by making a donation or joining in with one of our fundraising campaigns. Visit our website to find out more.
Where can people get more advice about staying safe near water?
Here are a couple of good links: Water Safety with Liam and do also take a look at the Swim Safe web page.
Get children aged 7–14 ready for safe swimming in open water with Swim England and the RNLI's free water safety sessions. Swim Safe takes place every summer at inland and coastal sites throughout the UK
Interested in this blog post? Well have a read of these...