I knew my kids would be interested in the Aqua Perfecta Perfect Air purifier. Despite its unwieldly name, it arrived in a large box and my kids are always curious about items in large boxes! That said, I had assumed, that once they discovered it was an air purifier, they'd quickly lose interest. After all, how interested could a nine and 13 year-old be in such an item?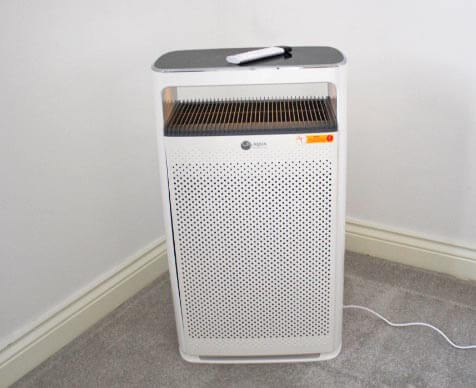 As it turns out, kids of that age can be very interested in air purification! For some reason they were drawn to this household appliance, and I would mysteriously find it switched on when I had recently turned it off.
The touch screen panel on the top of the Aqua Perfecta and the blue and green lights it displayed were just too appealing! Enough about this product's appeal to my children, let me tell you all about it.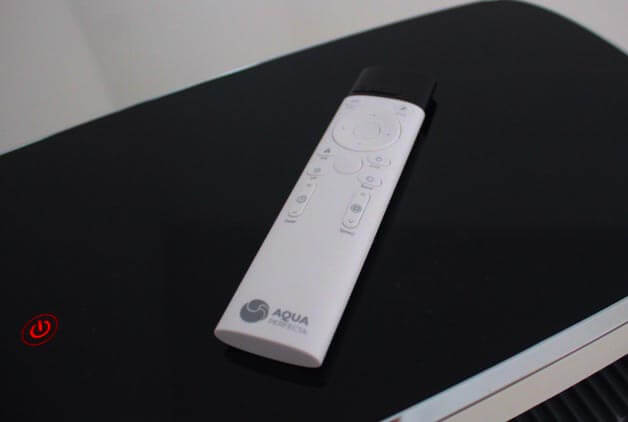 Introducing the Aqua Perfecta PerfecAir
The Aqua Perfecta PerfectAir uses no less than eight different filters to purify the air. It is also packed full of technology and boasts a very sleek design.
It has several standout features, but for me, the main one was the lighting system that indicates the quality of the air. If air quality is excellent, the unit will light up green. If the air quality is good, the unit lights up yellow. If air quality is poor, it will light up red. The better the air quality, the lower the fan speed, but I'll provide more detail about that in a moment.
As with most air purifiers, you would need a little space to accommodate it. It measures 70.6cm high, 41cm wide and 23cm deep. While you do need a little space, it's not a huge imposition. In the midst of the COVID era, I think many people are interested in air purification.
I made a short video with the purifier. I've pasted it immediately below so you can watch it.
How to use the Aqua Perfecta PerfectAir Sense
The Perfecta is incredibly easy to use. As I mentioned above, it has a touchscreen interface right on the top of the unit. You can, if you wish, turn off the UV filter or the Ion filter etc. Personally, I would just leave it in 'auto' mode.
In addition to the touch screen interface, the unit comes with a small remote control which can be used to adjust the settings. If you are living in a family home, one of the most useful settings will probably be the lock function, that way you can stop small hands from playing with it!
Two other points to mention. When the PerfectAir arrives, be sure to take off the front panel and remove the packaging from the three filters in the front of the unit. I almost fired it up without removing this packaging and I dread to think what the results would have been.
The other point to mention is that there is a water reservoir on the side of the unit. This needs to be removed and filled with water prior to use.
The filtration system
Buckle up, because I am now going to run through the eight different filters the Aqua Perfecta PerfectAir Sense uses. The air is initially drawn in through filter Number One: A pre-filter composed of an aluminium frame and a cotton-effect filter for removing large particles such as hair and dust.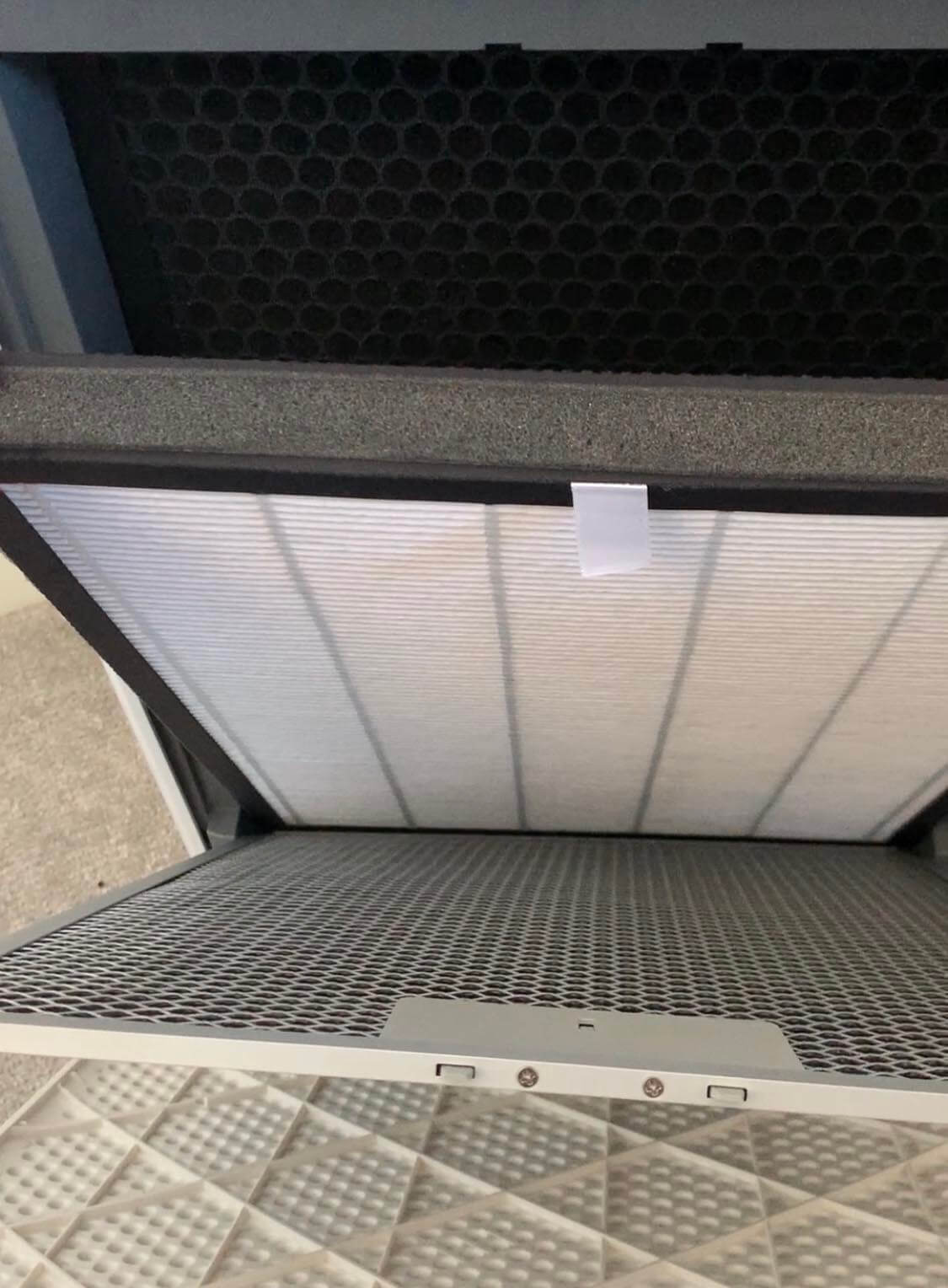 Filter number Two is a HEPA filter fore removing fine particles, commonly referred to as PM2.5. Filter Number Three is an activated carbon filter for absorbing odours, and it also dehumidifies the air.
Filter Number Four is a 'molecular sieve.' This bad boy purifies gases in the air. Filter Number Five is a photocatalyst filter. This kills bacteria and decomposes toxins in the air.
Filter Number Six is a UV light filter which destroys the molecular structure of microorganisms, thereby killing pathogens in the air. We're now on the Filter Number Seven, which releases negative ions to neutralise positively charged particles such as soot and dust. The final filter, Filter Number Eight humidifies the air.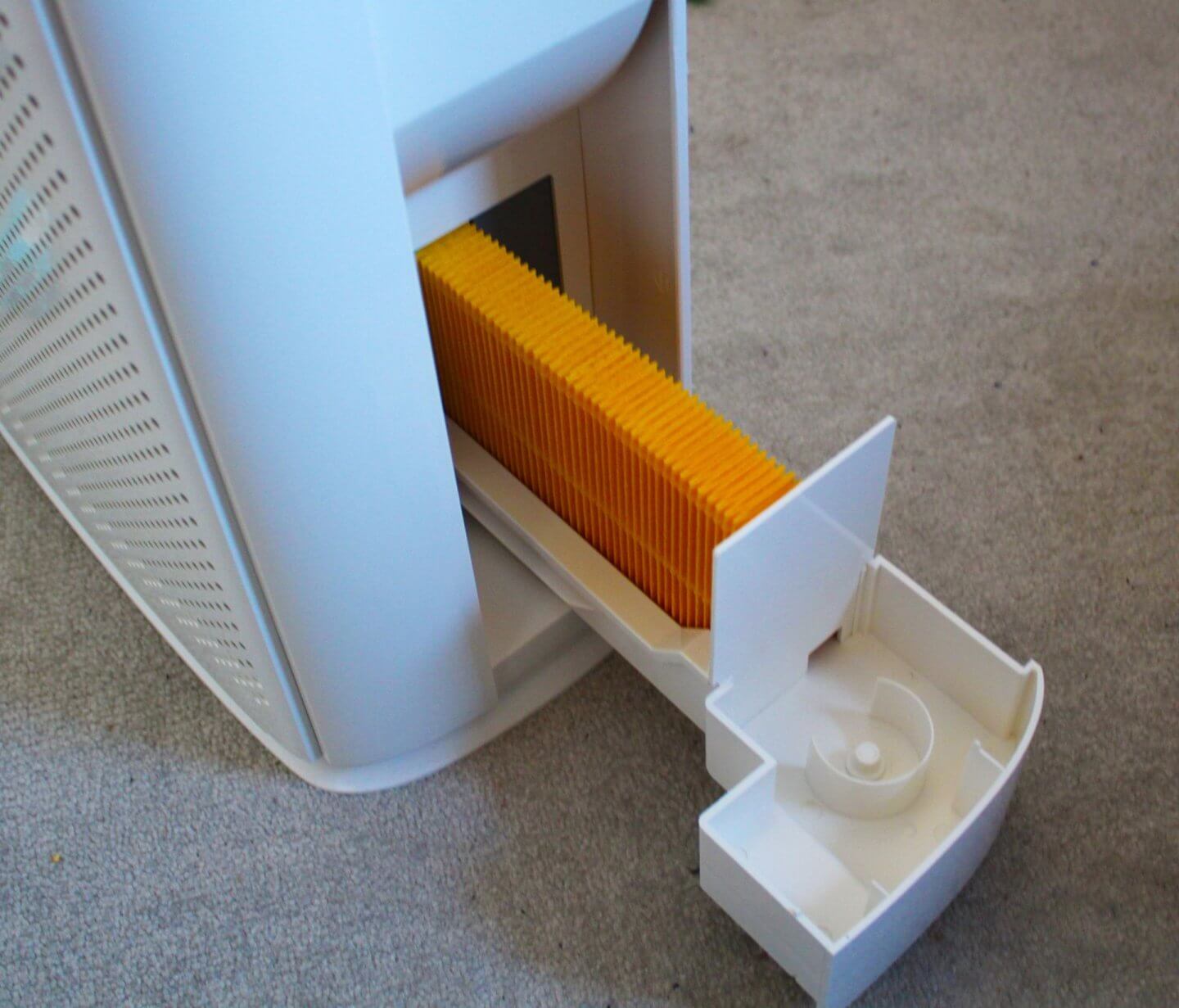 And exhale…and then inhale some clean air! I think after going through all this lot, any air will be much purer than when it entered the device.
Of course, the burning question you probably have is whether the PerfectAir can protect you from COVID-19. I've done a little research to try and find out. The reality is that UV light is used for sterilising medical equipment and it can kill Coronaviruses. That said, the UV light is used in very high concentrations in these circumstances. Whether a machine like this is powerful enough to kill COVID-19 is another matter and I can't answer the question.
If I were placing a unit like this in a school or an office, I think it would give me peace of mind because I can't imagine a great deal lives through an eight-phase filtration process. That said, I wouldn't purchase an item like this in the hope it could guarantee me a COVID-free environment. I'm sure it helps, but I'm not sure it's a given.
The AquaPerfecta PerfectAir Sense in use
When initially turned on, the PerfectAir Sense starts off with a high fan setting that is audible, but not overbearing. As it purifies the air, the fan setting is reduced until it reaches 'excellent' air quality status. By this point the fan is hardly audible. It just blends into the background.
The PerfectAir Sense does not have a temperature control. Do not buy it thinking you can use it to heat or cool air! The fan itself produces a gentle breeze so you may want to keep that in mind when positioning the unit.
I have mostly used the PerfectAir Sense in our home office. In that environment it has very quickly reached 'excellent' air quality status. I'd say it's generally taken about 10 minutes.
As an experiment, I also used it in a bathroom that had just had some decorative work done in it. There was lots of dust and all manner of odours in the room. The purifier worked very hard but it did eventually reach 'excellent' air quality status.
No one in my family has asthma and only one of us has minor hayfever. Considering the filtration system is designed to pull particulates out of the air, I would assume it can help people living with both conditions. I would just point out that I have been testing this unit during the winter months, not peak hayfever season, so I can't speak from first-hand experience.
Final thoughts
An eight-phase air filtration system must surely pull all manner of junk out of the air. Relying on the purifier's air quality control system, it has done a great and speedy job of improving the air quality.
What Aqua Pefecta should also be congratulated for is producing an air purifier that looks sleek. It is well designed and would be appealing in any family home.
In terms of cost the Aqua Perfecta PerfectAir Sense was retailing for £450 at the time of writing. To buy and for further information, go online to the Aqua Perfecta website.
Like this post? Well please do check out my other family tech reviews.
Interested in this blog post? Well have a read of these...