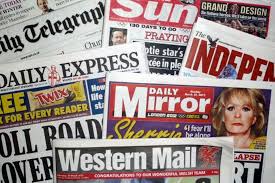 I have a question for you. If you have young children say, under 10 years of age, do you discuss current affairs with them? If so, how do you go about it?
I do talk about current affairs with my eldest, Helen, who is five. I don't really make a point of doing it regularly, but every now and again we have a chat about what's going on in the world. It's always sanitised and I will always try and make sure the things we talk about are appropriate for her age and level of understanding.
The catalyst for these discussions is often something she hears on the radio while driving to school. I'll usually have Radio 4 on the car stereo and every now and again she'll pick up on a comment and ask me to explain it.
I have also sat down with the Sunday papers and gone through them with her, giving her a child-friendly version of the news. Don't, however, be fooled. These sessions with the papers happen very sparodically and rarely last more than a minute. This seems to be the point at which she wants to go off elsewhere and play.
It probably has something to do with me having been a journalist, but I think it's vital kids are encouraged to discuss the news and the wider world. It's how to go about it that causes me a headache.
I can't remember how it came about, but a while ago Helen was asking me about the situation in the Ukraine. One of Helen's friends has a Polish mother. To protect her privacy and for the general amusement value, we'll call this woman Ewa Demarczyk after the famous Polish cabaret singer. I was telling Helen that, with Poland being right next to Ukraine, Ewa was very concerned about the situation and the impact on her own country.
On hearing this, Helen immediately took sides. In fact I practically had to stop her heading over to Moscow to tell Vladimir Putin exactly what she thought of his actions.
That was a few months ago and yet Helen still talks about Vladimir Putin from time to time. Or rather, as she calls him, "the man that wants to take over the world." More than once I've had to ask her to stop when she's been sat in the back of the car, throwing things into the front, claiming that she's throwing that at Putin.
This wasn't the sort of response I had in mind when I thought I'd start discussing current affairs with Helen. I'm pleased to note, however, that it has got her thinking and provoked a response.
Interested in this blog post? Well have a read of these...