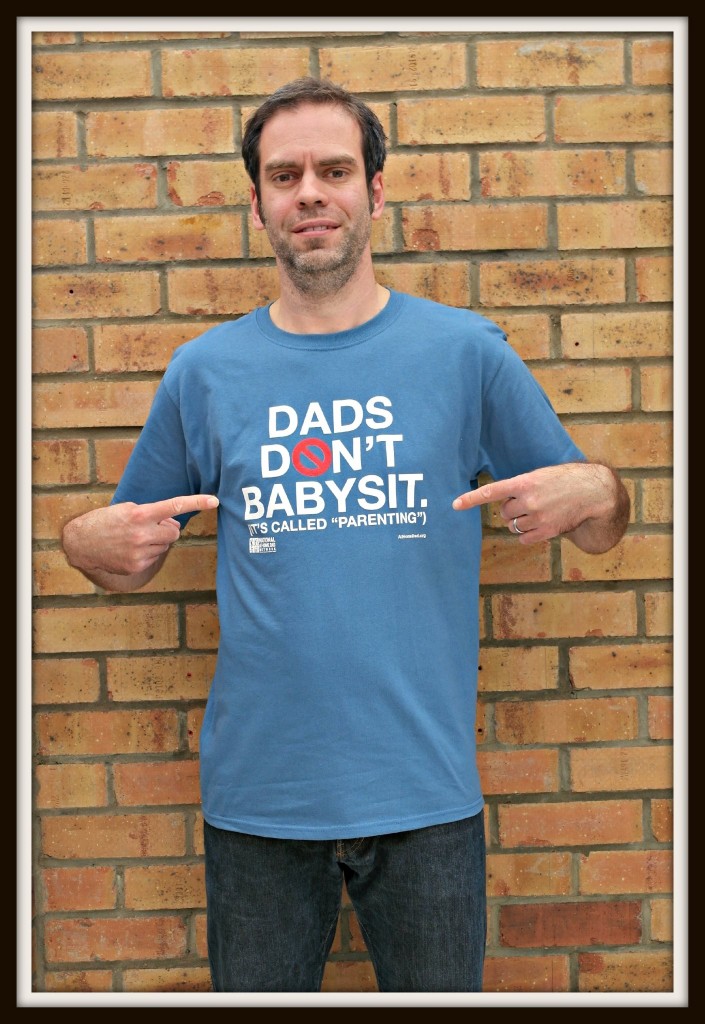 I've just taken delivery of this t-shirt. It's something of a cult item amongst us stay at home dads that's been produced and sold by the US-Based National At Home Dad Network (NAHDN).
As you can perhaps tell, the NAHDN wants to get the message across that dads don't babysit. Unfortunately it is something I have been accused of in the past.
On one memorable occasion, just after the birth of my two year old daughter Elizabeth, a woman I'd never met asked if she could hold my new born. She promptly and repeatedly informed me I was babysitting in front of her own adult daughter…who looked absolutely mortified and sprang to my defence saying "no he's just being a dad."
Of course it's not unheard of for men to refer to themselves as babysitting when looking after their kids. I feel very dismayed when I hear this. It's not how fathers should portray themselves at all.
Anyway, the NAHDN is a non-profit organisation. It provides support, education and advocacy for men who are the main caregivers to their children. It also has a fantastic Facebook group for stay at home fathers that I regularly visit.
So what do you think, does the t-shirt suit me?
*Shameless request klaxon* Will you consider voting for me in the Brilliance in Blogging Awards? I have been shortlisted in the Family category and with your help I can get through to the finals. Voting is very simple. Follow this link and select Dadbloguk in category 13. Thanks to everyone that has already voted for me. I really appreciate your support. Good luck to everyone else that's been shortlisted.
Interested in this blog post? Well have a read of these...