Diggerland is a theme park that never ceases to amaze me. It is a unique concept but it's one that works and my family have been several times to the Diggerland park in Kent.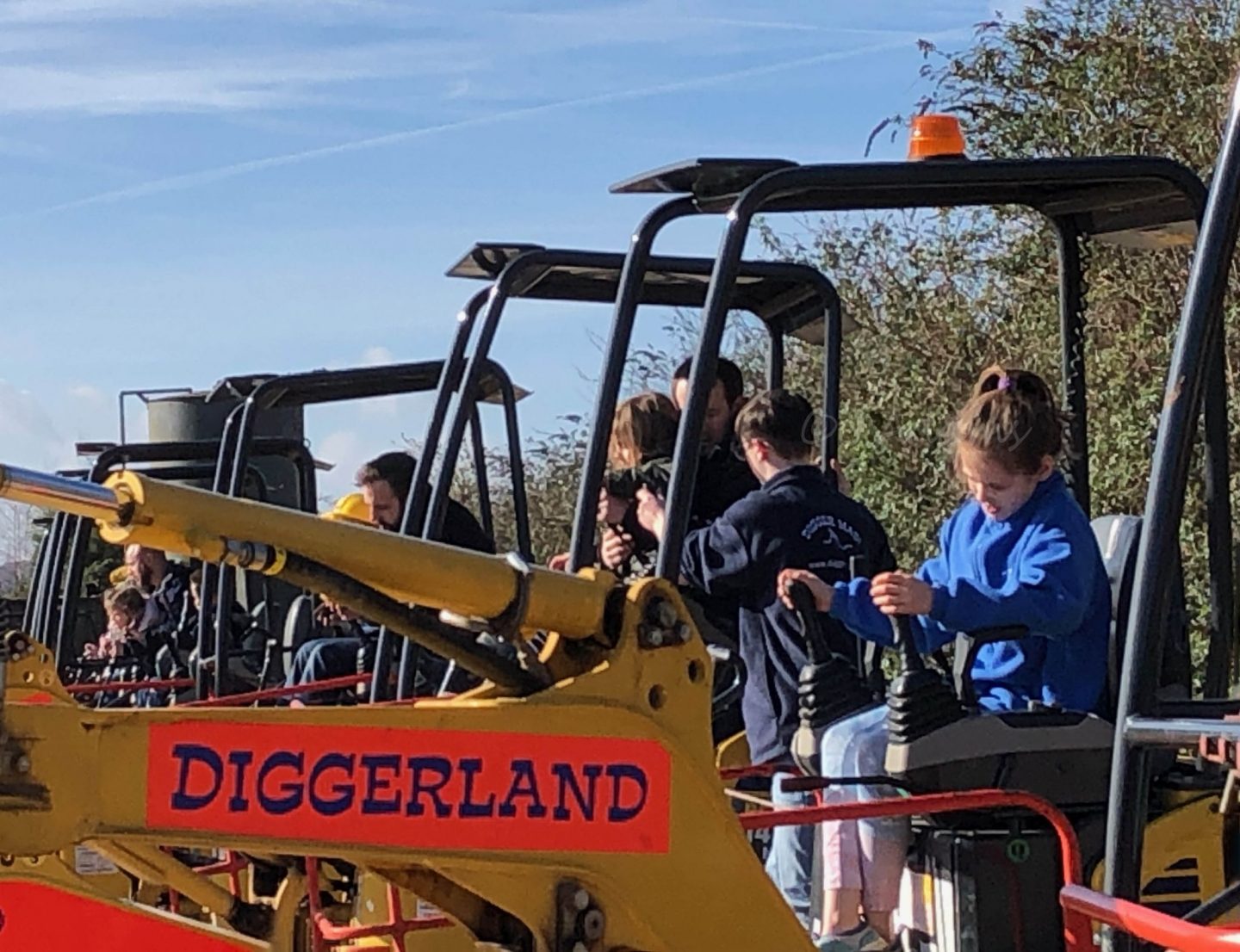 If you aren't familiar with the concept, most of the attractions at Diggerland are made out of earth moving or plant hire equipment. The rides feature everything from massive diggers to telescopic fork lift trucks and everything in between.
We were recently invited back and so Helen, Izzy and I paid a visit on a lovely, sunny, albeit slightly chilly day. Mrs Adams was unfortunately unable to attend as she had a work commitment, but it was a chance for this dad and his daughters to have a great day out together.
On arrival

On arrival, Helen and Izzy immediately decided they wanted to go on the dodgems. This is the only attraction in the park that you have to pay an additional fee to ride on (…thanks kids), but I relented and let the kids have a go.

As it happens, it worked well. We had arrived just after the park opened and so they were able to get straight on the dodgems and have a few goes. Naturally, I couldn't resist having a go also.
Collecting bricks

Following the dodgems, Helen and Izzy got competitive. They both had a go at picking up bricks using a small earth-moving machine (See picture up above).

I went on a machine with Izzy while Helen had a go on her own. Despite Izzy and I working together, Helen won the contest. She collected three bricks versus our one brick.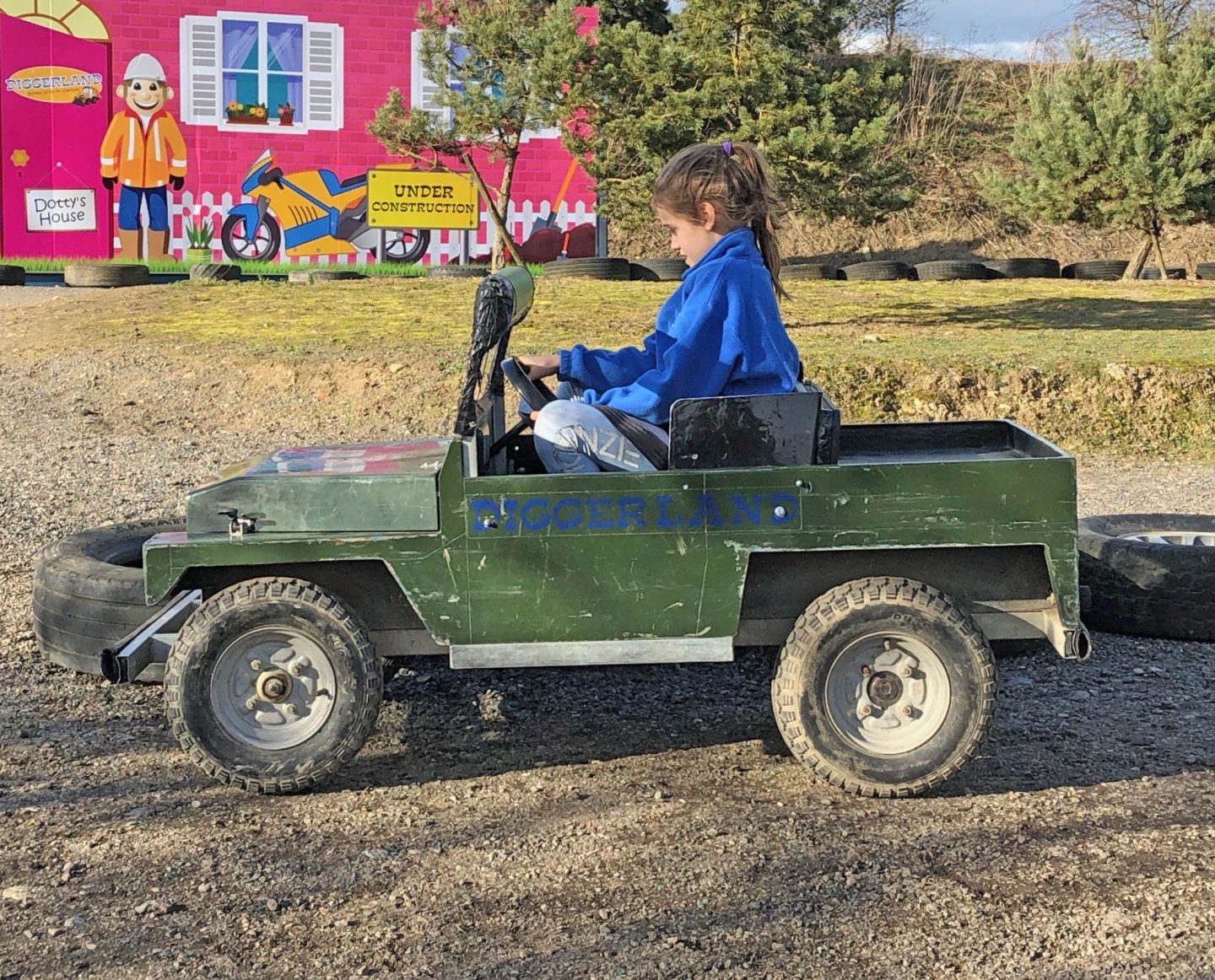 Tractor ride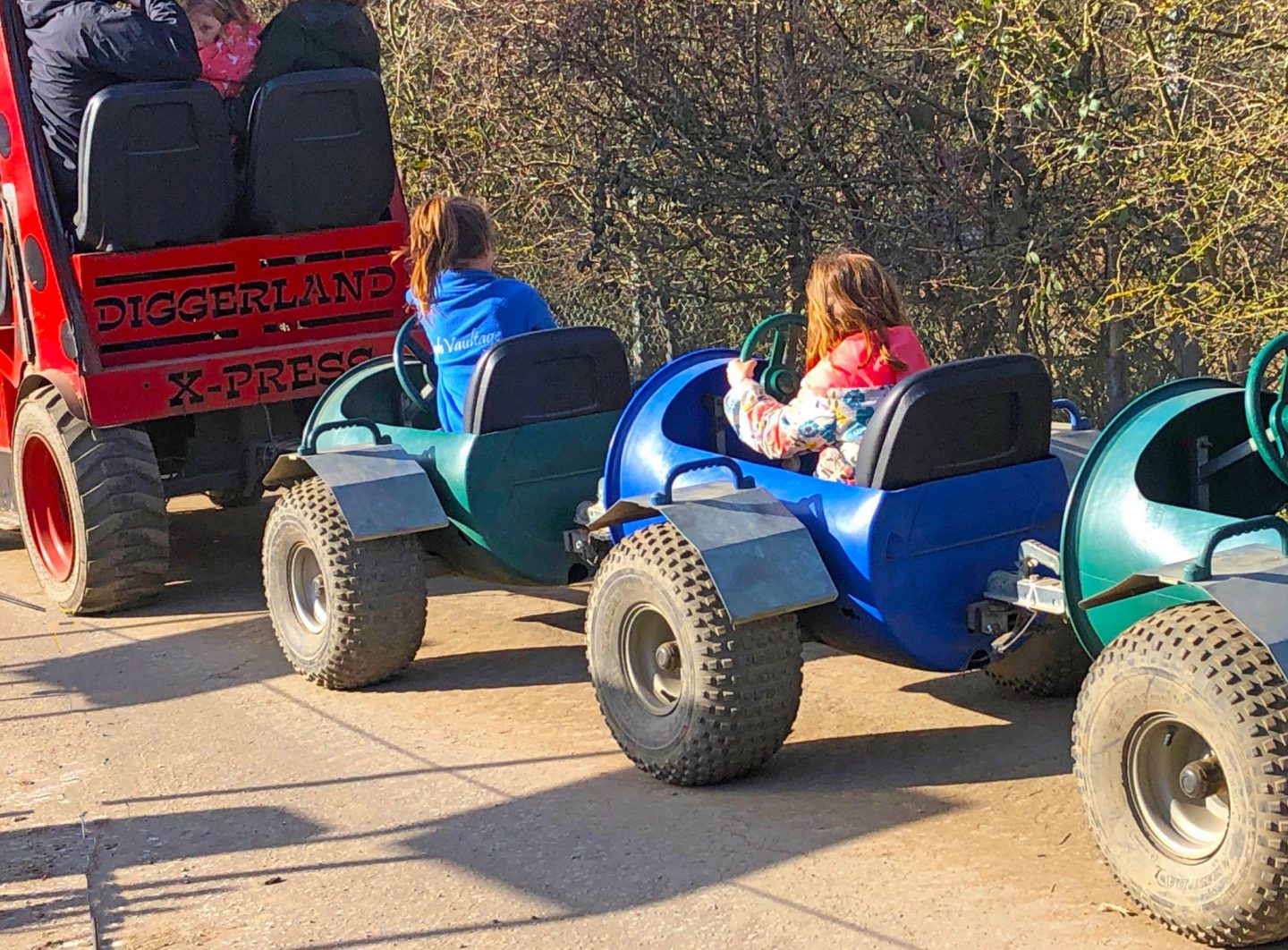 Helen and Izzy then took themselves off for a tractor ride around the site. In a sign of how they've grown, I can clearly recall our first visit when Izzy was so tiny she had to sit on the ride with Mrs Adams and I while Helen was able to ride along on her own in a trailer in the back.

Here I was, a few years later, left on the sidelines as my two kids went off on their own. I guess I'd better get used to this, right?

Helen gets to drive a Land Rover

In a further sign that Helen and Izzy are growing up, Helen was able to take Izzy and I for a quick spin around a simple off-road course in an old Land Rover. Don't panic, it was speed-limited, had dual controls and a Diggerland staff member was sat next to her the whole way.

Helen absolutely loved this experience. It was a real high point for her.
Other rides we tried out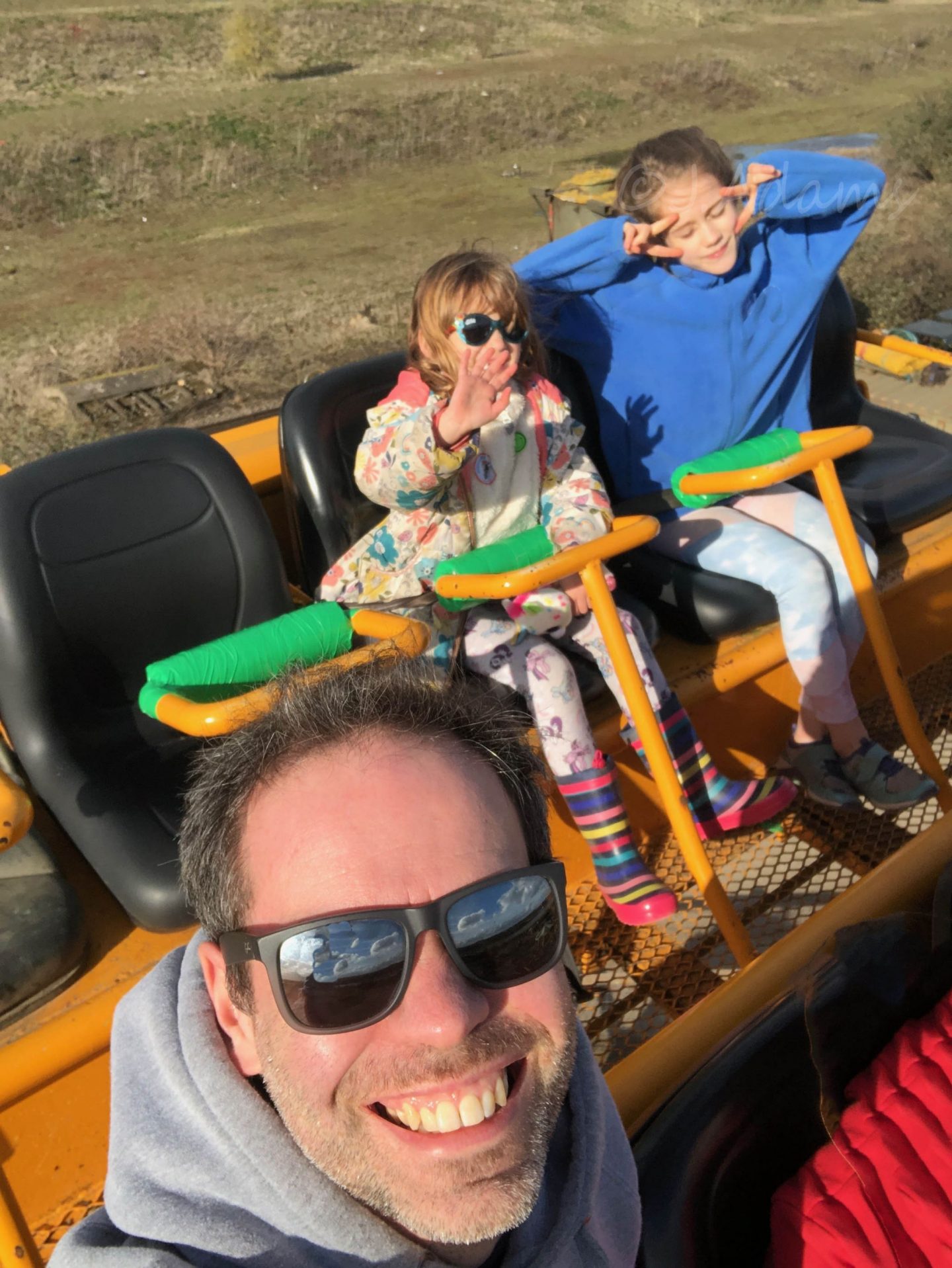 Over the next few hours we were lifted high in the sky by the Sky Shuttle, which is a massive telescopic fork lift truck. We chose the perfect day for this as it provided superb views of the River Medway and nearby town of Rochester.

The kids also had a go on the Dig-A-Round and drove some small electric cars. We also squeezed in some lunch in the cafe and both kids burned off some steam in the soft play area.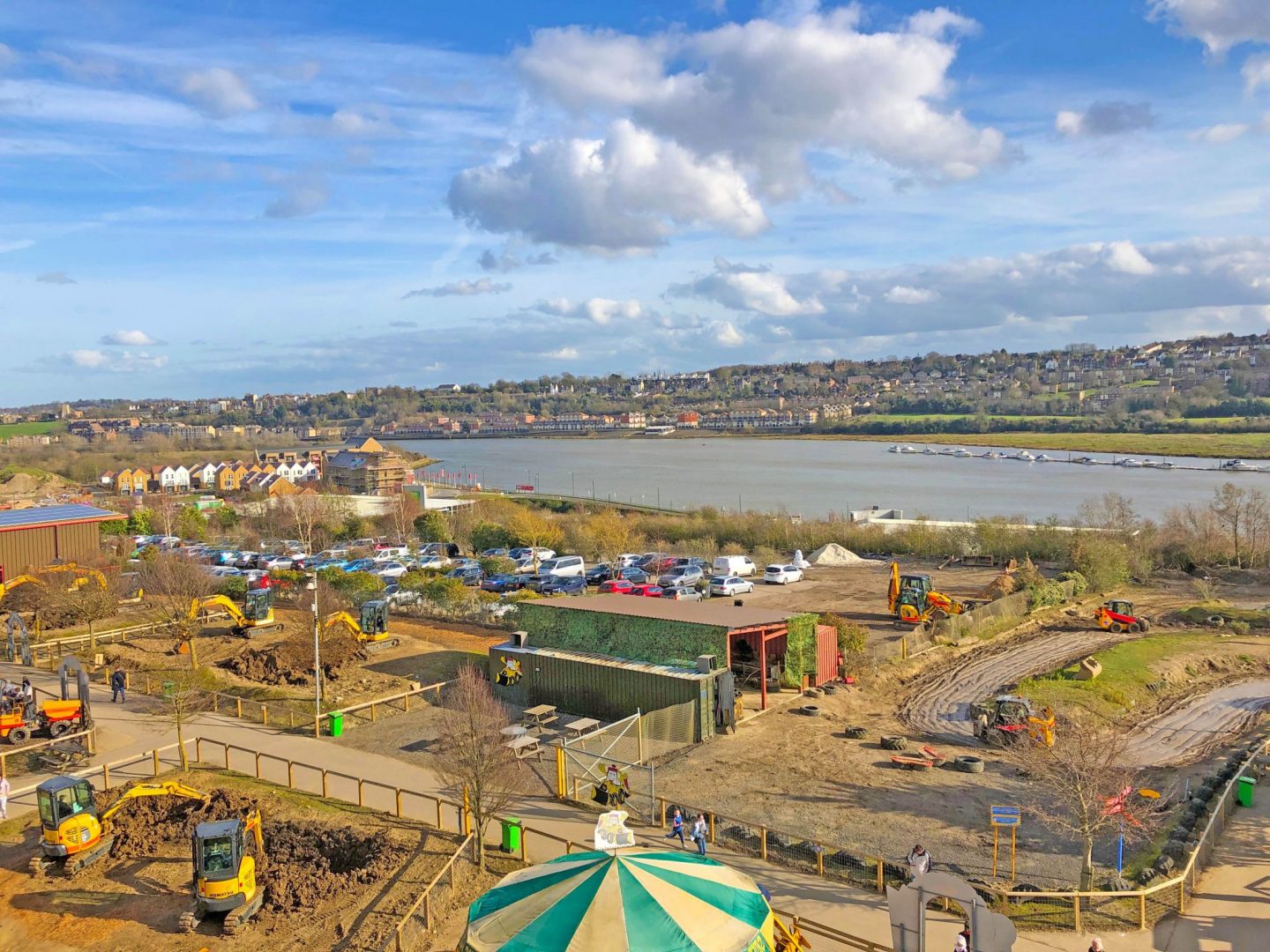 Something for everyone
I'm pleased to say it was another successful visit. Considering my recent experience on a rollercoaster, I was also delighted that I managed to dodge going on the Spin Dizzy, the biggest ride at Diggerland and one that sees you lifted up in the bucket of a huge digger and spun round and round at speed.

The park has been well designed with rides for kids of all ages (not to mention adult-sized kids). Smaller kids can drive speed-limited electric vehicles while bigger kids can move earth using a full-sized digger. Just be advised there are height limits set for the rides so younger children may not be able to experience everything.

As I say, you might not imagine a digger-themed park would work all that well but it's brilliant. We had a great day and as the sun set over the site, we headed off back home.

The good news is that there are several Diggerland parks. In addition to Kent there are parks in Devon, Durham and Yorkshire. You'll find more information online at the Diggerland website.
Disclosure: Entrance to Diggerland Kent was provided for review purposes thoughts and opinions entirely my own.
Interested in this blog post? Well have a read of these...