When I was a kid, I once got in huge trouble for writing in the family's address book in pen. I'd specifically been instructed by my mother to update it in pencil and both she and my stepfather were forthright in expressing their disapproval of my actions.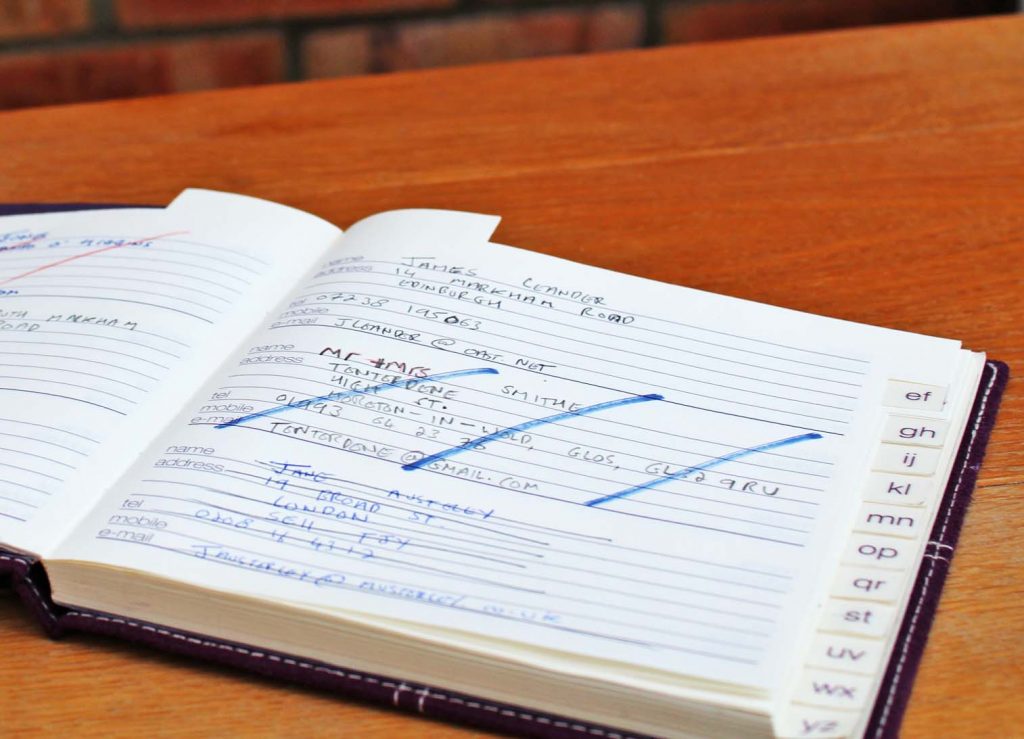 It took me many years to appreciate there might be a good reason why they'd told me to use pencil. It's a rule I don't follow with my own address book, although I probably should.
Why have I come to the awkward conclusion my parents were correct? Well, there are certain times of year I receive a brutal reminder that I'm a parent. Christmas is a classic time, as is summer when I try to arrange to meet people socially with the kids.
As I flick through my address book or my mobile phone contacts, I come across names of people who were once very good friends. As time has passed, there's been so little contact between us I feel slightly awkward getting in touch.
I'll usually come across one name that makes me frown. With a forlorn shake of the head I'll quietly and very sadly agree with myself this is a friendship that has run its course.
Christmas cards may have been sent every year for three years, but nothing received in return. I may hear through the grapevine or via a Facebook update they've had another child and come to the conclusion that it's not personal, merely that life has become too fraught for them.
Loosing friends is a common compliant among new parents, but it seems to be an unexpected outcome of having older children. While babies take up a lot of time, they will attend whatever social function mum and dad take them to, although they will inevitably be the first to leave. Babies also don't need ferrying around to their own social engagements and activity clubs.
If you need to travel to see friends, cost definitely becomes an issue. It costs to take older children on trains and flights and this, I think, can make it harder to maintain friendships with those who live further away.
Babies unquestionably make it hard to socialise. Older children, in my experience, make it harder still.
While old friendships can wither, having kids also presents opportunities to make new friends and form new social groups. I have benefited from this and made a number of great friends simply because my kids have been to the same nursery or school as someone else.
While such friendships have blossomed over time, I think any man who, like me, is the main carer for his kids faces some particular challenges when it comes to socialising. You very often hear about the support women receive from their mum friends.
Alas, dads often struggle when it comes to making mum friends. As for making dad friends, sure, I have many but they are usually working full time so are not available to have coffee at soft play on a Wednesday morning.
That said, the mum friend / dad friend thing is a whole different issue (I vlogged about it if you're interested, click play on the video below). I merely find it a little sad how some very good friendships can peter out over time, largely because family life gets in the way.
I was well into my thirties when I became a father, later than many people. Some friends of mine had established families when I became a dad myself.
I'd seen friends with children go through similar. I had my eyes open and was realistic to the fact some long-standing friendships would suffer. Knowing it was going to happen however, hasn't made it any less painful.
Back to that address book. Believe it or not, my parents still use the same one. When I was guilty of my transgression, it was a beautiful, rectangular book with a pristine, Liberty-print cover.
The cover remains, but it's very grubby and the pages are held together by Sellotape. The pencil-written contact details have been rubbed out and replaced many, many times.
At the time, I thought my mother and stepfather had over-reacted. Maybe they were simply giving me a valuable life lesson?
Interested in this blog post? Well have a read of these...