In the first of a couple of blog posts about friendship, I consider the impact of having children on my personal relationships.
I've been thinking a lot about friendships over the past few weeks. I had a couple of experiences over the Christmas break that showed just how much friendships can change once you've had children.
I'm really uncomfortable admitting it, but I can see an ever increasing gulf between those friends of mine that have children compared to those that don't.That said, the number that don't have children is ever-dwindling.
I always knew that having children was going to have an impact on my friendships. I also desperately hoped it wouldn't stop me seeing my friends, be they child free or otherwise, but it does.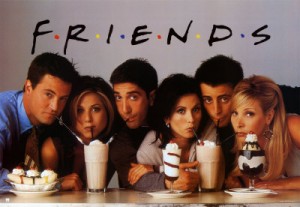 I have a dear, life-long friend back home where I grew up who doesn't have children. Let's call him Marcus. Every time we drive back to visit my parents, as we did just before Christmas, we go straight past his front door. Marcus has offered to host us many-a-time but we just can't consider it. His house isn't child friendly and our two kids would tear it apart, probably after spreading the contents of his ash trays over each others' heads.
I must be fair to Marcus. There's no reason why he should have a child-friendly house. Unfortunately his particular lifestyle means we rarely get to connect face to face, despite the fact we're both very willing.
I won't go into details about the other experience we had over the Christmas period. Suffice it to say it involved a child free friend saying something inappropriate about Father Christmas when our five year old (very politely) asked him a cheeky favour, the kind of thing any kid her age would have done. I know I shouldn't make sweeping generalisations, but it's the type of comment a parent just wouldn't have said and I'm still a little shocked by it.
On the other hand, I have huge sympathy for people that are child free. Let's face it, when us parents get together, we can be exceptionally boring. If you haven't got children then discussing primary school applications or school dinners is going to be remarkably dull.
I also have some old friends with children that I rarely see because we're always occupied with our own families. I long ago accepted that's just the way life goes.  
There is another side to all this. My wife and I have made a number of new and very strong friendships with other people purely because we all have children. There's nothing deep and philosophical about the situation; we simply find we have many similar experiences and therefore more in common. We also often find ourselves in the same family-friendly places at the same time and we know we can be trusted to look after others' children.
So what's your experience? Did your child-free friends run a mile when you became a parent? Maybe you've lost friends or gained friends? Perhaps you are child free and think us parents need a reality check? Leave a comment and let me know.