"You cannot put a price on family wellbeing."
You could be forgiven for thinking that's an inspirational quote I've ripped from a dodgy Instagram account. In fact it's a direct quote from Anthony Fitzpatrick, who is Employee Relations and Global Employment Policy Lead at insurance giant Aviva. He was speaking at the launch of something called The Fathers in the Workplace Toolkit.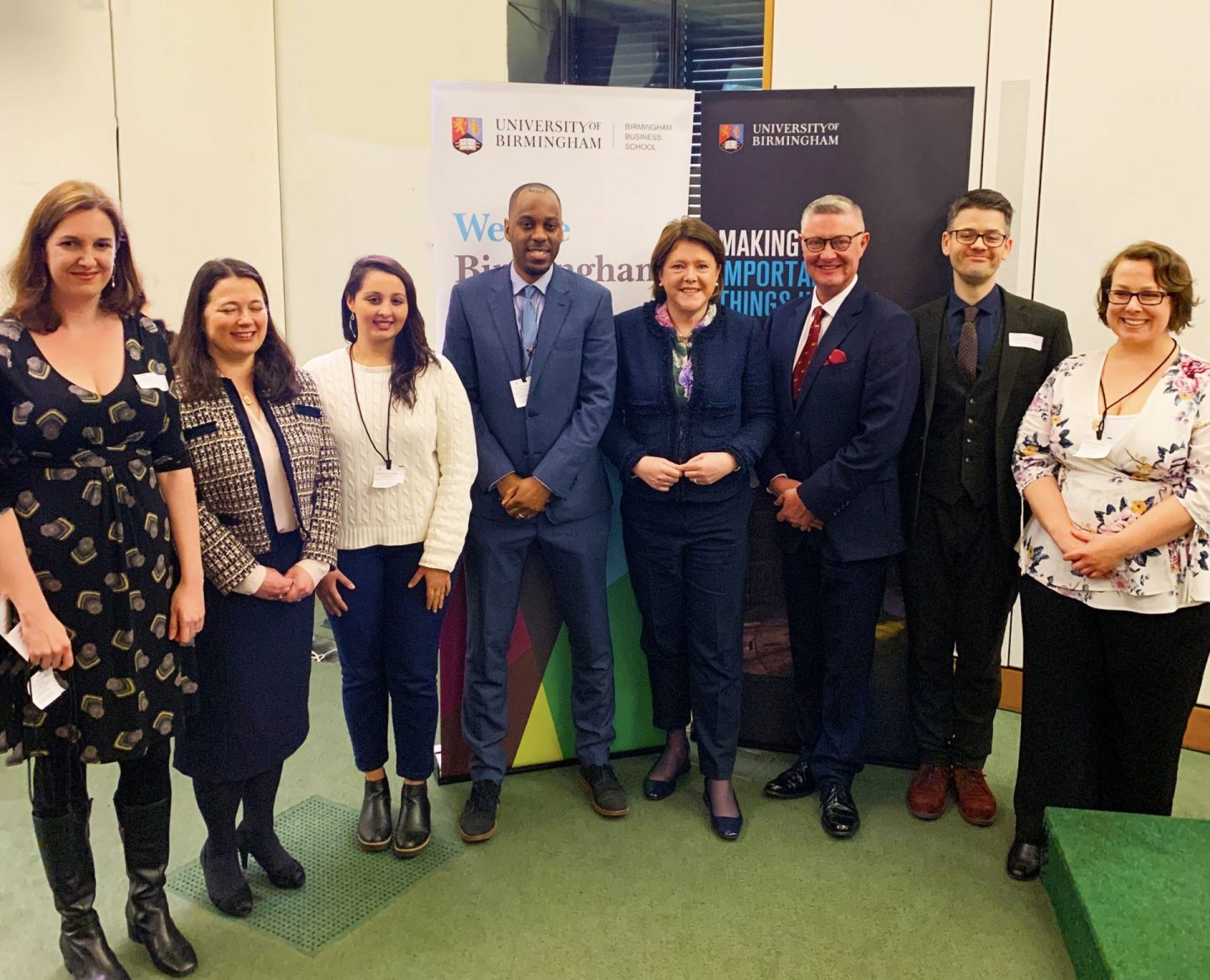 The Fathers in the Workplace Toolkit is quite a mouthful to say, but the concept is very simple. It's a set of free, online resources that employers can use to improve their work practices. The aim is to help them improve working culture so it is more inclusive of working dads and retain their talent. It's much needed as research increasing shows that dads are prepared to move jobs in their employer doesn't accommodate their desire to balance work and family life.
I was invited to the launch of the Toolkit, which was hosted by Maria Miller MP at Portcullis House on the House of Commons estate. It was a wonderful introduction to a set of resources that I hope employers of all sizes will find very useful.
Background to The Fathers in the Workplace Toolkit
Family life has changed over recent decades. Not only are more women working, but men are increasingly doing more of the childcare. Workplace culture, however, has some catching up to do.
It still seems to be the case that the majority of people working flexibly or taking Shared Parental Leave (SPL) are women. The Fathers in the Workplace Toolkit will help employers meet the needs of their male employees and retain their talent. Better still, it's free to use.
It's been developed by Dr Holly Birkett and Dr Sarah Forbes from the Birmingham Business School at the University of Birmingham. The Toolkit has been produced following three year's of research looking at the support fathers need and what assistance employers can provide.
As Dr Birkett put it: "We do not our research to sit in a journal. We want it to effect real change."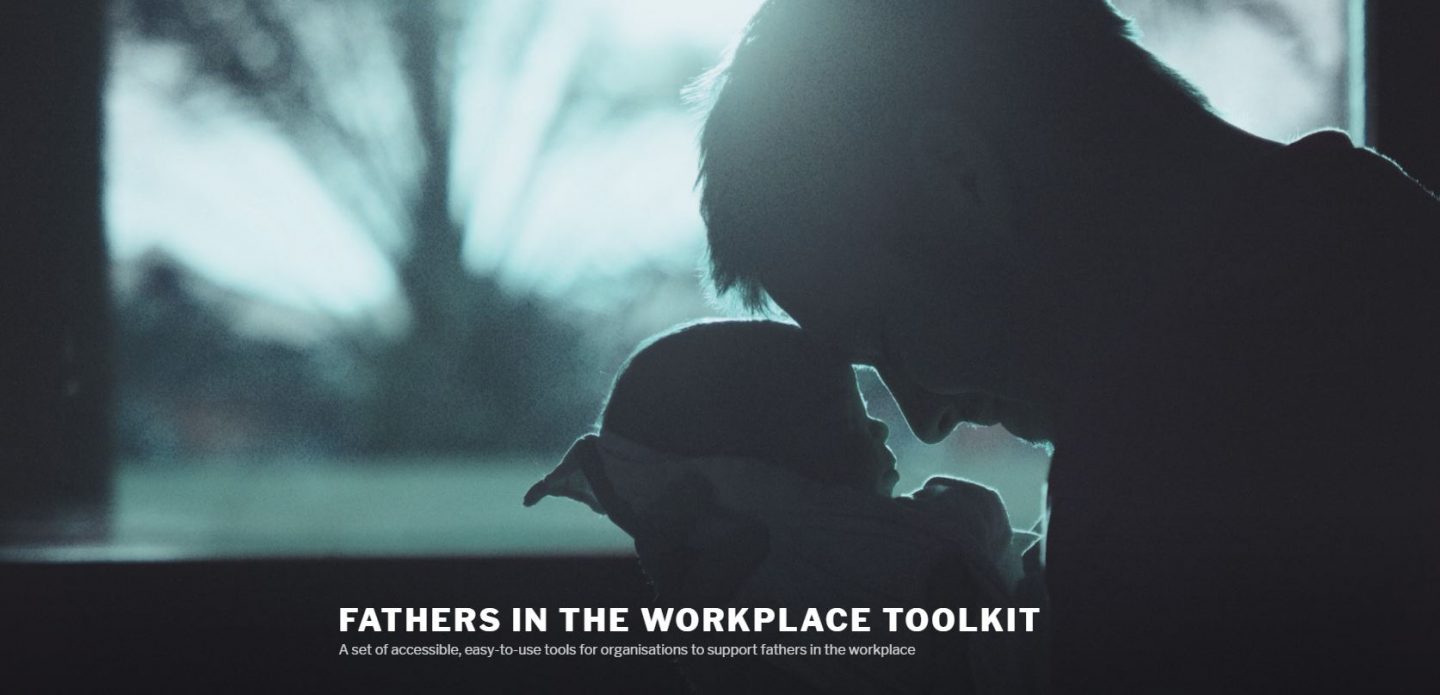 How employers can use the Toolkit
There are several different elements to the Toolkit. I'll go through them in turn
Parenting passport
This is a document companies can introduce detailing an individual's role in an organisation, their parenting situation, the support they might need and how it is provided. A template is available to download from the Fathers in the Workplace Toolkit and the idea is that it can be held by a Human Resources department or line manager and passed to any new managers as an employee's career progresses.
Commmmunication
The Toolkit proposes a number of ways an employer can review the way it commmunicates with male employees about issues such as SPL. Birkett said the research had found many organisations were "patchy" when it came to providing men with information about family-friendly policies. This, she added, was one of several "barriers" men face when it comes to balancing work and family.
This part of the Toolkit is very detailed so I suggest you take a look for yourself. One of the most intriguing proposals, however, is that organisations should appoint a Fatherhood Champion. This is an individual who visibly balances work and family life. They may have taken a period of SPL and work flexibly or work hours that enable them to do the school run etc.
This, I think, is one of the most powerful proposals. I recently wrote an article for the Dads at Work section of the DaddiLife website about the lack of fatherhood role models in the workplace. There was a real split down the middle. Some organisations publicly embraced flexible working for dads while others didn't want to talk about it at all. Working culture can only change if role models, especially senior employees, are seen to work flexibly.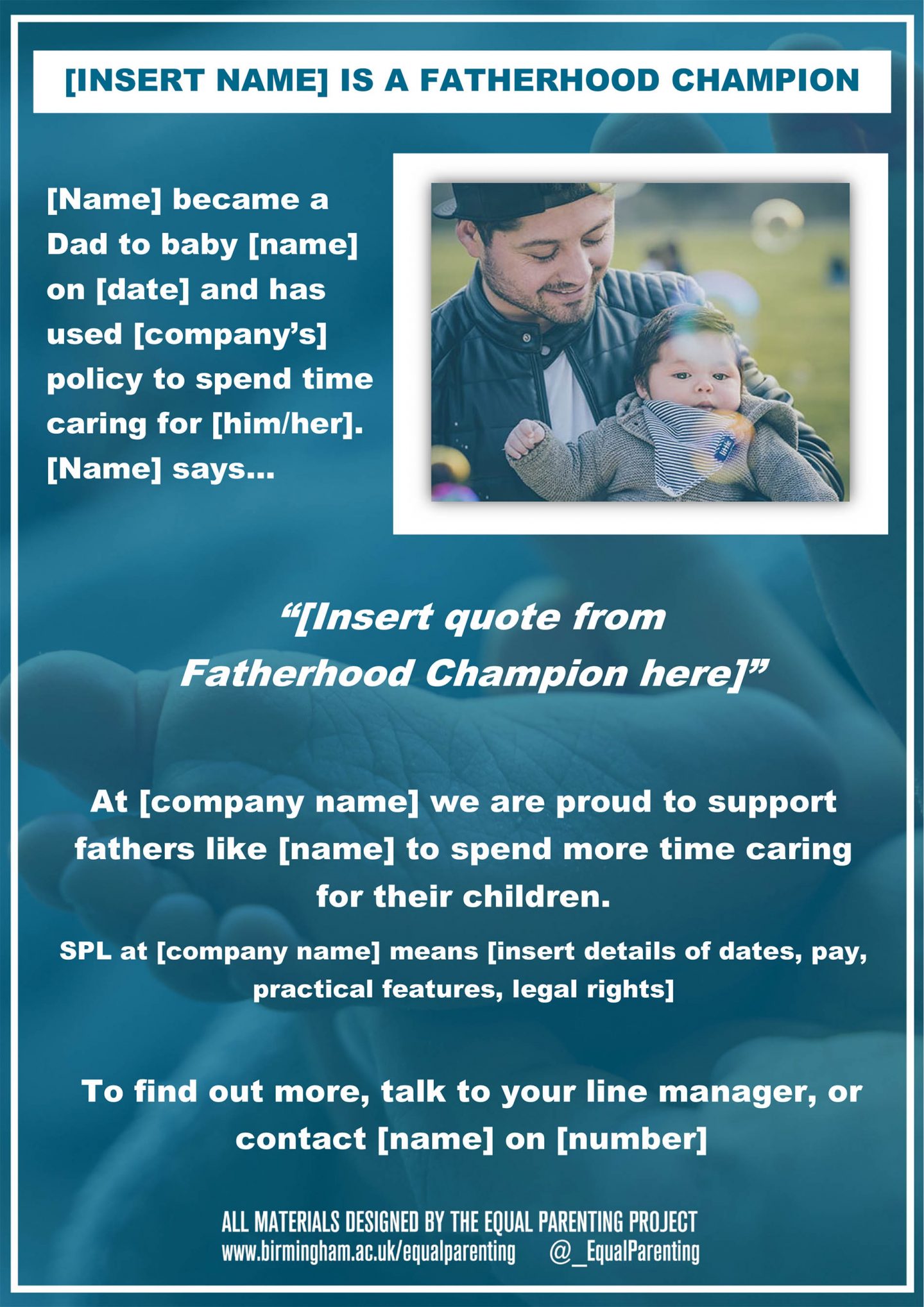 Parenting groups
The Fathers in the Workplace Toolkit proposes organisations establish parenting groups for employees. These can be used for parents to share information about parenting policies, engage with the Human Resources team and engage with senior management.
For organisations that already have parenting groups, advice is provided to help ensure it is inclusive of fathers. If an employer has a mother and baby group, for instance, male employees are unlikely to engage with it.
Policies
As I mentioned above, the research carried out by Dr Forbes and Dr Birkett found information about parenting policies in the workplace are not always passed on to men. Men may not be aware of an organisations approach to paid parental leave etc.
To remedy this, the Toolkit offers suggestions for ensuring policies are legal, up to date and well communicated to all staff.
Return to work
Most organisations are used to women returning to work after a period of parental leave. Conversely, many are still getting used to the idea of men returning to work after a long break looking after babies or children.
The Toolkit provides a list of things to do before a man goes on leave, how to manage their return to work, how to handle phased returns and so on. Crucially, the Toolkit stresses the need to be sensitive to the man adjusting to his new role as a father.
The Toolkit's launch
A number of people spoke at the Toolkit's launch including Elliott Rae of the Music, Fatherhood, Football website and podcast. Rae stressed how the Toolkit could have a practical and positive impact on father's lives.
Maria Miller MP made clear such initiatives are necessary for making workplaces more inclusive and would lead to greater gender equality for men and women. Anna Purchas, Head of Peole at KPMG, said her company wanted to retain the best talent and that meant being pro-active and helping staff balance work and family.
Anthony Fitzpatrick, the man I mentioned at the beginning of this article, told a fascinating story. He explained that Aviva, well known for its progressive employment policies, had introduced equal parental pay and leave in 2017. Three years later, 50% of all staff taking parental leave at Aviva are men (from a workforce that is 52% male). This shows what can be achieved when employers take a progressive stance.
Concluding thoughts
I welcome the fact The Fathers in the Workplace Toolkit has been made available and is free to use. I would encourage employers to take a look. It's also worth noting the Toolkit is available in two versions: One for large organisations and one for small to medium sized enterprises so it's not just aimed at corporate giants.
I think it's great that employers are being encouraged to consider appointing role models like Fatherhood Champions and to check their parental policies and return to work policies are relevant to male employees. They're very simple ideas, but I would wager there are many employers who haven't even considered them.
I'd encourage employers to use the Toolkit. I'd also encourage employees to bring them to the attention of their managerial teams.