Many years ago, I left the world of full-time work. I initially took a job working part-time but eventually I gave that up also. The reason I left the workforce was because I simply didn't feel I had the flexible employment that allowed me to balance work and family life. A report published today shows that I am far from alone with one-third of dads changing jobs since becoming fathers.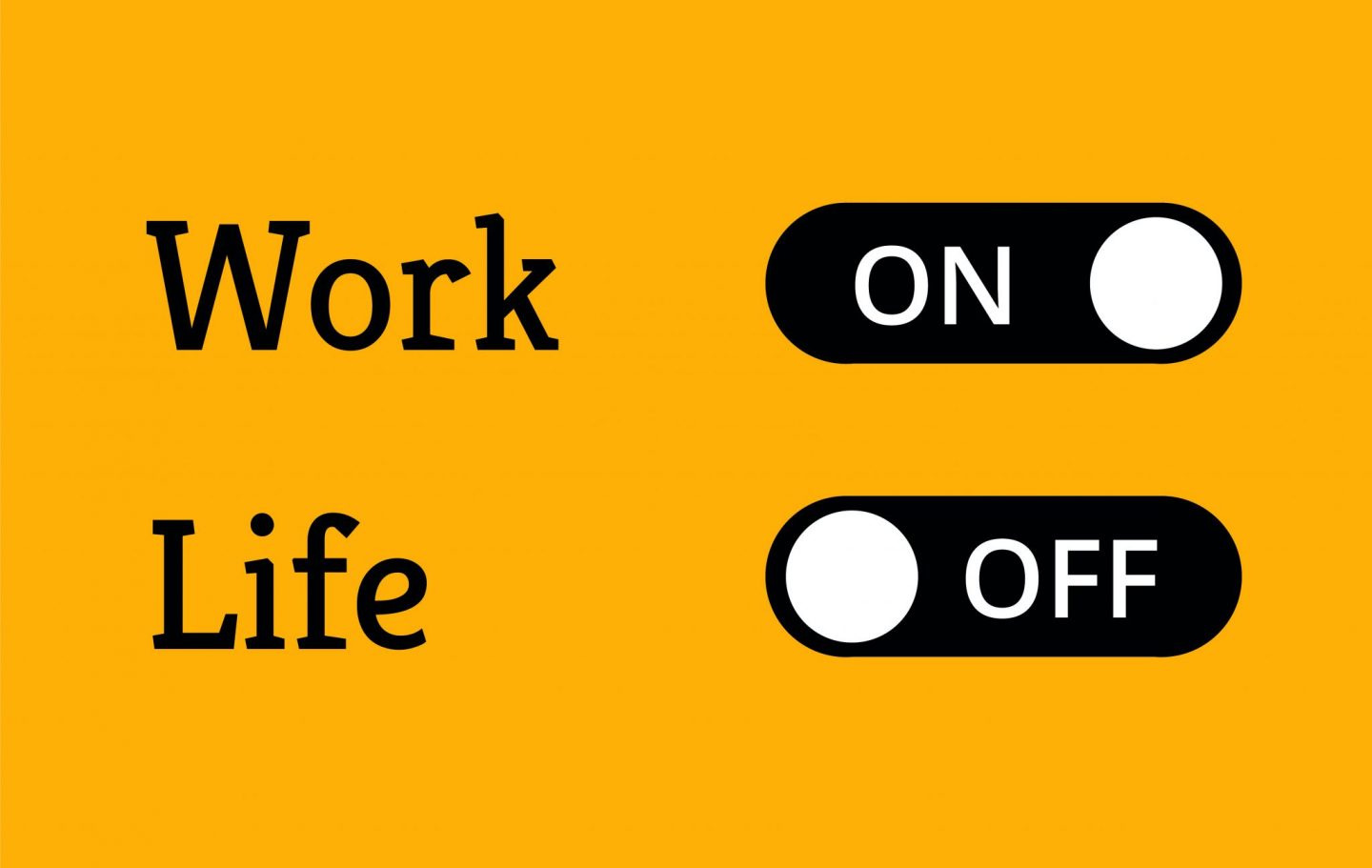 The report doesn't stop there. A further third of fathers say they are actively looking for a new job with lack of flexibility highlighted as the main reason they wish to move on.
Stark message to employers
This, I feel, is a very stark message to the UK's employers. If they wish to retain male talent in the workplace, they'd better ensure flexible employment is genuinely available to male and female staff.
These findings are all in the DadiLife Millennial Dad at Work Report. The report, which follows on from 2018's DaddiLife Dad Index, was produced in association with professional services company Deloitte, an organisation well-known for championing flexible working.
In total, 2,000 men aged between 24 and 40 from various sectors and income groups were asked about their work life and how it impacts on their family commitments. In addition to this, men were asked about the working status of their partners.
flexible EMPLOYMENT is An issue for mums and dads
Before commenting on this report in more detail, let me just make the obvious point. There are huge issues with mums being discriminated against in the workforce. There is definitely scope for the workplace to be more mum-friendly.
As this report makes clear, however, more women are working full time. Many more households are dual-income compared to previous generations and so both genders need increased flexibility to meet family commitments. In fact, 58% of the survey' participants said they are involved in "day-to-day" parenting duties so there is clearly demand for flexibility from employers.
A lot of talk regarding flexibility, but little action
Sadly, dads simply aren't getting the flexibility they feel they require. When it came to workplace attitudes, half of those questioned felt their organisation gave working mothers greater flexibility than. fathers. The hard facts painted an even bleaker picture.
Of those men questioned, 39% had requested a change in working hours. Just 56% had their request approved. In total 9% requested to work from home for one day a week but just 12% of them had their wish granted.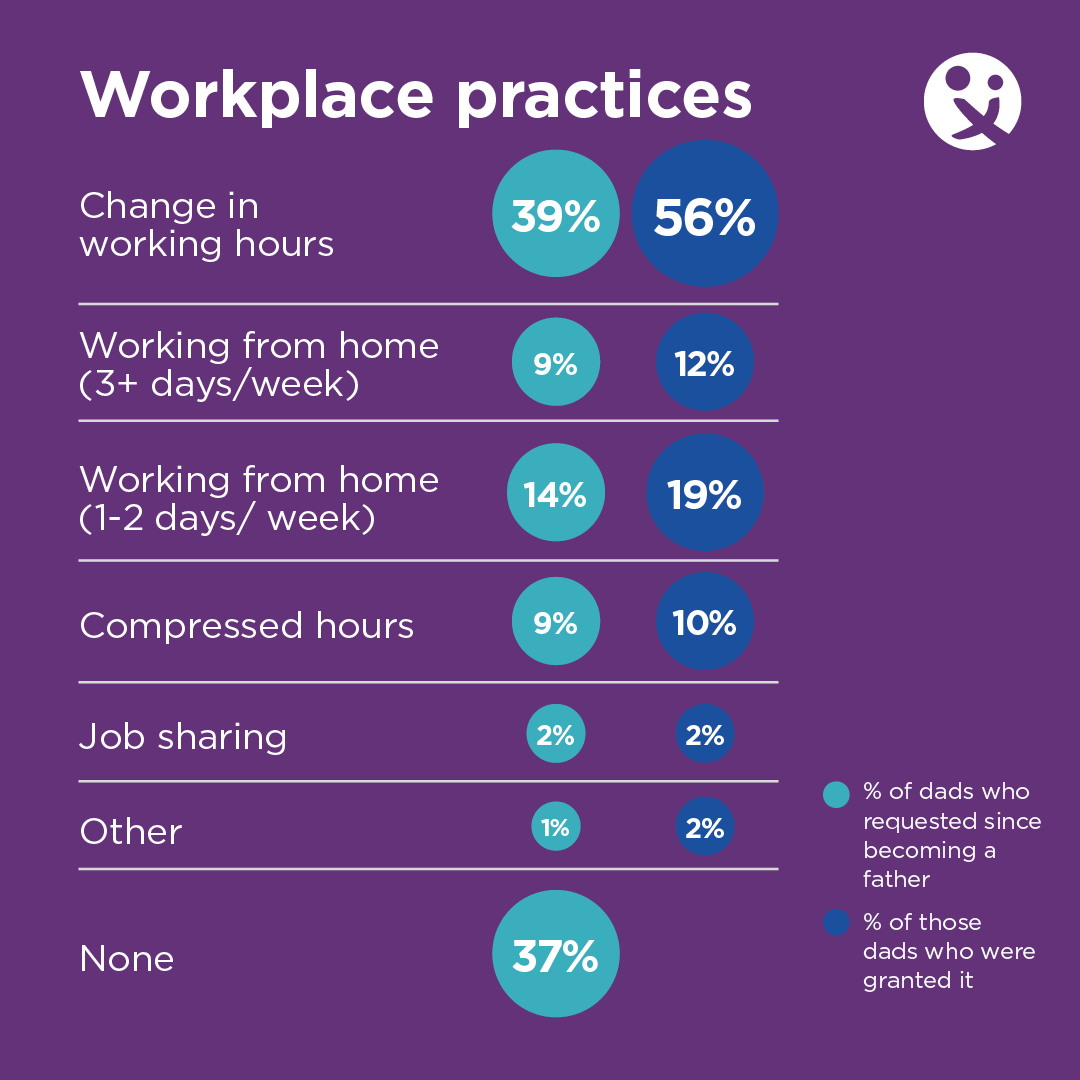 The full report can be read online by visiting the DaddiLife website. I would recommend you take a look as it offers a fascinating insight into which sectors offer the most flexible employment and the differences across the various parts of the UK plus how different age groups are treated (hint: younger dads with lower incomes have the toughest time).
Looking to the future
While the Millenial Dad at Work Report highlights a number of issues, there is good news. Spurred on by the results of the report, DaddiLife has launched at 'Dad at Work' hub. This online resource offers advice to dads about issues such as parental leave and tips about what to consider before the birth. There is also a mentoring programme and an associated Facebook group so dads can communicate with each other.
Action is also happening elsewhere. It's telling that the flexible website WorkingMums.co.uk recently expanded its operations and launched a sister site for men seeking flexible working options called WorkingDads.co.uk (no pun intended. Quick declaration of interest, I am a contributor to the Working Dads site) .
In addition, Liberal Democrat Deputy Leader Jo Swinson recently announced she would table a private members bill to see Shared Parental Leave extended to the self-employed. Added to this, British Land, Avivia and Volvo have all recently implemented family-friendly working policies.
Speaking from personal experience as a stay at home and work from home dad, I know hands-on, involved dads are much more accepted than they used to be. There is considerably more public discussion and debate about how to make workplaces more accommodating to the needs of fathers.
The groundwork has been done. It's what happens next that counts.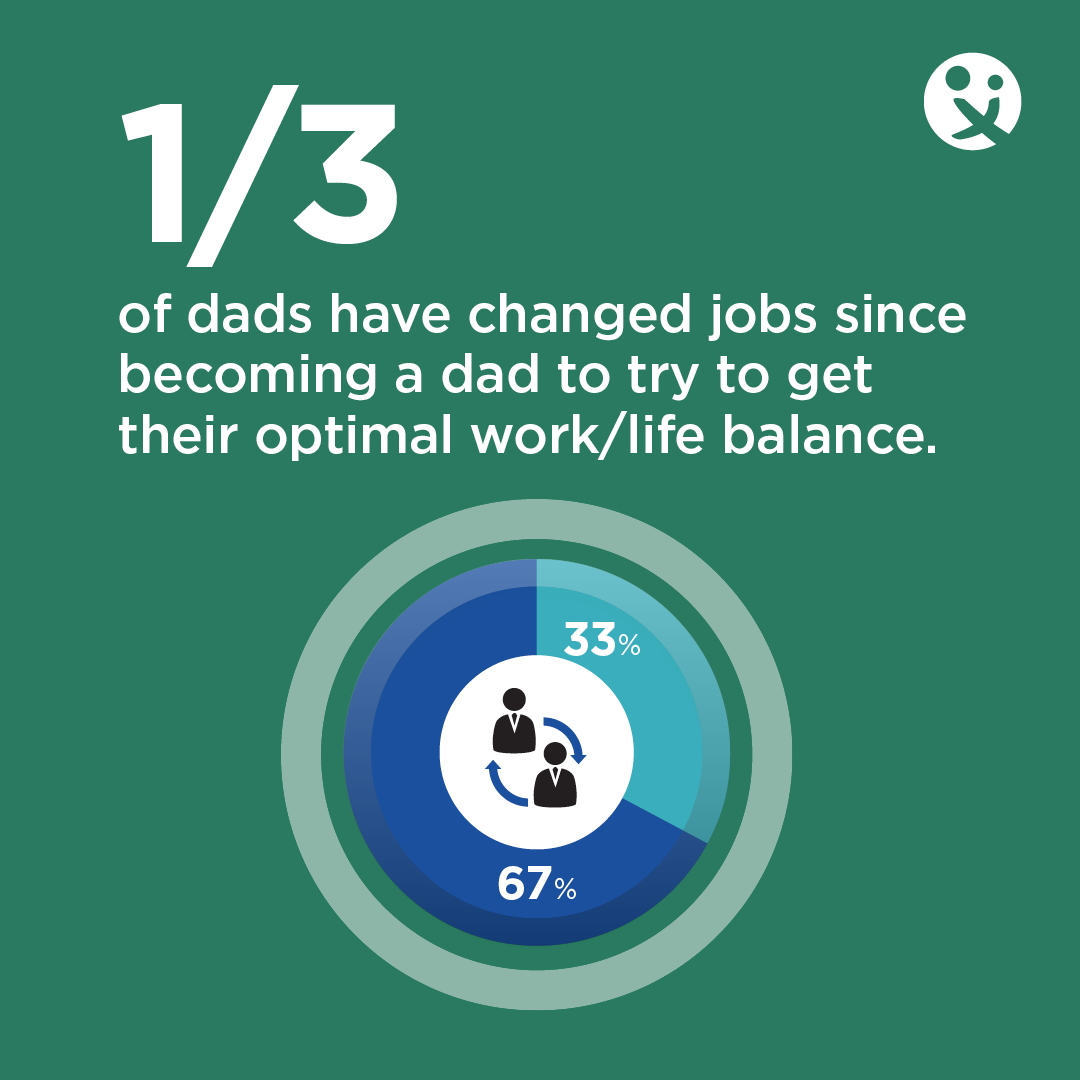 DaddiLife's report makes some great suggestions as to how workplaces can be made more father-friendly. Of those questioned 43% said there needs to be more visible role-modelling around their organisation.
This chimes with some research I did a while ago. I tried to find a director level employee from a FTSE 100 company who had taken Shared Parental Leave.
At first I couldn't find any employees, male or female, who fitted this description. If senior employees aren't setting a good example for more junior staff, an organisation's culture will not change (to my great surprise I did eventually find two part time working, job-sharing directors at Aviva, but this is the only example I've found to date).
The report also suggests more training is needed for human resources staff and that managers should have more training about the needs dads have. I think that last point is very important. Employers can't simply assume a man's partner will take care of all the 'family stuff' as may have happened in previous generations.
I think DaddiLife and Deloitte have produced a very valuable report. It is further proof that employers need to wake-up to the needs of their employees or risk losing them.
What's your experience?
Have you experience of dealing with unsympathetic employers? Are you a mum or dad who changed job to get greater flexibility? Maybe you are lucky enough to work for a flexible employer. Whatever your story, do please leave a comment below.
This post has been added to the #ThatFridayLinky blog linky hosted by the TwinMummyandDaddy and DiyDaddy Blogs. Click here to visit the linky.