A little while ago I did a little investigating. My aim was to find examples of dads working in senior management at FTSE 100 companies who had taken Shared Parental Leave (SPL). I wasn't able to find a single example, but the blog post I wrote came to the attention of insurance specialist and FTSE 100 institution Aviva.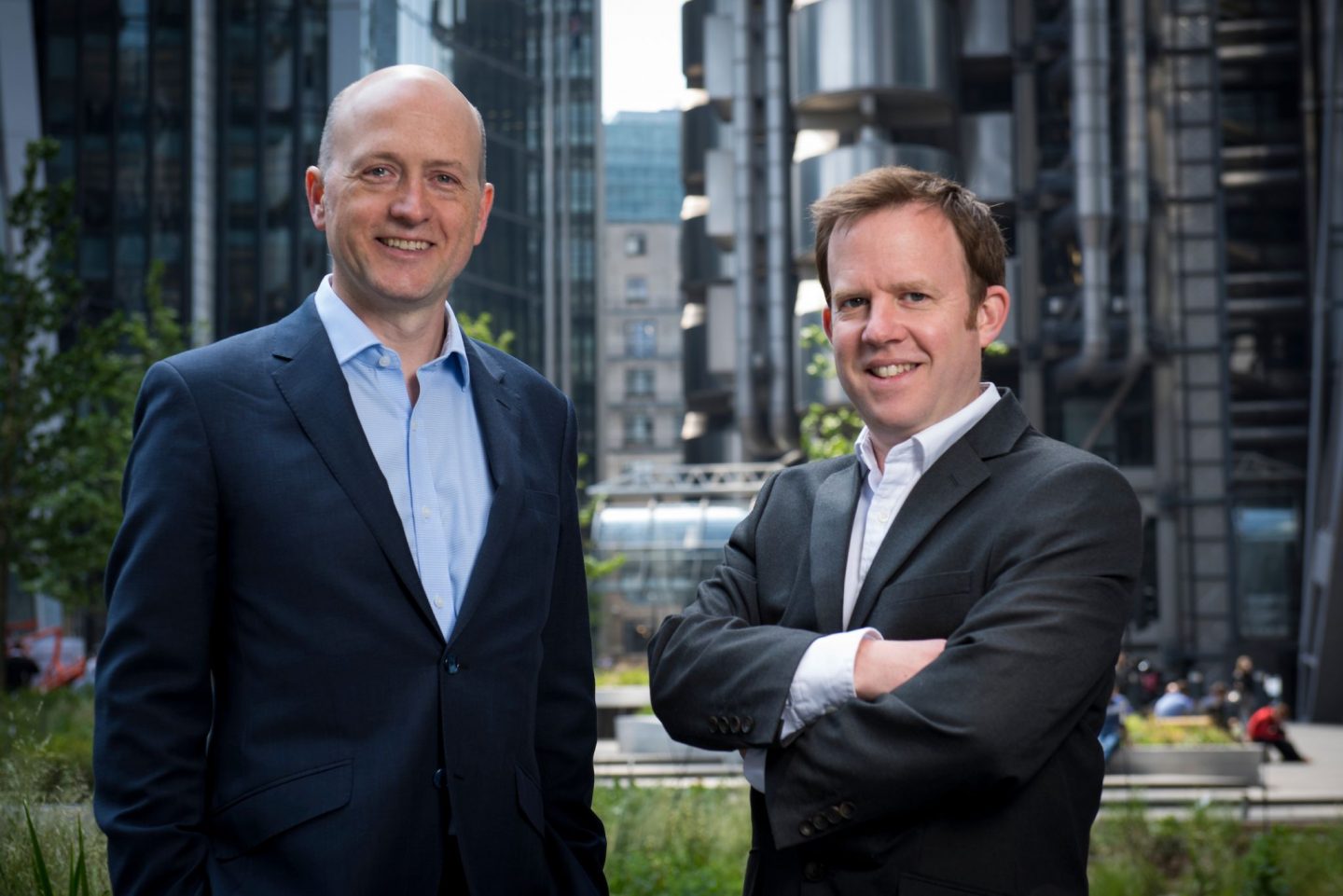 Not only did Aviva have an example of a very senior manager who had taken shared parental leave, but he worked in a job share with another dad. Job shares at senior levels are apparently quite common in the Netherlands, but I had never heard of this is the UK so I was keen to speak to the guys involved.
Allow me to introduce you to Will McDonald and Sam White, who are Group Public Policy and Sustainability Directors for Aviva. It was after Sam took six months SPL that the two men explored the option of establishing the role on a job share basis.



I simply had to find out more. I've written this up as the latest in my Dadbloguk Q&A series. I hope you find it interesting how to see two such senior employees make this job share work.
Please introduce yourselves and explain your role at Aviva?


Will starts: "Sam and I have a long title (as above), but basically run three teams, in total about 20 people. We run the global Corporate Responsibility team, the Public Policy team and a campaign to make the financial system more sustainable. We report to the Global General Counsel, who sits on the Group Executive, so we are one off CEO level.

Sam adds: "Our teams cover a wide range of issues. For example, we help the company navigate Brexit and the implications of the changing political situation.

"We manage things like the business ethics code. We look after sustainability. This means not only our impacts on the environment, we were the first big insurer to go carbon neutral for example, but also on how we use our voice in the world to help drive sustainability. Aviva looks after millions of people's pensions and the decisions taken about how and where they are invested has an impact on sustainability. One of the things we're most proud of is the project we have with the United Nations on how we help them achieve the globally-agreed Sustainable Development Goals."


You've introduced the job, can you now please introduce your families and explain why you decided to take Shared Parental leave and then job share?
Will answers first: "My kids came before SPL was introduced and my wife and I wouldn't have qualified anyhow. When Sam took six months SPL with his second child, I acted into his role.

"Before this I was doing four days a week, which was worth it to spend the time with my kids, but ultimately a bit unsatisfactory as I was always chasing my tail and catching up from the day I hadn't been in work. I acted in to Sam's job five days a week, but when he came back, I was keen to explore a job share, as my wife and I had long been keen to get to the point where both of us were working three days a week."

Sam gives his version of events: "Both Will and I have young families. For me, I was very keen to take six months off with the birth of my second daughter to spend more time looking after my daughters. I'd only been able to take two weeks with my first daughter, but the six months second time round gave me time with them both. It was brilliant. Lots of duck ponds and playgrounds. I got to learn all the lyrics to Frozen.

"While I was on parental leave, Will was acting up into my role. When I was about to come back Will got in touch to say he was interested in creating a job share with another team member. I said: 'That's really interesting, let me think about that'" A couple of days later I phoned him back and said: 'Why don't we turn my role into a job share?'"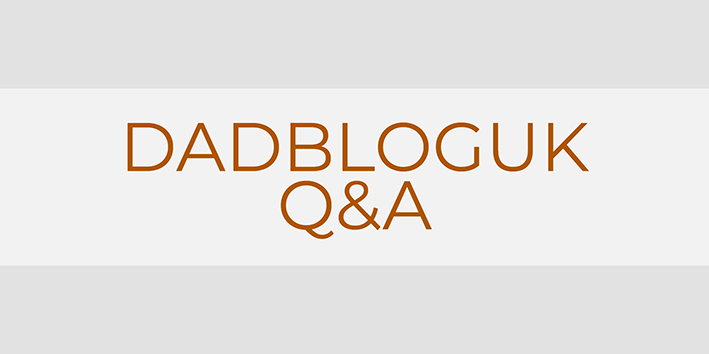 Was it quite a groundbreaking move at Aviva for individuals of your seniority to job share, or had it been done before?

Will answers this question: "It was ground-breaking, yes, and remains so, both in Aviva and elsewhere. There are other job-shares at Aviva, and they were helpful in giving us advice to set up our job-share, but none that we know of at this level, and none others that we have seen that are all-male."
How do you make it work? Is there one day a week when you both work and handover? Do you work the same set pattern each week?

Will replies: "We both work three days a week, overlapping on Wednesday, and both keeping the same set days each week. On Wednesdays, we have about an hour of handover but otherwise we don't duplicate so we are very rarely in the same room. We have a set of principles between us that are really useful in having a clear common understanding of how we work."

Sam explains a little more about the principles the two men follow: "We make it work by having a high level of trust and a shared vision of what we are trying to achieve. We spent a lot of time right at the start talking to other job-sharers and working out what worked.

"A common theme was having a single document that set out ways of working. We have about a dozen principles on a page, things like 'when in charge, take charge' and 'seamless from the outside'. They help us know what to expect of each other. One of the most important is 'brilliant handovers'. We put a huge effort into getting the handovers right."

There must have been a process of negotiation with your HR team / other management. How did you find that?

Sam makes clear there was a process of negotiation: "When we decided to try job-sharing, we proposed to our boss, Kirsty Cooper, to do a six-month trial.

"We said: 'It's our responsibility to prove to you and our key stakeholders that we can deliver just as good a service as either of us did by ourselves doing the role.' Kirsty was brilliant. She said: 'Let's do it.'

"After six months, we reviewed it. She spoke to her colleagues on the Group Executive and people thought it was working really well. We've been doing it more than 18 months now."
How do your families benefit from this style of working?

For Sam, his children have clearly been learning a lot about history, but I'll let him explain: "It's been great for the family. On one hand it's meant me taking a pro-rata pay cut, but it's made it easier for my wife Katie to go back to work. We're both working flexibly, which means we both have time with the kids, but both are taking forward our careers and bringing in an income. We're making it work.

"Personally, I've loved having responsibility for the girls by myself. It's been amazing for our relationship. They'll often say: 'Is it a mummy day or a daddy day?' I'll say: 'A daddy day!' And they say: 'Yay, let's go to a castle!' because that's what we do on daddy days!"

Will, meanwhile, concedes it has it has had a positive impact on his relationship with his wife and kids: "It has made a huge difference to how much time I spend with my kids and has transformed our relationship. I love it. It also means that weekends are more equal between my wife and I, as neither of us is the parent and the other the worker.
What's been the reaction from family, friends and work colleagues?

Will said: "On the whole, very positive all round. I think lots of people instinctively think that 'it's great, but it wouldn't work in my job.' One of our aims is go out and speak about how it is possible, even in our job which is senior, very external facing and fast-paced."

Sam echoed Will's thoughts but added the teams they manage also feels the job-share works well: "Mostly very positive. The family loves it. Friends have been supportive, interested, some intrigued by how it works. Colleagues have been great too in helping us make it work. Happily, we are often told by colleagues they are surprised how smoothly it works.

"And for our teams, we did a secret survey after about a year. We got 95% of the team saying it was working really well."

Nonetheless, Sam admits he faces the occasional negative response: "Once in a while you meet someone who offers the 'real men don't job share' world view. We love it when we get that. We're like: 'Why not?' It's brilliant for us and our families. We're not leaning out, we're working flexibly for a number of years. We haven't lost any ambition. We're fully invested in what we're doing."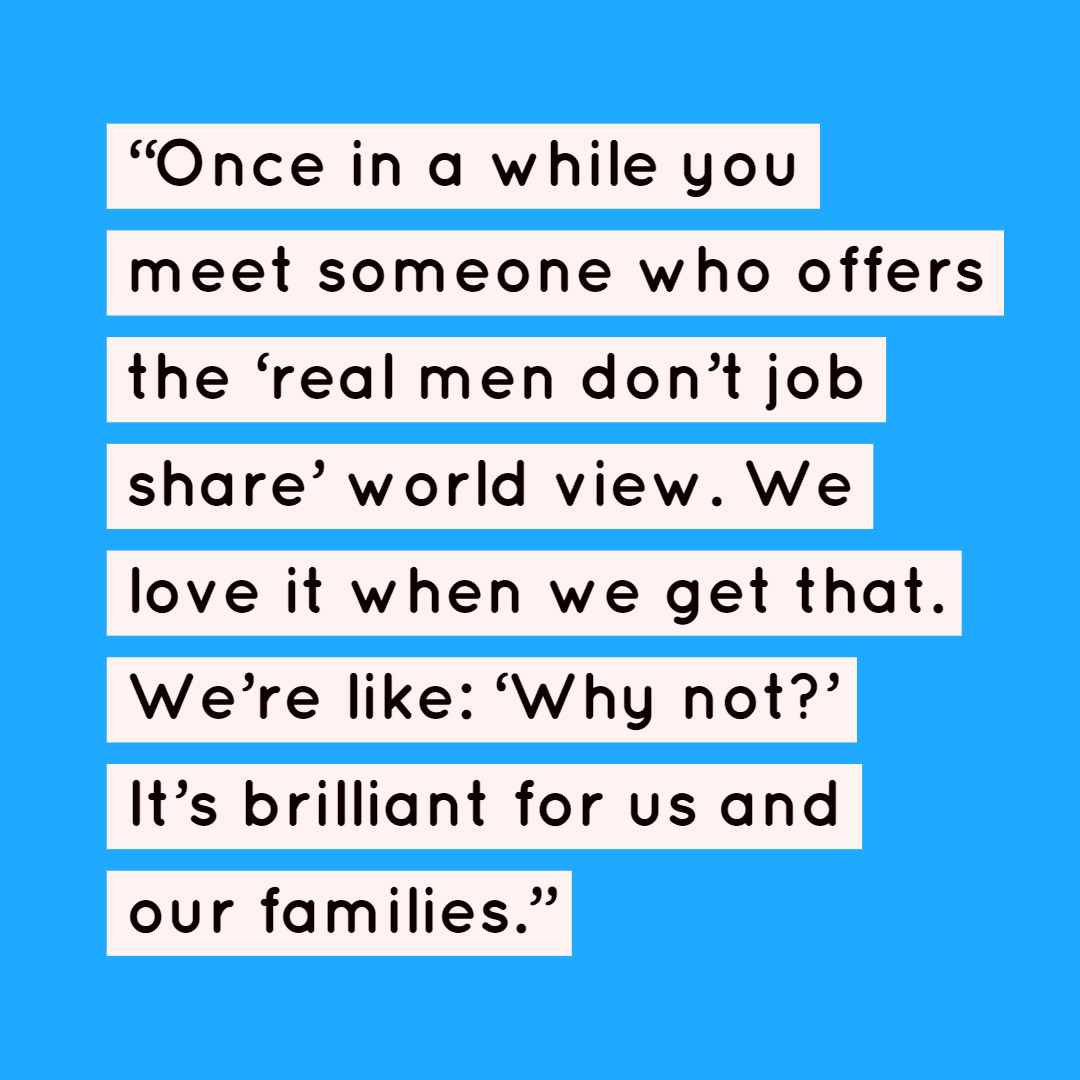 Is job sharing quite common in Aviva? Where it is, is it because people have young families or other caring commitments?

Will tackles this head on: "There has been lots of work recently in Aviva including a new carers policy and a lot of promotion of flexible working. Job sharing is slowly catching on as a great way to deliver for the company in an exciting job and balance that with your non-work responsibilities."

Sam expands on this making some interesting observations about Aviva's parental leave policies: "Aviva has introduced some impressive policies on flexible working. The parental leave policy is one of the most generous in the country.

"In the UK, this means up to 12 months of leave for all new parents, including six months at full basic pay: Man or Woman, gay or straight, birth parents or adoptive parents. In the first 10 months since we introduced it, 700 people used it internationally, 300 of them men. It shows this is something men want to do when you remove the financial and cultural penalties."

Would you encourage others to consider job sharing and if so, how would you recommend they go about speaking to management about it?

Will replies: "When we spoke to other job-sharers, or people who had in the past, it was incredible how positive they all were about job-sharing. Now we too, are massive converts. I think my top tip would be to set it up as a trial and take small, reversible steps so that everyone can get comfortable with the idea and how it works."

Sam adds: "Yes, absolutely. We feel really grateful that Aviva has given us this opportunity. We want to tell people, particularly other men, job-sharing is great.

"Our advice would be: if you're thinking about it, why not do a trial? Prove it can work. If you are job sharing, spend some time at the start getting onto the same page, create a shared vision and write down your ways of working. Talk to other job sharers to get their views on what works and what pitfalls to avoid.

A refreshing experience

Hearing Will and Sam's experiences was very refreshing. I was not aware of Aviva's progressive approach to job sharing, SPL and family-friendly working before writing my article about senior managers not taking parental leave.

I'm really glad their example came to light. It shows there are good examples out there. I simply hope this will filter down to other employers, both large and small.
What do you think of Will and Sam's example? Maybe you work in a job-share yourself and can relate to this? If you have tips of your own for suggesting how you can make a job share work or have ideas about persuading managers to consider flexible ways of working, please leave a comment below.
Interested in this blog post? Well have a read of these...