It's time for me to express an opinion that may not prove all that popular. You know when you have very young children and people tell you; "It gets easier"? Yeah, well, I'm not convinced. No, I'll go further still. I think it's a very misleading phrase.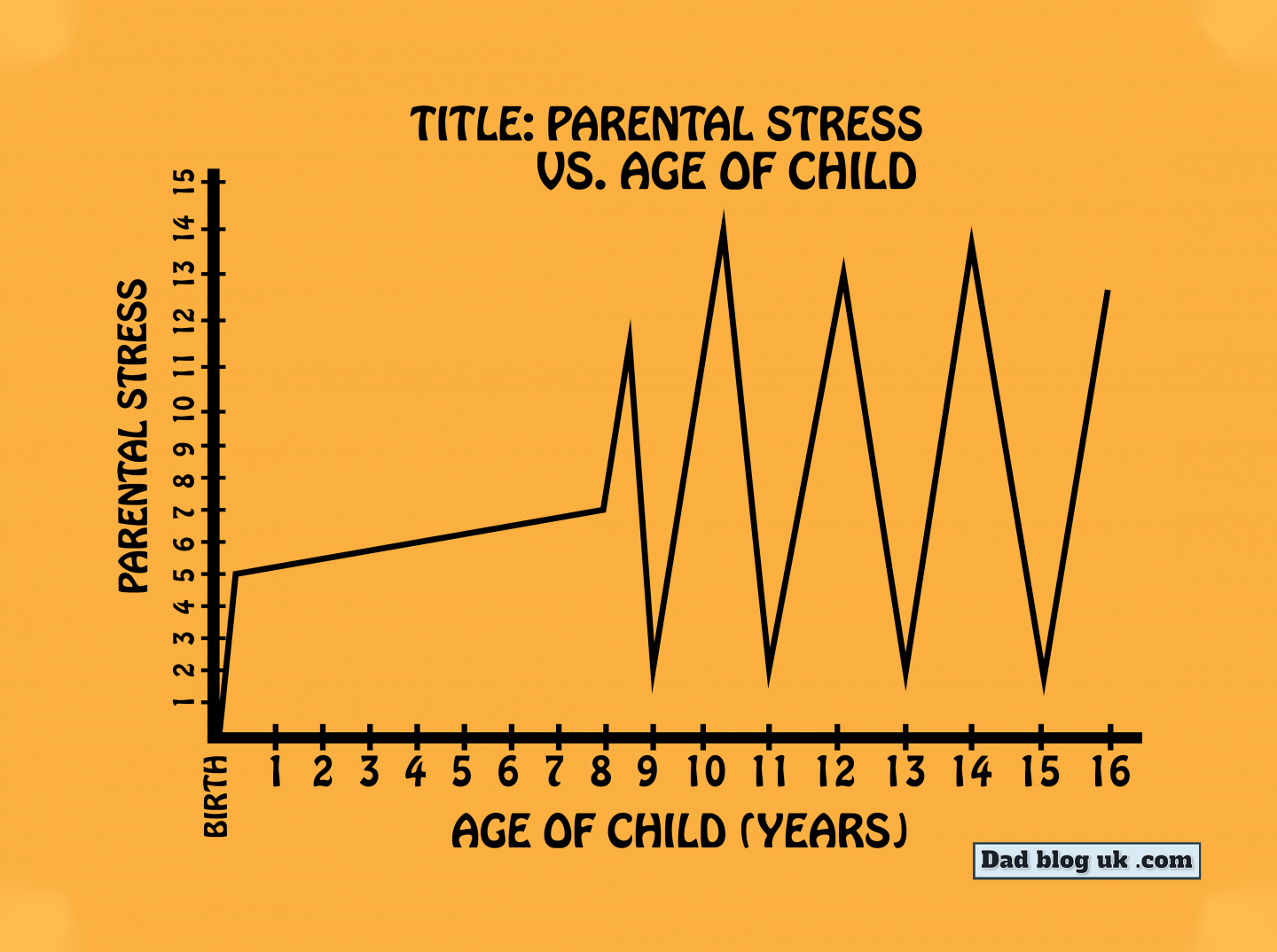 Everyone is individual, but I find the challenges of parenting older kids tougher than babies and pre-schoolers. As I say, I know many will disagree, but I'm not alone in thinking this way.

Some time ago I was talking to my mother. She said it was the problems her children face in their thirties and forties that keep her awake at night, not the trouble we all bought upon her (not to mention ourselves) when my brothers and I were younger.
Interestingly, I can never recall her saying to me: "It gets easier." Perhaps I've inherited my opinions from her?
Okay, so I probably shouldn't be relying on my mother to prove my argument. Just bear with me for a moment 'though.

When Mrs Adams and I first became parents, we were clueless. Totally, completely and utterly clueless. Even so, it was a fun time. There was real teamwork between us. It was almost romantic, as we worked together to look after, Helen, our new-born daughter.

Sure, it was tough and we made mistakes, but our challenges were feeding our baby, dealing with the sleep routine and interaction with our child. Our biggest challenges were having to do all this while Mrs Adams recovered from a hard, surgical birth with Helen and post-birth complications following Izzy's birth.
Those issues aside, we were also learning how to be parents. Our relationship changed as we adjusted from living as a couple, to being an extended family with one baby and soon afterwards, a second one.

Having one young child is demanding enough. Having more than one is considerably more demanding. There's no question, it was hard because babies and pre-school kids need constant attention and can't be left alone for a moment and it's more than double the work when you have more than one kid.

Those early years are intense because an infant and toddler's needs are constant. You can't turn your back for a moment without them climbing on to a table / attempting to eat something toxic / scribbling on a wall / giving a friend a haircut / giving themselves a haircut / dropping your mobile phone down the lavatory…the list is endless. "It gets easier" was a phrase I found myself living by, at least at first.

While older children don't have constant needs, I find the challenges I deal with have much bigger implications. A fall our between friends can no longer be solved with a hug, an apology and a few carefully selected words.
Wow was I unprepared for the complexities of tweenage girls and their friendship groups. It gets more awkward still if kids fall out and you're on friendly terms with the parents.
Following on from that, navigating the online world is an absolute minefield. It never ceases to amaze me how laissez faire some families are when monitoring what their kids get up to online. This, in turn, leads to all sorts of issues such as bullying and, going back to the point I've just made, exacerbates friendship fall outs. When I was at school the mean words stopped at the end of the school day. Today, the mean words continue after school via text message.
The other thing that immediately comes to mind is secondary school. We recently went through the whole application process as Helen will start at secondary school later this year. At this stage we don't know which school the local authority will allocate her, but we hope that the preferences we expressed on that application were the correct ones.
The school you attend in your teenage years can be life changing and my experiences of secondary school were not good. I hope and pray Helen and Izzy have a much better time of it than I did with more supportive teachers in a more nurturing environment.
Getting back to the early years, I know we were fortunate. Yes, we had some issues after each of our children were born but we had health visitors and family members to call upon for help and advice.
I also readily accept the challenges we faced in the early days were minor. Just to give one example of how I know things could have gone, a couple I know had a child who only slept at night in 20-minute bursts and this went on for several years. Had we faced something like that, my opinion would probably be very different. Based on the experiences I've had, can't honestly say "it gets easier" or that raising older children is easier than dealing with the early years.
Every child is an individual, but older children have much more defined characters making every issue unique. There's also less support. I can talk to family members about issues such as online bullying and school applications, but it means nothing to most of them because they've either never had to face it themselves or they went through all this decades ago when times were very different.
No, I really don't think the later years of childhood are easier than the early days. They're less intense, but telling parents of young children "it gets easier" is a touch misleading to say the least.
You, however, may have a different opinion. I'd be fascinated to know what your thoughts are, especially if you have older children. Do please leave a comment below based on your experiences.
Interested in this blog post? Well have a read of these...