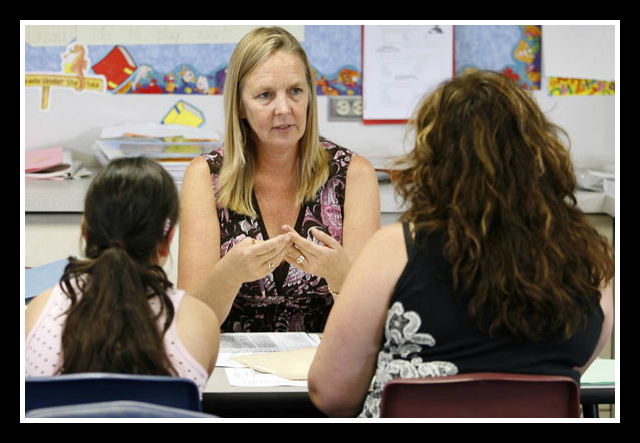 Where do you stand in the great Parents' Evening Debate? Do you think they are a waste of time, or do you appreciate them?
I ask because we've just had one at my daughter's school. Personally speaking, I like parents' evening a lot. Although the consultations are short, you get a few minutes one-on-one with your child's teacher and can really explore any issues without the usual interruptions when trying to have a chat in the playground.
Every school will handle parents' evening differently, but I think the level of consultation with mums and dads is far better than when I was a boy. I think it happened once a year when I was in my teens, but I don't recall there being any parents' evenings when I was at primary school. By contrast, my eldest daughter's school holds them at least twice a year and she's seven years of age.
I think that's a much better frequency and enables mums and dads to gain a better understanding of the school system and engage with it. I believe this is absolutely vital when the National Curriculum, expected standards and reporting methods seem to change every time the wind changes direction. Seriously, I can't be the only parent who struggles with what my child is meant to achieve (this week, because it'll all be different next week).
Back to parents' evening. It must be very hard for the teachers. I've heard of teachers struggling with dis-engaged parents. Some mums and dads I know must be incredibly hard work to deal with (oh come on, we all know parents who are difficult to deal with, right?).
I also wonder who gets more worried about parent's evening; the children or the parents? Helen has just realised what is discussed at these events and was clearly a little nervous on our return the other day. Before going, however, don't you have this tiny pang of fear, just in case you're about to be told you're kid goes completely off the rails during their phonics or numeracy lessons? No? Oh, just me then.
I'll also make the one other comment about parent's evening. I think you see a huge number of dads in attendance. I guess it's because they often take place later at night, but you see greater engagement from guys at parent's evening than you do at, say, sport's day or the Nativity play which usually occur during office hours. For me it makes quite a pleasant change; I find myself in school and not seriously outnumbered by all the mums!
What do you think of parents' evening? Do you enjoy going along? Do you find it informative? Perhaps you're a teacher? If so, what's your experience of it? Please leave a comment below. I'd love to know what your thoughts are about this fear inducing event.
Interested in this blog post? Well have a read of these...