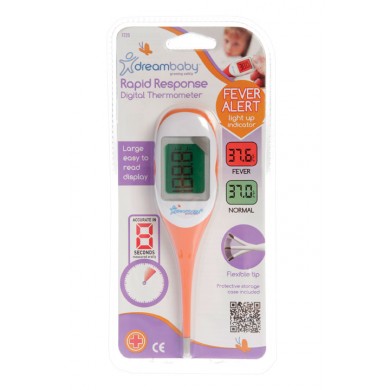 The Dreambaby Rapid Response Digital Thermometer is incredibly easy to use. It only has the one button so you simply press it, place the tip under the tongue and wait for it to beep.
You really can't go wrong with this item. The digital display is huge so you can't miss the temperature. The background to the display goes red if the temperature is too high or goes green if all is okay.
As luck would have it, this thermometer entered our house just as we had one of those periods of family sickness. First Todder Adams fell ill, then her older sister fell ill (and had a very high temprtaure) and finally the kids passed their bugs on to lucky old me.
Within a week, the thermometer did the rounds of all of us. Apart, that is, from Mrs Adams who somehow dodged all the bugs.
The tip at the end is flexible so will bend and move around. I couldn't figure out why at first until Toddler Adams started moving around sharply as I attempted to take her temperature. It then dawned on me that by having a flexible tip you avoid the chances of giving your child a painful prod.
Overall we've found this a very easy item to use. There is just the one observation I would make. The display is very large. If taking a young child's temperature you will need to keep hold of it tightly as it could just flop of their mouth.
Even with our six year old, I kept hold of it as she struggled to keep the thermometer under her tongue. This, I have to stress, is not a reason not to buy the product. It's just something to keep in mind when using it.
At £14.99 this product is competitively priced. It's available form shop4kids.co.uk.
Disclosure: I was provided with one of these thermometer's for review purposes. Thoughts and opinions are my own.

Interested in this blog post? Well have a read of these...