Bake a cake and put out the bunting. Shared parental Leave (SPL), the family-friendly policy that allows parents to share 50 weeks of leave when a child is born, is four years old today! At some point in the near future, there could be a second reason to celebrate as the leave may get a much-needed shake up.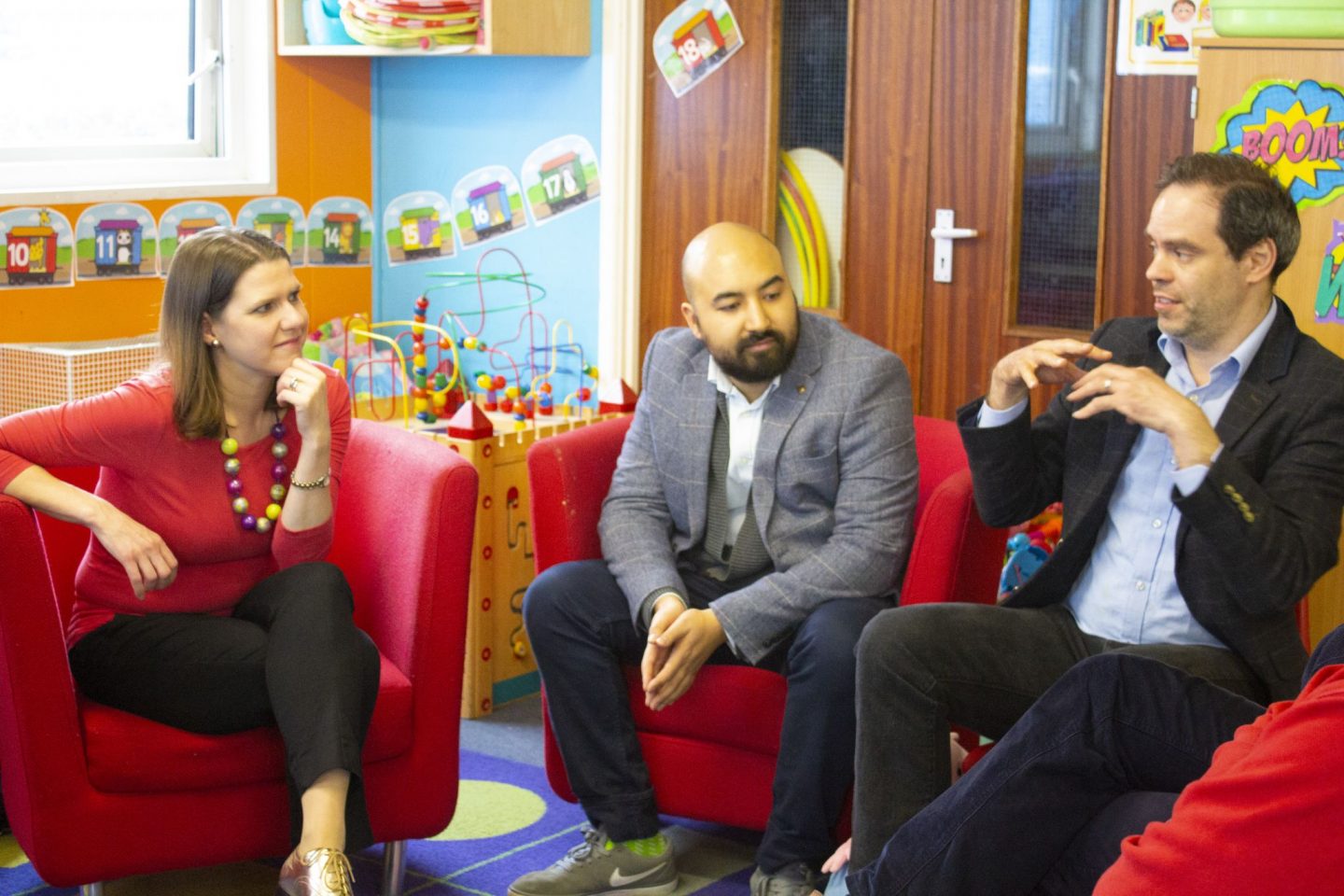 Why so? What's happening? It transpires that Jo Swinson MP, Deputy Leader of the Liberal Democrat party, has introduced a Private Members Bill to Parliament that would address one of SPL's biggest shortcomings. If passed, the Bill would extend SPL to the self-employed, a group of people who have long been excluded from anything but the most basic benefits when they have a child.
Swinson was an Equalities Minister in the days of the Lib Dem / Conservative coalition Government. Replacing the old, inflexible maternity and paternity leave systems with SPL was a high point in her career but even she has long-recognised SPL was in need of some reform.
This announcement was made at a discussion that took place yesterday between Swinson and a bunch of dads, of which I was one. Swinson And Her Dads (SAHDs, see what I did there?) met at a nursery near Westminster in Central London.
The dads had a variety of experiences and backgrounds. Some were in the midst of taking SPL, one guy had recently taken a six-month spell of SPL while another had wanted to take SPL but was unable to. The final few, and I include myself in this group, never benefited from taking SPL, but have a professional interest in following the policy closely (not to mention a few dads who happen to be bloggers including Han-Son, Giles and Simon).
Under normal circumstances, I'd call such a discussion a round table. This, however, was more of a gathering around Fisher Price toys and, being a nursery, we were sat on chairs of various sizes, some of them meant for children. Having set the scene, here's what was discussed.
The current state of play
Certain commentators and elements in the media will do all they can to try and persuade you this family-friendly policy has failed. The general feeling among us all was that men wanting to take SPL faced challenges, but that it was something we should feel optimistic about.

It's a little-recognised fact that some men are taking unpaid SPL. As they're not being paid, no data is kept on them. As a result, the number of men taking time out of the workforce to look after infant children is likely to be higher than is reported.

Also, larger employers such as Aviva, O2 and Diageo have all taken steps to improve the enhanced paternity pay they offer employees. Would this have happened without the introduction of SPL? There's a strong argument to say "probably not."

Culture must change
There was consensus that workplace culture is changing, but there is much more to do. Some of the dads said their employers were very clued up on SPL, but this wasn't universal. It was widely acknowledged that many employers need to change their culture and accept that many men want to take the leave.

As mentioned above, bigger employers seem to be taking steps to implement equitable SPL policies. While the big employers are implementing more liberal policies, many small and medium sized enterprises are still catching up.

What next for SPL and fatherhood?

If Swinson's Bill becomes law, then it will address a major shortcoming of SPL. As things stand, if one person in a couple is self-employed, neither can benefit from SPL. This is a massive issue that stops many couples from enjoying the flexibility offered by SPL.
With politicians focused on Brexit, Swinson may face an uphill task to get her Bill through Parliament. That said, it's very difficult to justify why the self-employed shouldn't benefit from SPL. The self-employed are paying more tax these days thanks to reform of the tax system so why shouldn't they get more in return? The self-employed don't get paid holiday entitlement or a host of other state benefits. It only seems fair they should be provided with this one benefit at such a crucial point in their lives.
The one point to mention about SPL is that it does away with the brutal two week paternity leave that used to exist. If a woman has a caesarean section or a couple already has children, having dad around for two weeks, the maximum amount of leave before SPL was introduced, is pitiful. The self-employed are not immune from such complications and should receive help when they need it most.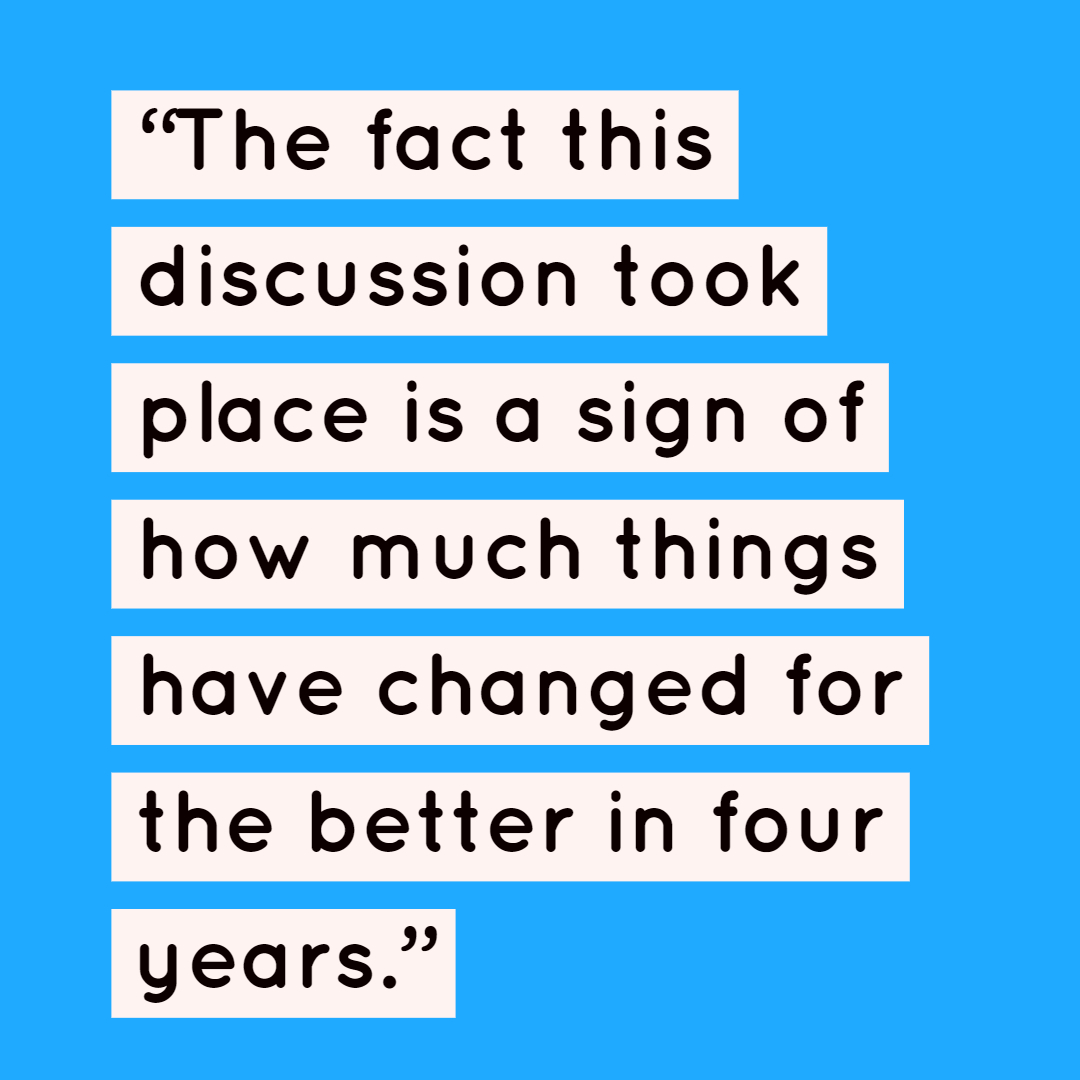 Getting back to our Round Fisher Price Toy Discussion, I offered the opinion that ring-fenced leave should be introduced for dads as happens in many Scandinavian countries (and a similar period of ring-fenced leave solely for mums to make it equitable). This, I feel, would encourage men to take SPL and force employers to accept that men will exercise their right to taking the leave.

I am passionate about that point, but the other big change we all felt could be made was to improve paternity pay. At present, many men can't afford to take SPL because they are the main earners in their households. Not all employers enhance the basic paternity or parental leave pay so dad simply has to keep working when their child is born. As a result, mum is forced to stay at home even if the couple wish to work things out differently.

Swinson made a suggestion that could go some way to addressing this. She said she wants employers to publish their parental leave policies. Having these made public, she felt, would encourage senior management to look closely at their policies and take action to remedy any inequalities between male and female employees.

Moving on from SPL, I made the point that SPL, while a very important policy, mustn't be seen as the be all and end all of fatherhood. There are other issues such as flexible working and the birth certificate issue that still need addressing.
A lot has happened in four years

There is much more I could say about this discussion. I would simply say the fact it took place is a sign of how much things have changed for the better in four years. This wasn't a discussion about possibly introducing SPL, it was a discussion about how it can be improved involving a group of involved fathers and an influential politician. That is a sign of progress in itself.

I personally feel one of the successes of SPL is the fact it has created discussion and debate about fatherhood. It's not simply a fact of whether men and women are taking SPL, it's got people thinking differently and more positively about fatherhood. Slowly but surely, fathers are being included in discussions about parenting. Us dads are rarely an after-thought or add on. It's a change I've noticed over the past few years and I think SPL has a lot to do with it.

There's more to do to encourage dads to be more hands on. There's more to do to improve SPL. Four years on from SPL's introduction, those discussions are being had.

What do you think of SPL? Has your family benefited from taking it? Maybe you are self-employed and think this Bill could correct a long-standing issue with the policy? Whatevr your opinion, I encourage you to leave a comment below.
Interested in this blog post? Well have a read of these...