If you're going to introduce youngsters to a new sport, there's one way to make it appealing: Close the traffic on London's Piccadilly, build a huge ball pit on this hugely important thoroughfare and allow kids to jump into the pit with the promise of prizes for everyone who takes part. Thanks to Subway®, this is exactly how I recently spent a Saturday afternoon.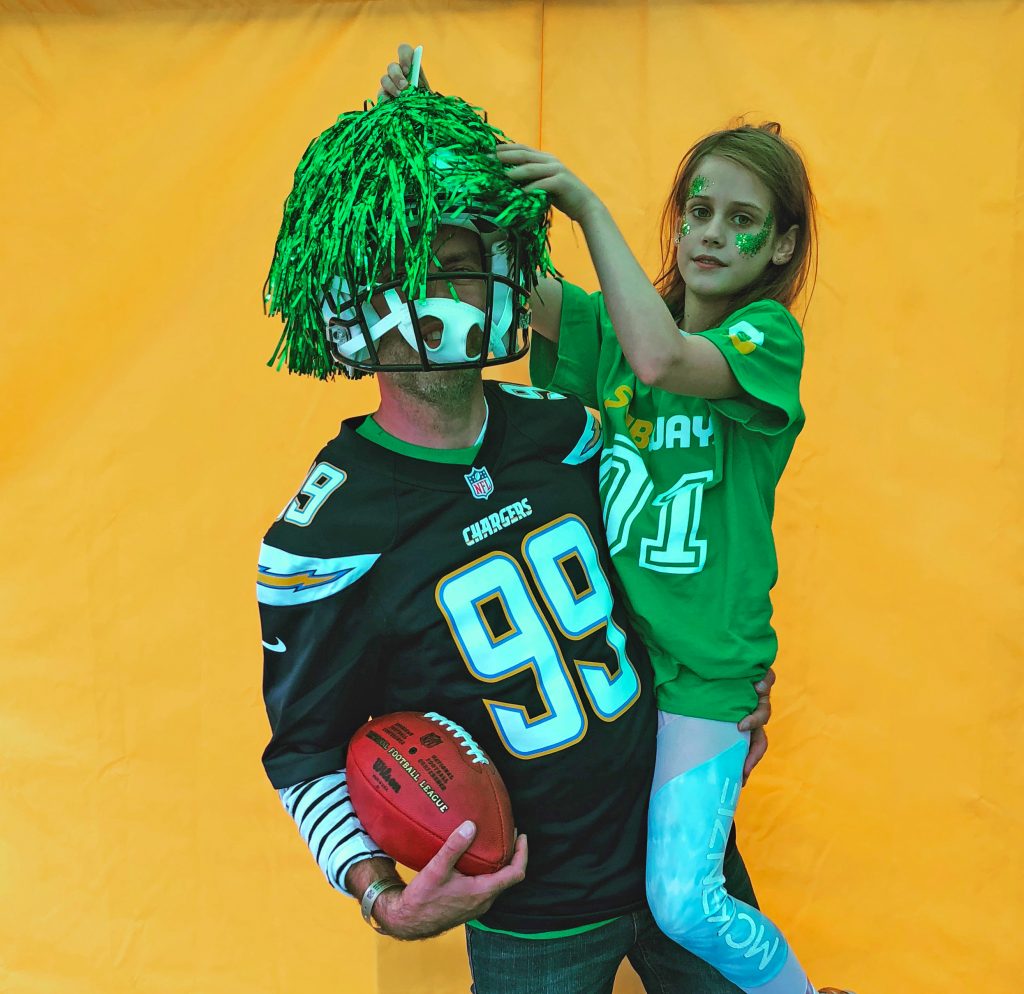 The ball pit was built by Subway® to mark the NFL Kickoff on Piccadilly event! When I took Helen along, my aim had been to show her some youngsters playing NFL Flag, the mixed-sex, non-contact version of the sport played in many schools (read more about my adventures with NFL Flag here).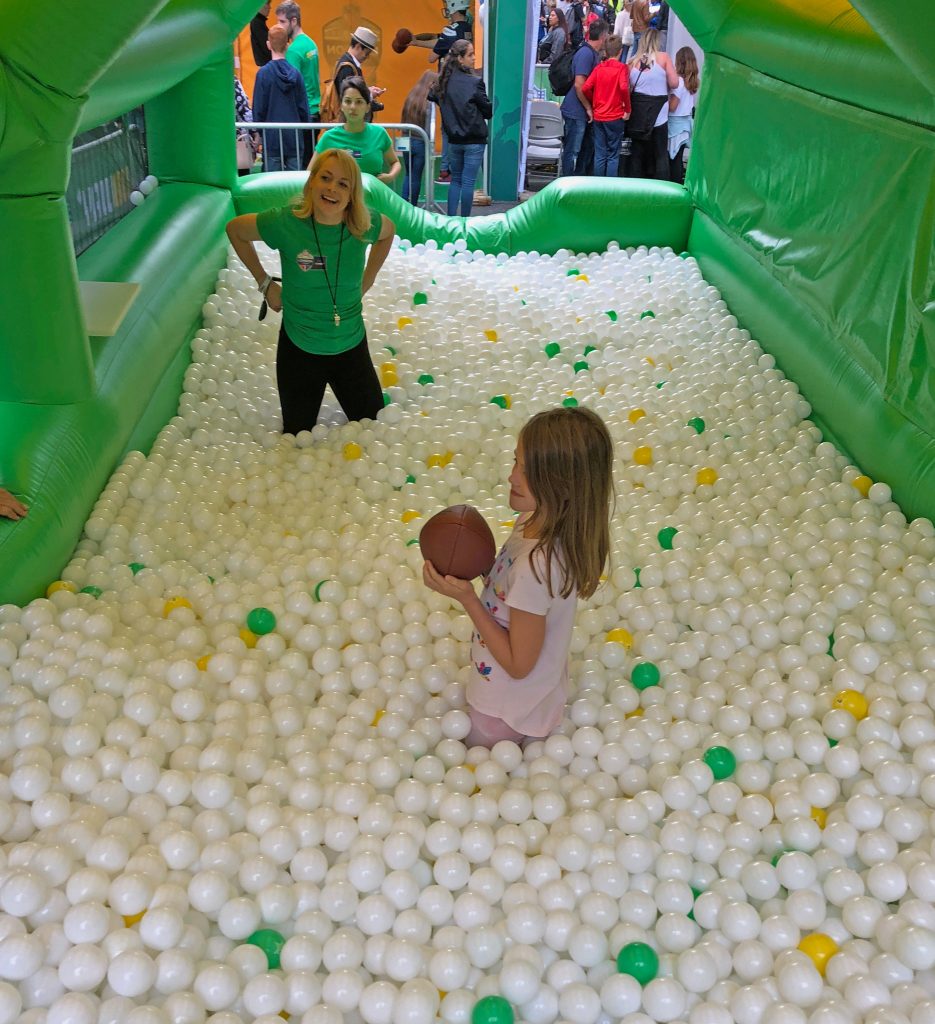 While Helen did get to see some NFL Flag being played, we also got to watch a bit of a Philadelphia Eagles game on a big-screen, threw ourselves into the ball pit (twice) and Helen got to see her first ever gig when The Vamps played a set. Oh yes, a great party was thrown to mark the beginning of the NFL season.
I arrived with a daughter unsure what to make of American football. I left with a child who knew much more about it and who was also carrying not one, but two pairs of poms poms. All things considered, it was a successful mission.
Very often when I'm out with the kids, Subway® will be quick service restaurant my of choice. It makes salad appealing to kids and its Kids' Pak™ meals, when they include Robinsons Fruit Shoot My-5 and BEAR Pure Fruit Yoyo, provide two of your five 5  a day.
Subway® is backing NFL Flag is to encourage children to take up the sport and be more active. Children are enthusiastically taking to the sport, as I saw for myself at the London Bowl event earlier in the summer.
This is where the latest Subway® NFL Kids' Pak™ comes in. For every Kids' Pak™  you order between now and  30 October, you will receive an NFL Flag themed  activity with your meal. With only a short while to go, you'd better be quick!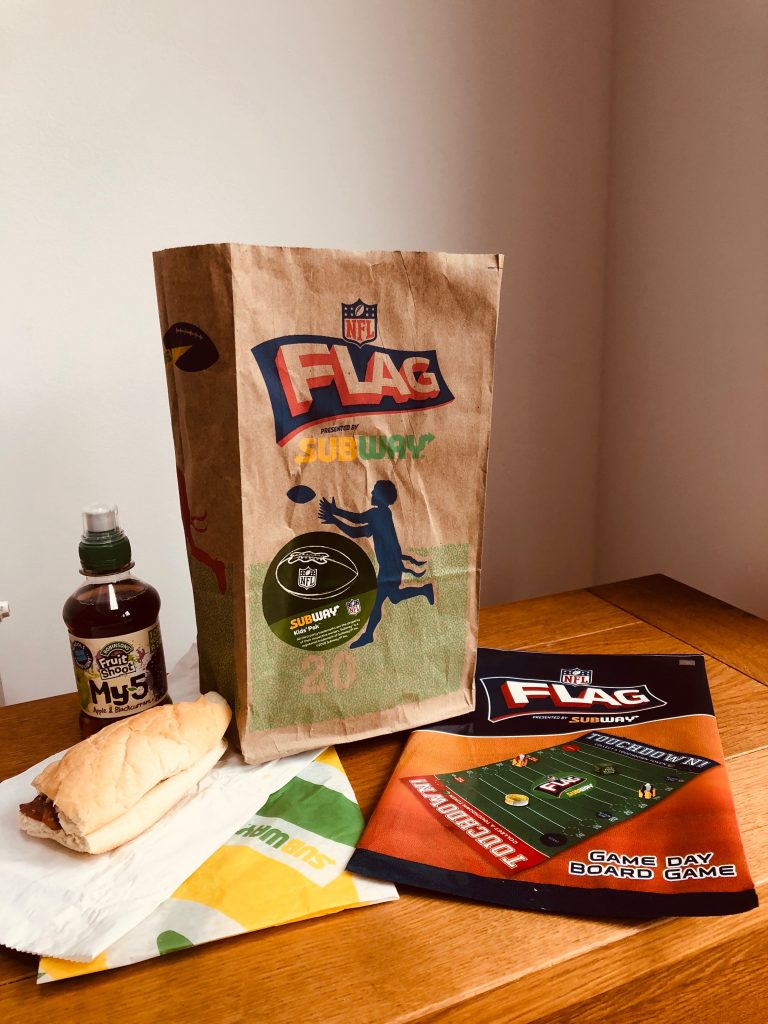 We were invited to visit a local branch of Subway® to get some food and try the Kids' Pak™ activities out ourselves. We took ourselves off to the branch in Horley in Surrey.
Despite being a horrible day, the locals were out in force and the branch was heaving. Clearly Subway® in Horley is the place to be!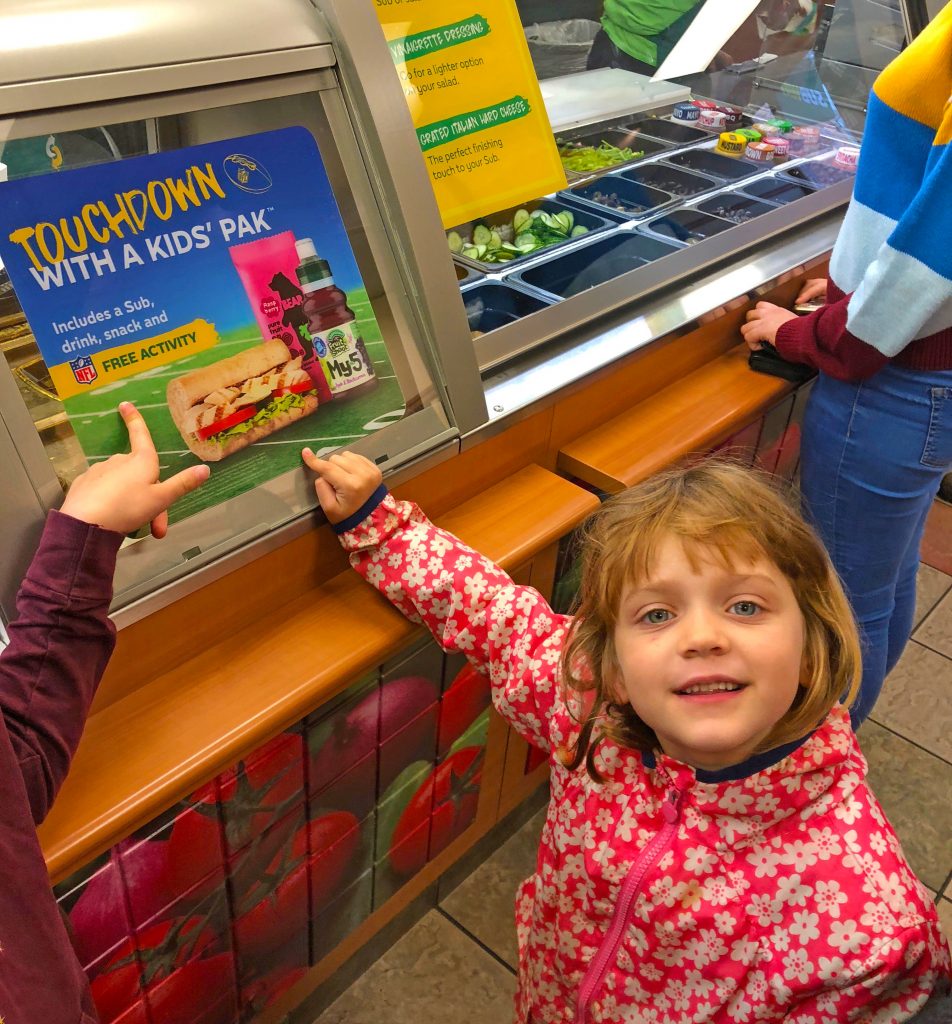 Helen and Izzy were delighted with their Kids' Pak™. They chose ham subs on hearty Italian bread, plus a treat. This was served with a Robinson's Fruit Shoot My-5 in very distinctive NFL-themed paper bags with activities placed inside.
I went for something I had never eaten before, Rotisserie Style Chicken Sub with loads of salad. I needed the salad as I had missed out on my fresh fruit juice drink in the morning.
All were very quickly consumed. It was then time to unpack the Kids' Pak™ game and get it underway.
We waited to do this until we were at home. With their Kids' Pak™, they each received their own activity. The one they chose was the Day Board Game, which was a simple way to introduce the rules of NFL Flag. You throw a dice, and this tells you whether you can travel 5, 10 or 15 yards up the field. If unlucky, one of your flags will be pulled and you'll have to stay put giving your opponent an advantage.
The aim is to get into the 'end zone', where you score a touchdown. The person who scores the most touchdowns, wins. I played against Helen and, not too surprisingly considering how competitive she is, Helen won every game we played!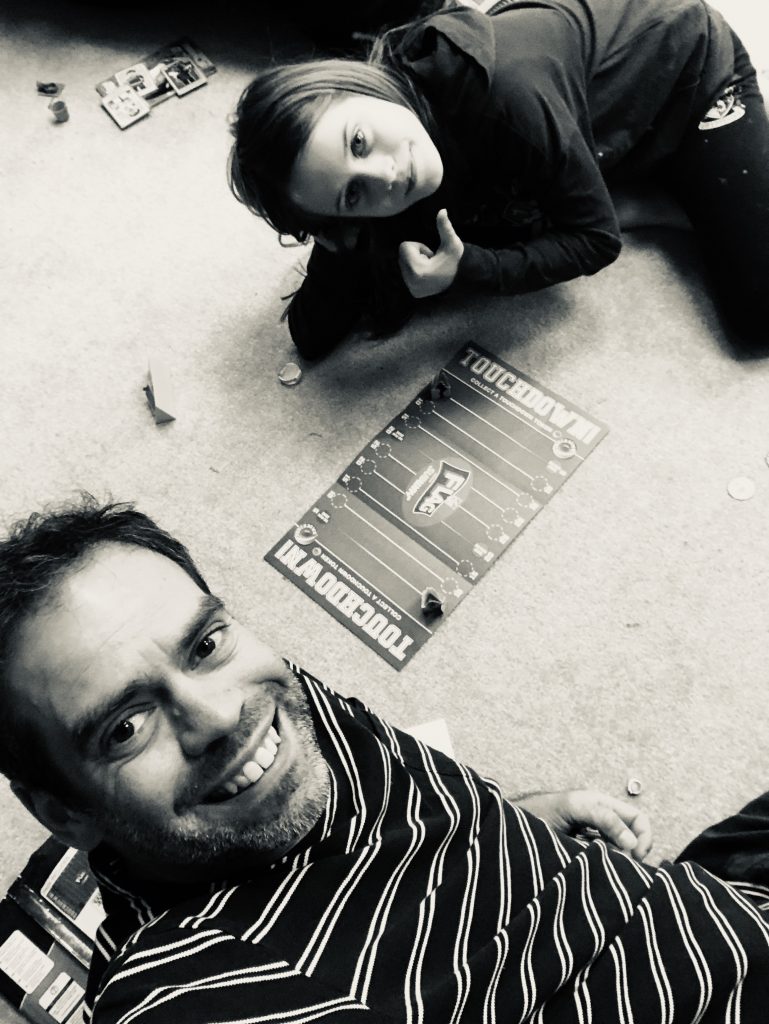 I'm not going to pretend I knew much about NFL or NFL Flag before Subway®™ introduced me to it. I am now much more knowledgeable. Better still, my kids have also learned about both NFL and NFL Flag and that's no bad thing as I'm all for introducing them to sport and keeping them active.
Needless to say, along the way I have also eaten some great food! If you want to know more or would like to find out where your local Subway® is, a store locator can be found on the company's website.
Disclosure: This feature was commissioned by Subway. Thoughts and opinions are entirely my own.