"Daddy, can I please have a sleepover at Catherine's house?" said Izzy. Under normal circumstances the word sleepover is enough to make me want to jump on an airplane and disappear into the Australian outback, never to return. This request, however, came as an even bigger surprise.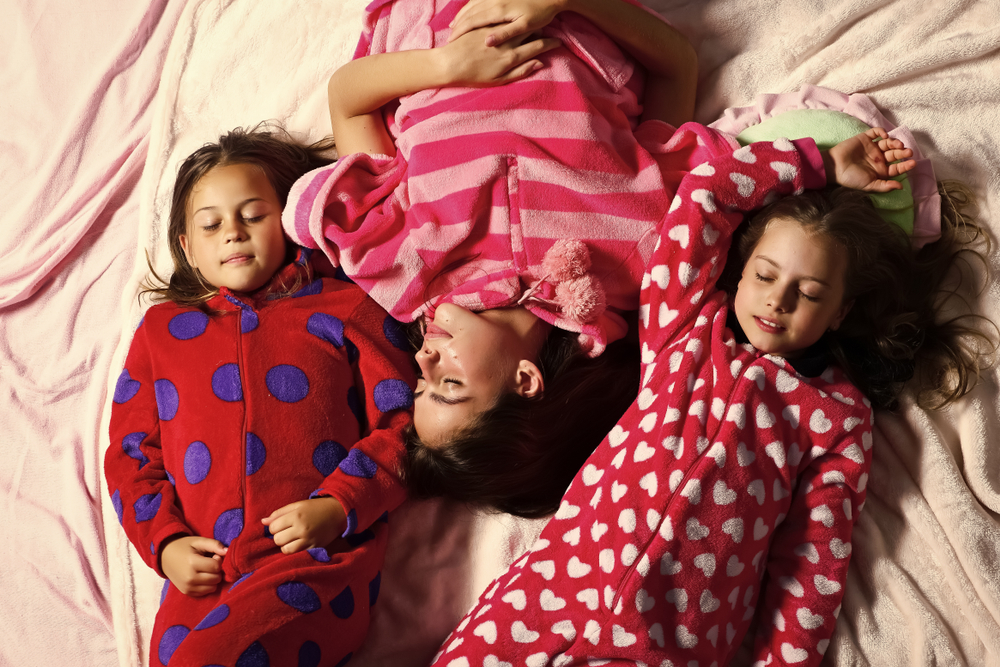 Izzy and Catherine, you see, are not what you'd call BFFs. They are in the same gymnastics class so only see each other once a week.
Added to this, the only words that had passed between Catherine's mother and I were a mumbled "hello" as we passed each other during the lessons. If my kids are going to have a sleepover, I'd like to know mum and / or dad considerably better.
Although we'd never spoken, it was Catherine's mother who saved me from this awkward situation. Overhearing the conversation, and no doubt having similar thoughts to me, she intervened and said calmly:
"Perhaps we can organise a play date first?"
That play date is yet to happen. I'll tell you now though, any play date will take place long before a sleepover.
Sleepovers; oh my word how I dislike them. They never really appealed to me that much as a kid, but my offspring love the idea of having a gang of friends around to stay overnight.
When Helen was a little bit younger, Mrs Adams and I had a couple of experiences that left us wary of sleepovers. On one occasion, the daughter of a close friend came to stay. In the early hours of the morning she woke up and was tearful because her parents weren't around. It took quite a bit of effort to console her and Mrs Adams and I have no desire to repeat that experience.
We also don't want to repeat the 'room trashing' that happened on another occasion. Helen and the friend staying over played with every toy, every board game and every deck of cards in Helen's bedroom.
It wouldn't have been so bad if they had put everything away, but they hadn't. Helen's bedroom looked like Led Zeppelin had been in there and thrown one of their notorious post-gig, hotel room parties. It's just as well there wasn't a television in the room or it would probably have been hurled out the window.
Needless to say, Mrs Adams and I tidied up straight away, but with every board game and pack of cards having been unboxed, it was months until that room was back in the state it had been before that particular sleepover. After that experience, we came to the conclusion Helen was simply too young to have friends to stay overnight.
Here we are, a little while later. Helen has attended one or two sleepover parties. I confess, she even had a friend stay overnight during the summer holidays and I have to say, it went well.
Nonetheless, Helen keeps asking if she can have a big group round to stay. I cannot tell you how utterly unappealing this is.
They're all good kids. I have no reason to think they'd do anything particularly bad.
I just don't need the stress. Taking charge of other people's kids overnight is a massive responsibility.
When Helen has been on sleepovers, I've worried about her. I've wanted to get in touch with the host parents and check she is okay. This, however, just makes your child look uncool.
As for Izzy, well, she's clearly trying to emulate what her big sister and her friends do. She knows they have sleepovers and she wants to do the same.
In fact, another family has tentatively mentioned having Izzy round for a sleepover. Mrs Adams and I really aren't sure about this. As far as we're concerned, it isn't happening as she's only five and just too young.
No, sleepovers can do one as far as I'm concerned. They're a form of stress us mums and dads just don't need until our kids are much, much older.
Do you allow your kids to have sleepovers? Have you ever had a bad sleepover experience? Do you think they're easy to police or do you find them very stressful? Please do leave a comment below with your thoughts.
Interested in this blog post? Well have a read of these...