As I revealed a little while ago, we are planning a house move in the not-too-distant future. One of the motivations to move is the fact we don't like our garden very much. It's too small and only has fences with no hedges or plant life.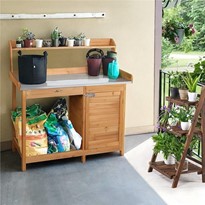 I used to be quite an enthusiastic gardener. I can't tell you I was particularly good, but enthusiastic, most certainly!
Anyway, Mrs Adams and I have been looking at houses and a better garden is high up the list of things we want. I have already been doing some window shopping for garden tools and the like.
Well, actually I've jumped the gun and already done a bit of shopping! One of the items that has caught my eye is the Yaheetech Garden Potting Bench.
Why so? Well, I can see myself getting a lot of use out of this when growing tomatoes from seed or from plug plants.
It has a great design with a large table space for working and a shelf for keeping plants that have been potted-on. The bench is stylish in design and made from fir.
It is strong, capable of holding 100kilograms of weight on the table itself. It also has a cupboard and a draw for storage plus hooks for hanging up gloves or cleaning cloths. With slatted shelves and a wipe clean table top, it should be easy to keep clean as well.
Once plants have grown on to a larger size, Yaheetech also has a planting bed. My neighbours have a planting bed and it never ceases to amaze me how well their plants grow.
At 76cm tall, Yaheetech's planting bed is a nice height (and 37.5cm deep and 90.3cm wide). It is made from Cedar wood and has a shelf for storing things underneath the bed, plus an impressive load bearing weight of 100kg so you could fill it with compost and water the plants without fear.
With both these items in our new garden, I would hope that I could encourage both my children to get back into gardening. In our old house, I would always encourage them to grow some vegetables or sunflowers. There was always a sense of excitement when the seeds germinated, and you saw the shoots break through the Earth!
Unfortunately, I have to confess I have let that slide over the past couple of years. Hopefully they could be persuaded once again to enjoy the simple pleasures of sowing some seeds and watching them grow.
Of course, the Yaheetech range isn't simply focused on gardening. The range features shelving, seating and some sports equipment. There are even fire pits so you can enjoy spending time outside once the sun has set. All things considered, there's a lot on offer to help you make the most of the great outdoors. The range is well worth checking out if you enjoy spending time in the garden or if, like me, you have exciting plans for your creating a fun outdoor space filled with plants.
About Yaheetech
Yaheetech is a cross-border e-commerce company established in 2003 with more than 500 employees worldwide. With our own 39 warehouses around the world, we provide a wide range of products with fast delivery to millions of customers in more than 10 countries, available on Amazon, Walmart, eBay, Wayfair, Wish, Cdiscount, ManoMano, OTTO, Rakuten,Real and more. We devote to make your life comfortable.
Interested in this blog post? Well have a read of these...