It's been a little while since I have reviewed any motoring accessories. It being winter and tyre maintenance being of utmpst importance on any family car at this time of year, I'm very happy to be taking a look at the RTC1000 Rapid Digital Tyre inflator.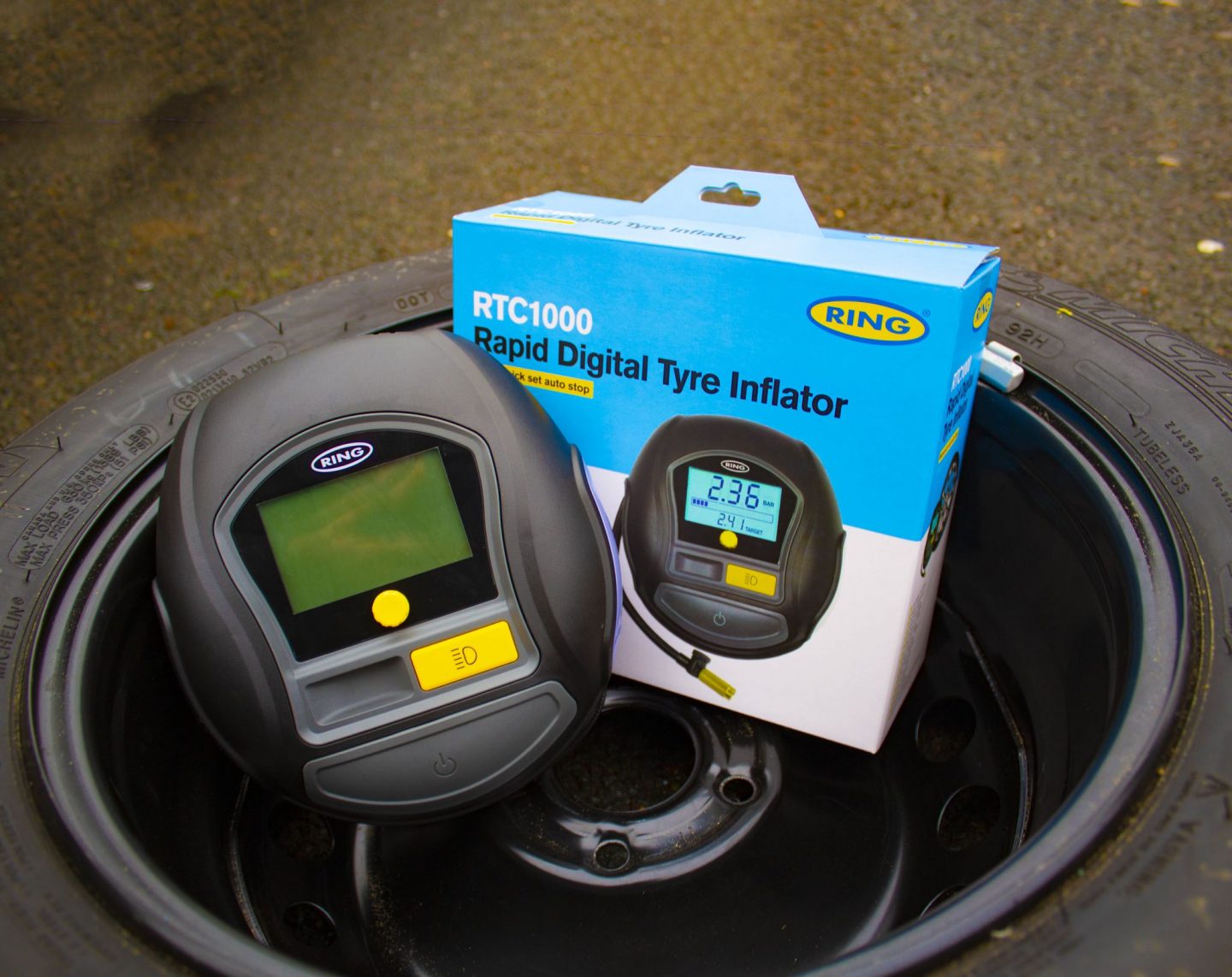 That's quite a long name for a small product. So what is so special about this item, which is part of the Ring Automotive range?
First impressions
On openening the box, I was presented with the tyre inflator in a handy carry case. It's exactly the kind of thing you would carry in the boot of your car, just in case you needed to increase your car's tyre pressure while on the go.
As you might expect, it has a 12v plug so you plug it into your vehicle's power socket. It also has a 3.5m long cable so you can get around every tyre on a standard-sized car with ease.
It also has an LED light for operating the pump in the dark. Nothing out of the ordinary so far. The packaging, however, claims it can inflate a car tyre in two minutes. Keep reading if you want to discover if it lived up to this claim.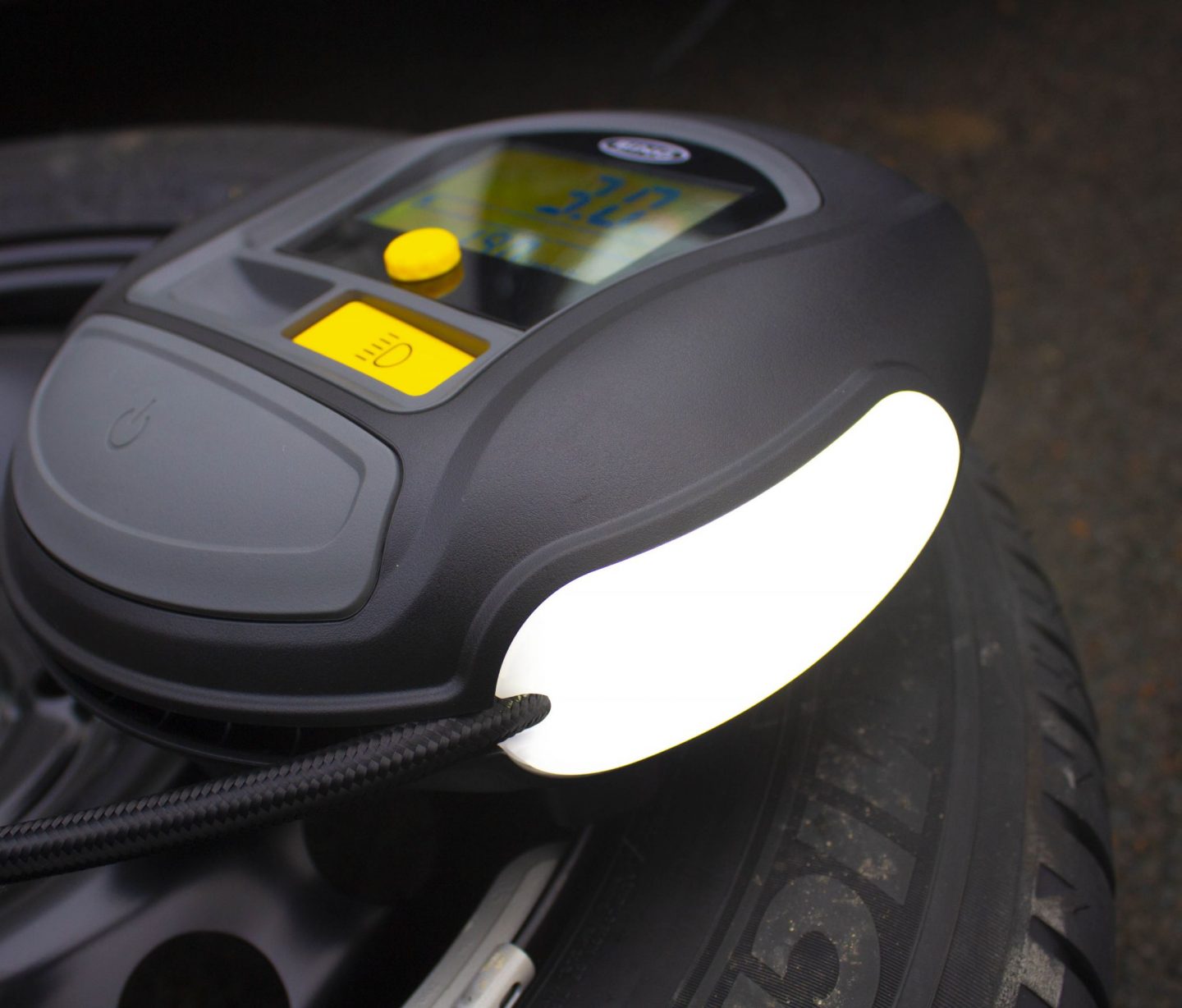 Stand out features
At first I was thinking this was all very standard stuff. I then flipped the tyre inflator and took a look at the back of the product. That's when I noticed a good design feature.
That 3.5metre power cable? You can wind it up so it sits neatly in the body of the inflator when not in use. The 70cm-long air hose can also be housed neatly in the RTC1000's body, making it easier to pack away.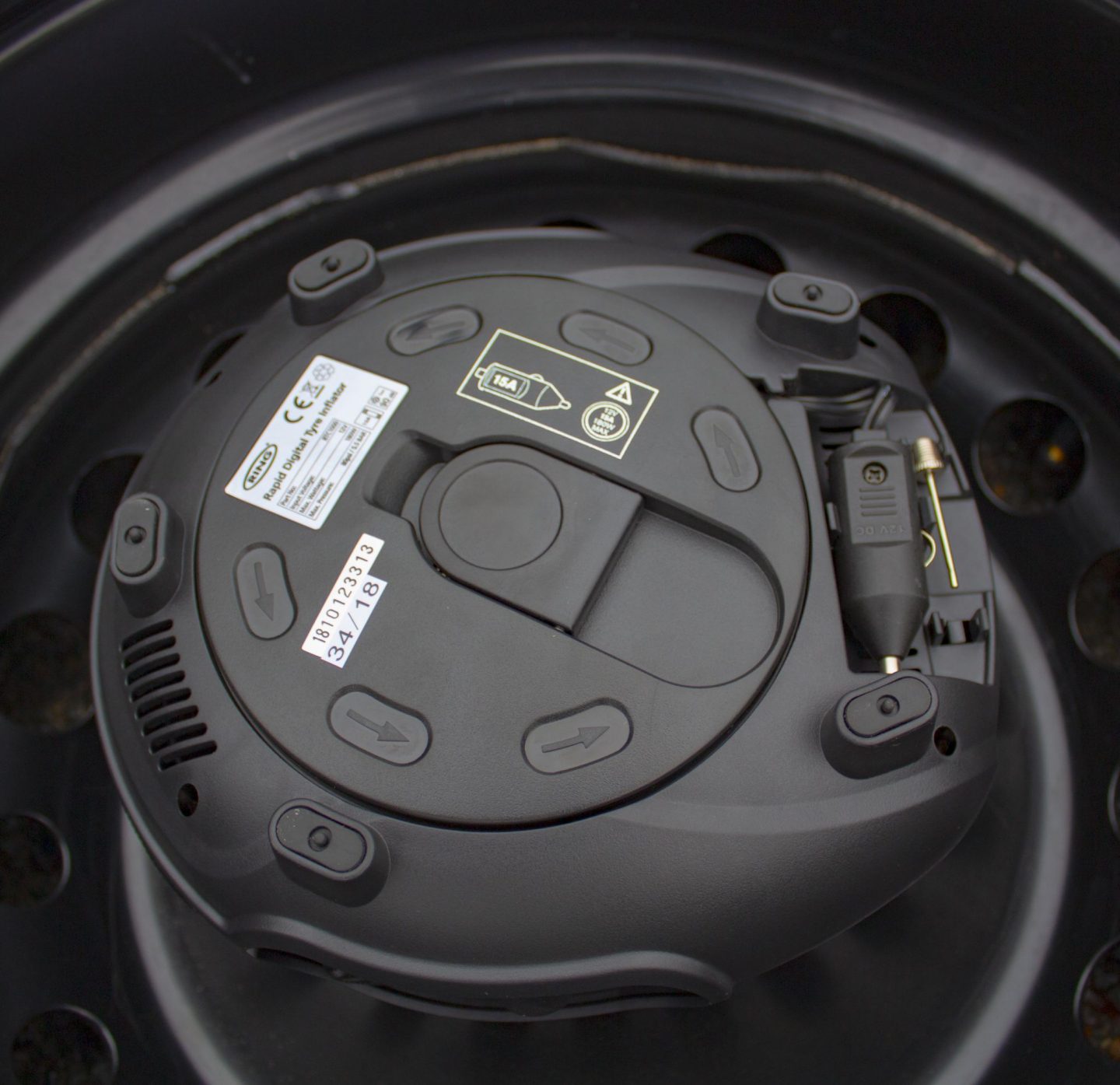 The other point that stood out for me was the valve. It's a good-quality brass valve that doesn't simply enable you to inflate a tyre. It also has a deflate function, which brings me nicely on to how the product performs and whether it really can inflate a tyre in two minutes.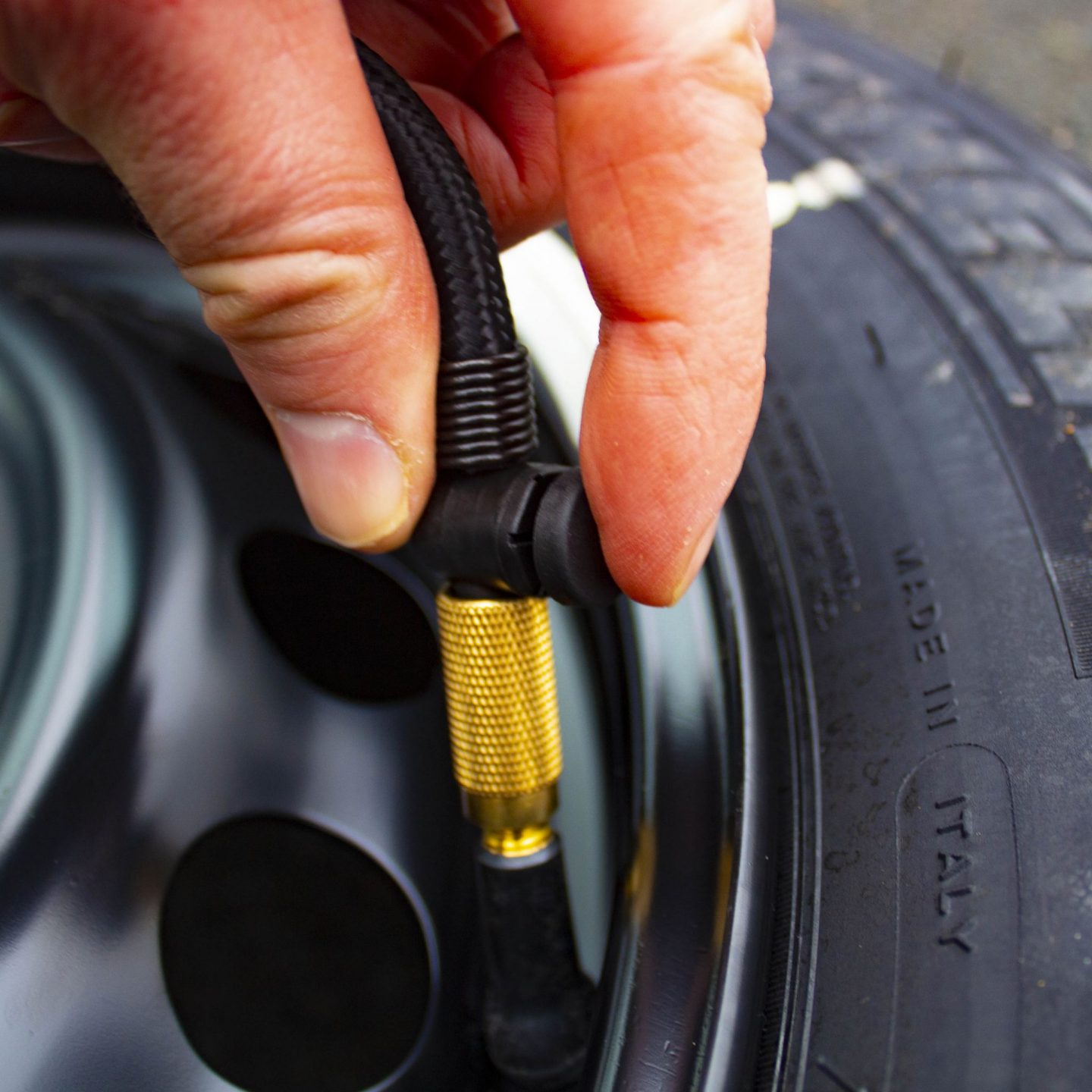 While I haven't had to use the inflator for any of these items, it can be used for inflating bicycle tyres, air beds and other inflatables. It also comes with a few spare valve caps and a pair of latex gloves.
RTC 1000 Rapid Digital Tyre Inflator in use
Use of the inflator is very straightforward. You plug the power cable into your car's power socket and attach the valve to your car's tyre. You set the pounds per square inch (PSI) using the small yellow dial on the front of the inflator.
You then hit the large, grey power button and stand back. When it reaches the tyre pressure you have set, it automatically stops.
Did it I get it to inflate a car tyre in just two minutes? Well, using the deflate function, I emptied all of the air out of our car's spare tyre. It didn't quite get to zero, but the pressure reading was only 6PSI.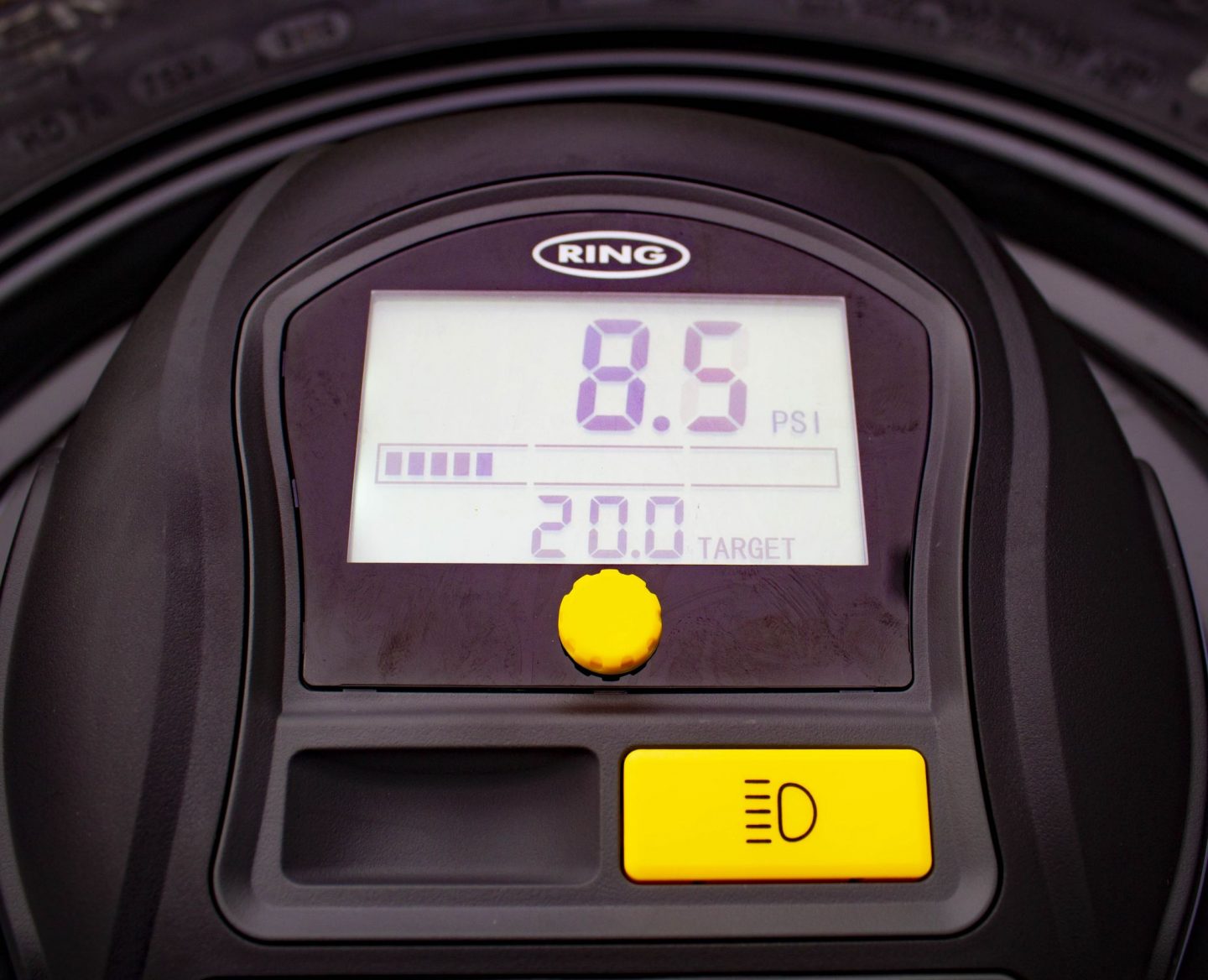 I set a tyre pressure of 32 PSI, hit the big grey button and stood back. It seemed to go on forever, but the tyre inflator did indeed get to 32 PSI in two minutes.
Final thoughts, cost and stockists
The RTC1000 Rapid Digital Tyre Inflator retails for around £50. There are cheaper alternatives out there, including some in the Ring Automotive range. That said, some rival products cost considerably more so price-point wise, this inflator sits in the mid-range. Stockists include Screwfix and Amazon. More information is available online on the Ring Automotive website.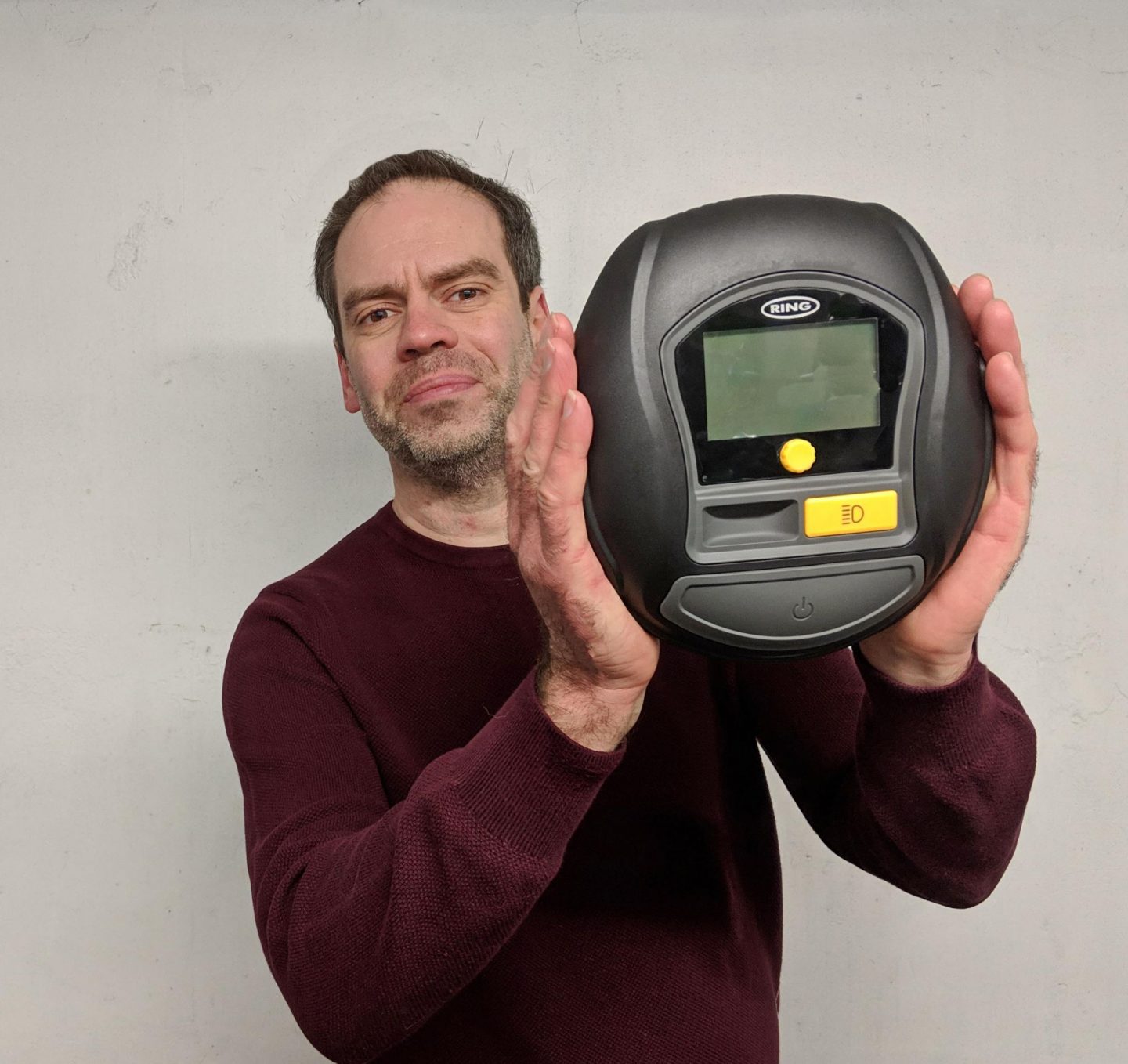 I think it's essential to carry something like this in your car at all times. You can never be too sure when you might need to inflate or indeed deflate your car's tyres. Measuring less than 25cm X 25cm the inflator takes up very little space so it's ideal for leaving in the boot of your vehicle.
This inflator performs well and seems to live up to the promises made of it. The deflate function is a nice touch and it has been designed in a way so the air hose and power cable can be nicely stored away.
Disclosure: Am RTC1000 Rapid Digital Tyre Inflator was supplied to me for the purposes of producing this review. Thoughts and opinions entirely my own.
Interested in this blog post? Well have a read of these...