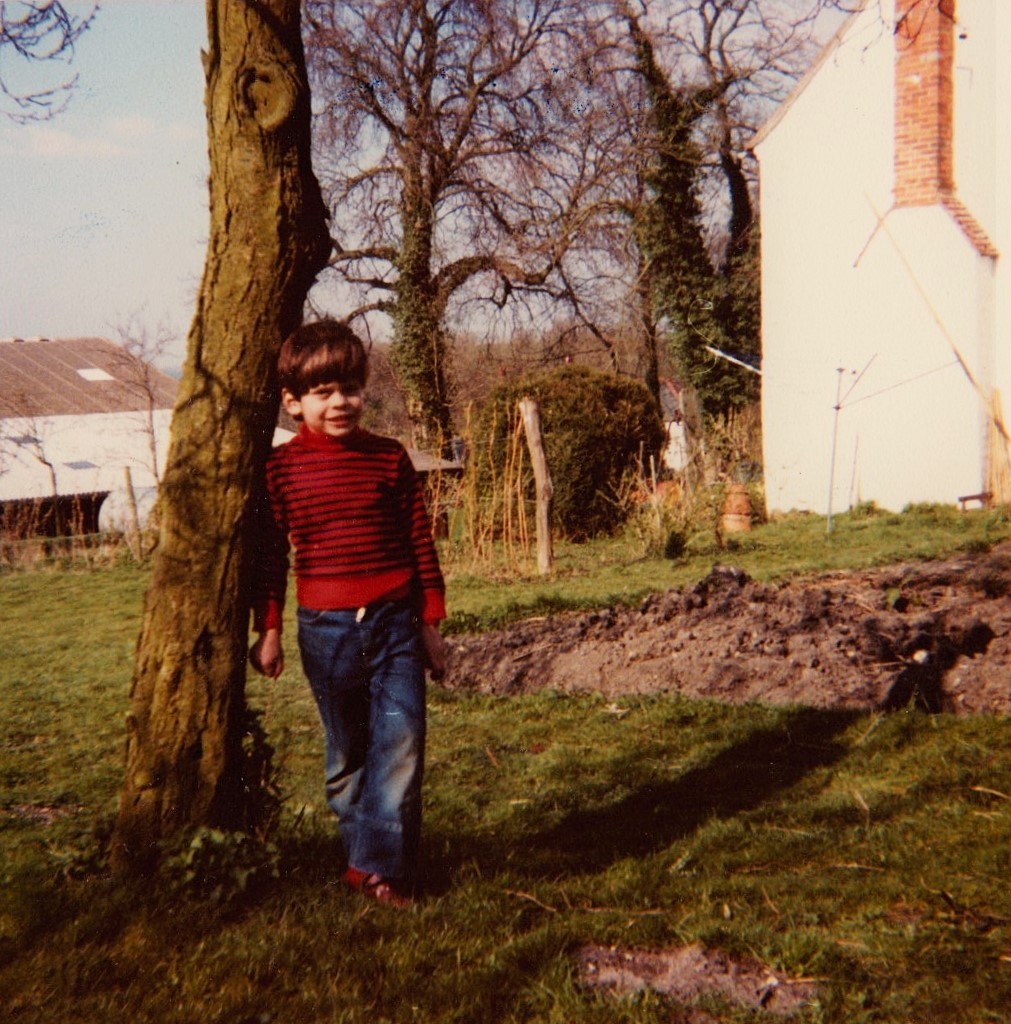 On Monday I discovered that my old childhood home has been pulled down. I haven't lived there for well over 30 years and haven't visited for about three, but I found this news upsetting nonetheless. I'm going to miss that beautiful old house.
I have such happy memories of the place. I moved there following my parent's separation when I was a toddler and lived in an extended-family set-up until my mother remarried six years later.
Those were innocent, simple years. Apart from a few night-time memories (more about these in a moment) I only recall the place in the sunshine. I think that says a lot.
In the garden were gooseberry bushes, apple trees and a huge vegetable patch. My uncle was very good at growing vegetables and our diet featured all manner of home grown foodstuffs. Not that it actually worked, but the garden also featured a hand-pump for drawing water, a remnant of a bygone age.
The pump may have been obsolete, but we lived an incredibly old-fashioned way of life. My grandmother and some of her children had been farmers. They rented the house, which must have been 200 years old, having had to vacate their nearby farm in the nineteen sixties.
A magnificent Ulsterwoman, my grandmother was matriarch of the family. She sorted out breakfast, lunch and dinner for the entire family and wore a blue and white pinny all day, every day.
The intention had only ever been to live there for a short while. About four decades later, my equally magnificent aunt, vacated the property. She was the final one to leave following my mother's remarriage and the passing away of my grandmother and uncle.
As they'd always been tenants, nothing major was ever done with the house. A washing machine stood in glorious isolation in the hallway but it was never plumbed in, presumably because the intention was always to move on. Much of the washing was done by hand and the only source of hot water was from a Rayburn that dominated the kitchen. There was a coal fire in the living room but no central heating.
The house, an old rectory, was in a tiny hamlet with a permanent population of nine, rising to 13 (ish) at weekends if the banking family from London visited their retreat. There was one single track road leading into the hamlet that petered into a dirt track leading to a cornfield just outside our house.
There was no street lighting, shops, pubs, nothing. At night-time it could be very imposing, especially if it was windy and the massive trees in our garden, that had been left to grow without being managed at all, were swaying in the darkness. I have memories of the branches swinging wildly in winter rain and wind, the noise they made incredible.
Eagle-eyed readers may have noted the property was an old rectory. That means two things; the house was right next to a small Norman-era church and graveyard. I thought nothing of this as a child but adults would occasionally comment on the position of the property.
There were no other children for me to play with. Even so I don't recall being lonely. I think it was quite idyllic.
As my aunt continued to live there, I was a visitor for many years after my mother and I left. That connection to my childhood is now gone and it upsets me.
Even so, I have to be pragmatic about the situation. The house was not in a good state. Every time I visited I saw new cracks in the walls or other evidence the property was stressed.
I remember a large gap forming behind a disused fireplace in the dining room. A distant family member visited the house one day and my aunt remarked that the fireplace was slowly moving away from the wall.
This chap had some experience as a building surveyor. He took one look at the wall and said; "No, I think the wall is moving away from the fireplace."
Sure enough, it turns out the gable ends of the house were indeed bowing outwards. There was also some evidence to suggest the house had no foundations. I could go on, but even the layman could see the property was on borrowed time. The fact that a large chunk of it was built of brick while the rest was built of the local flint stone suggests part of it had already collapsed and been rebuilt before my family moved in!
Once my aunt moved out, the house stayed vacant for a while and basically fell into disrepair. At this point the property's story takes a bizarre and rather unfortunate turn.
A production company wanted to film the house. I haven't got all the details but I believe it was for a horror film and the idea was to make the property look like it had been badly burned.
I've seen photographs of what they did. False windows were installed and the house painted brown, green and black. This didn't upset me, but the pristine lawn was churned up and two of the most wonderful trees, which must have been hundreds of years old, were felled to complete the film set. It looked like some kind of post-apocalyptic scene, which was probably the aim.
Having gone to such great lengths, the film crew never recorded any footage on the site. I'm told the garden is still a mess.
Although it's upsetting, the story has a happy ending. My old family home has been pulled down, but on the same footprint a new house is being built to modern specifications.
The trees cannot be replaced, but the lawn and garden will be repaired. It won't be the same, but it's good to know another family will make good use of this beautiful and very special piece of land. It's remained in the ownership of the same family and they know who I am. Under the unwritten rules that govern rural life, I know I'll always be welcome to turn up and have a look around and I have every intention of doing so when the opportunity arises.
Isn't it strange, 'though, how a house I haven't lived in for such a long time can have such a strong hold on me? It's like your parents; they've always been around and they root you to your past. When one of those roots goes, it makes you feel unstable for a while.