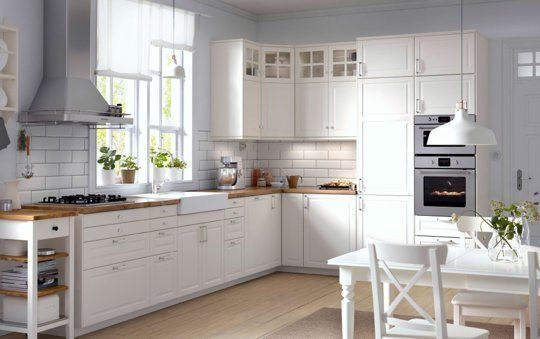 I've hinted in one or two blog posts that we're about to get a new kitchen. I cannot wait for this moment. Our present kitchen is horrible; it's a long, thin galley kitchen that's cut off from the dining area. As dramatic as it may sound, it's a real hindrance to family life.
At meal times my wife and I are forever getting up and down, leaving the table to get the kids' drinks refills, cloths to clear up spillages, cutlery and so on. Simply staying in the same room is a challenge. As a result, we're bringing down the spine-wall of our house and going for an open plan kitchen / diner.
The units, sink and appliances have been chosen and we have some idea about the flooring. The one area my wife and I are still discussing is the kitchen tiles.
To help keep costs under control, I have already agreed with the builder that I'll gut the present kitchen. I'm also not averse to doing some of the tiling.
This is where Mrs Adams and I have been having what would technically be known as discussions. You see when we left our last property I had to tile large parts of the kitchen to make it saleable as it was in a pretty dire state. While I concede it wasn't the best job in the world, the house sold for its asking price and so my tiling can't have been that bad!
There are some great resources online for anyone who is thinking of doing DIY like this. This infographic from tile supplier Tilesporcelain.co.uk explains perfectly how to tile a wall while this one shows how to tile a floor, something I have only minimal experience of doing.
Regardless of whether I do the tiling or a professional does the job, we will be selecting the tiles very carefully. I want to go for large, neutral coloured tiles. Mrs Adams and I are in agreement regarding the colour, I've yet to persuade her of the benefits of using large tiles (namely; reduced labour costs and fewer opportunities for mistakes).
Tell me, what would you do; big tiles or small tiles? Would you be willing to tile the kitchen yourself or would you not take the risk? Please leave a comment below.
Pic credit; Scott Lewis. Sourced from Flikr.com and reproduced under Creative Commons agreement.
Disclosure; This pst was produced in association with Tilesporcelain.co.uk.