I fulfilled an ambition of mine this week. I paid a visit to Mayfield Lavender Farm on the London / Surrey border so I could practise my photography among the purple foliage of the lavender plants.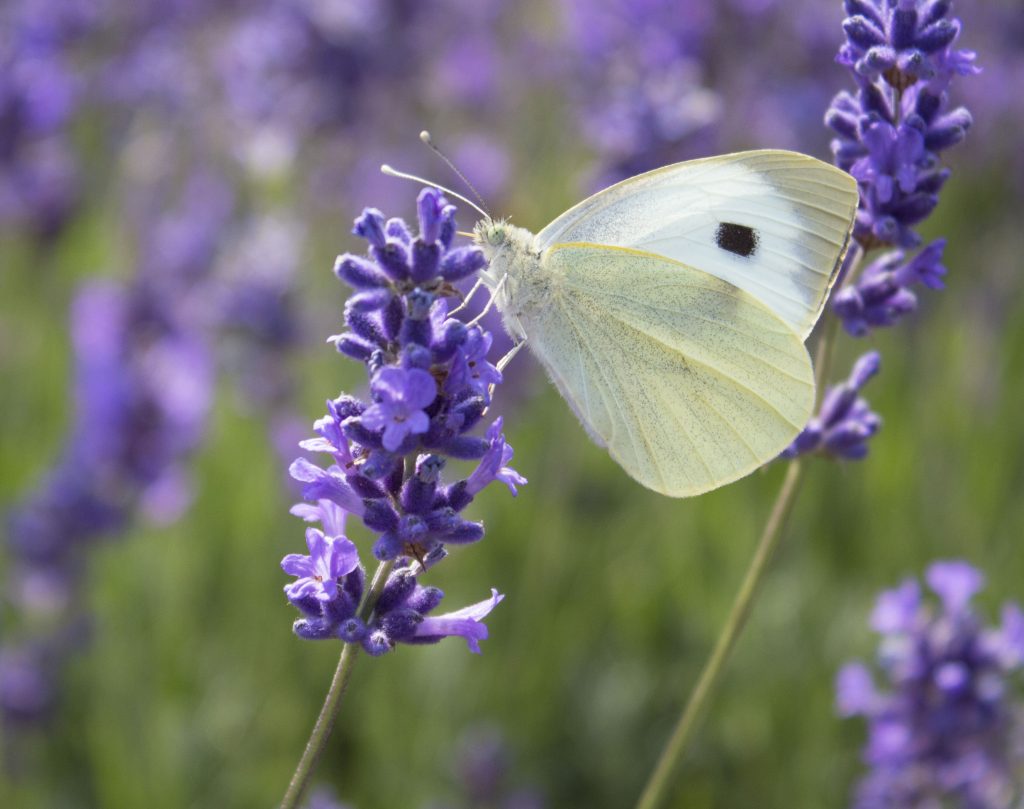 I am glad I went, although it has left me with a small problem. I fired off a huge number of images among the farm's 25 acres of organically grown lavender and it's going to take me quite a while to go through them all!
This picture shows a cabbage butterfly resting on a lavender plant. I like the contrasting colours, the details of the butterfly's features and the tight focus.
The lavender attracted an impressive array of butterflies and bees. Some were most obliging and stayed very still for me and I will share the pictures when I've picked out the best ones.
I also took a number of pictures with my lensball (such as this one on my Instagram account). As it happens, I learned a valuable lesson. You need to be very careful using a lensball in the bright sunshine we're presently experiencing in the UK.
It didn't occour to me that a lensball would concentrate the light like a magnifying glass but from personal experience, I can tell you it does. I ended up dropping the ball more than once because it was beginning to burn my hand. Consider yourself warned if you also use a lensball!
I really enjoyed my visit and I plan to return during the summer holidays with Helen and Izzy. I think they'll love running around among the lavender although I will definitely leave my camera at home so I can concentrate on having fun with them.
As I often do with my photography posts, I'm adding this one to the #MySundayPhoto linky. This is a fun, friendly linky for anyone who enjoys photography. Simply click on the badge below and it will take you to the Photalife.com blog where other bloggers will also have posted photographic imagery.
Interested in this blog post? Well have a read of these...