Like many families, we recently watched David Attenborough's documentary A life on Our Planet. While I've always tried to live an environmentally-friendly life, I concede I could do more. A Life on Our Planet persuaded me to pay attention to the cleaning products we use. It's one aspect of our family life I'd failed to address despite meaning to for some considerable time. I was then made aware of the Clean Living range of products and felt the need to give them a go.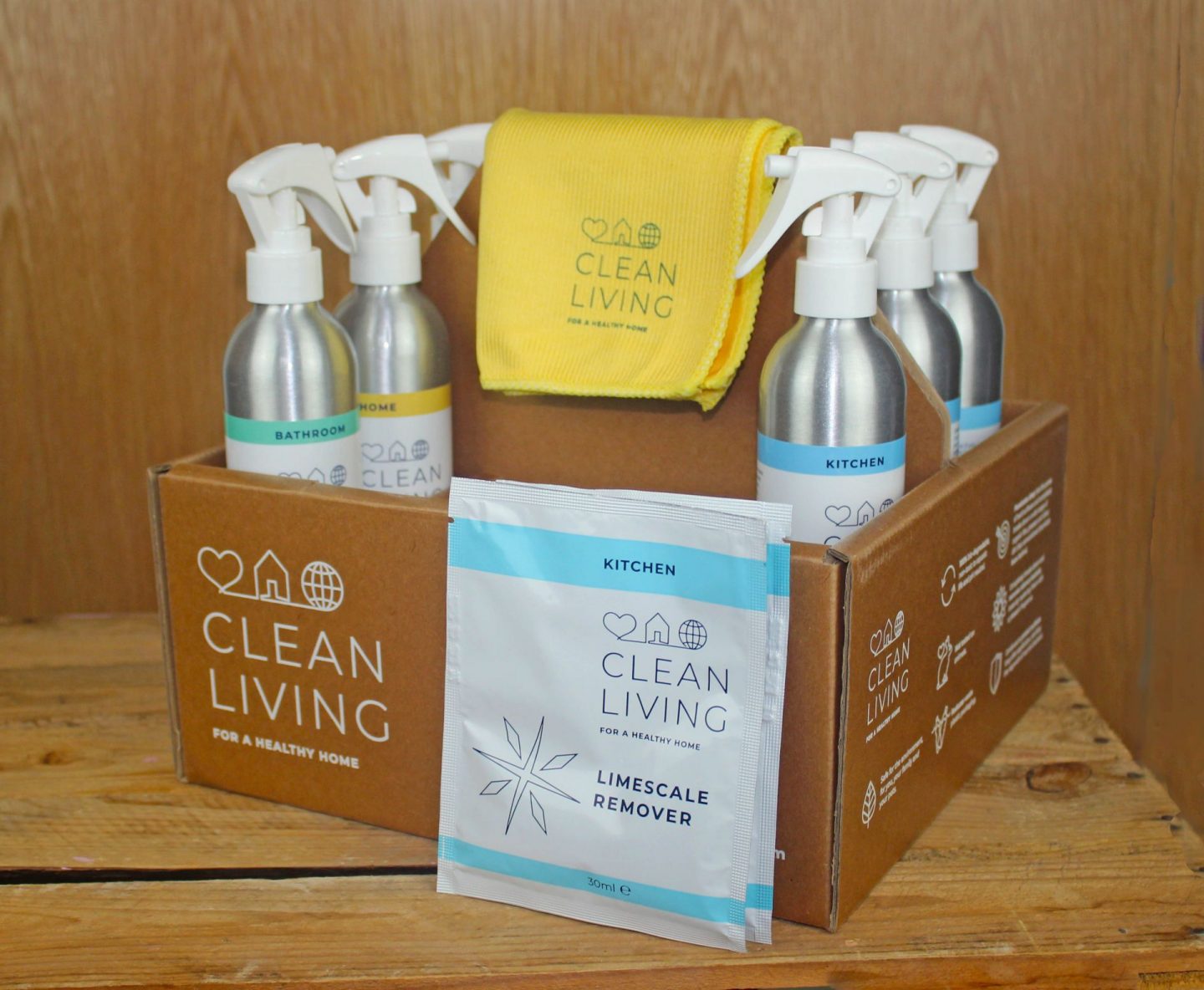 Clean Living cleaning products are largely plant-based, are not tested on animals and they are biodegradable. What's more, Clean Living products are produced and designed to keep waste to a minimum and one lucky reader of Dadbloguk stands to win a Complete Cleaning Kit bundle worth £43.99.
Before I get on to the details of the giveaway (see below), here's a bit more background to the products. I've been putting them through their paces to find out just how well they work and I'm delighted to tell you how they've performed.
Complete Cleaning Kit
First things first, I was using Complete Cleaning Kit. This featured the following items:
Six empty, reusable aluminium bottles (more about the bottles in a moment)
Six sachets of concentrated cleaning products (glass cleaner, multi-purpose cleaner, bathroom cleaner, kitchen cleaner and degreaser, bin odour eliminator, odour and spot remover) plus drain maintainer and dry carpet cleaner
Three microfibre cloths
A cleaning brush
Cardboard caddy for carrying everything in.
Those bottles and sachets
Those reusable aluminium bottles and sachets are at the core of the clean Clean Living approach. Most household cleaners come in single-use plastic bottles that and are transported to shops in large, fuel-hungry lorries. Every step of the way they cause damage to the environment and the irony is that most of what is in those plastic bottles is water.
Clean Living products come in concentrated lightweight sachets. You order them online (or set up a subscription) and when they arrive, you pour the sachets into the bottle and dilute it with water, creating 300ml of cleaning solution. Better still, the sachets arrive with a pre-paid envelope. You pop the used sachets into the envelope and return them to be recycled.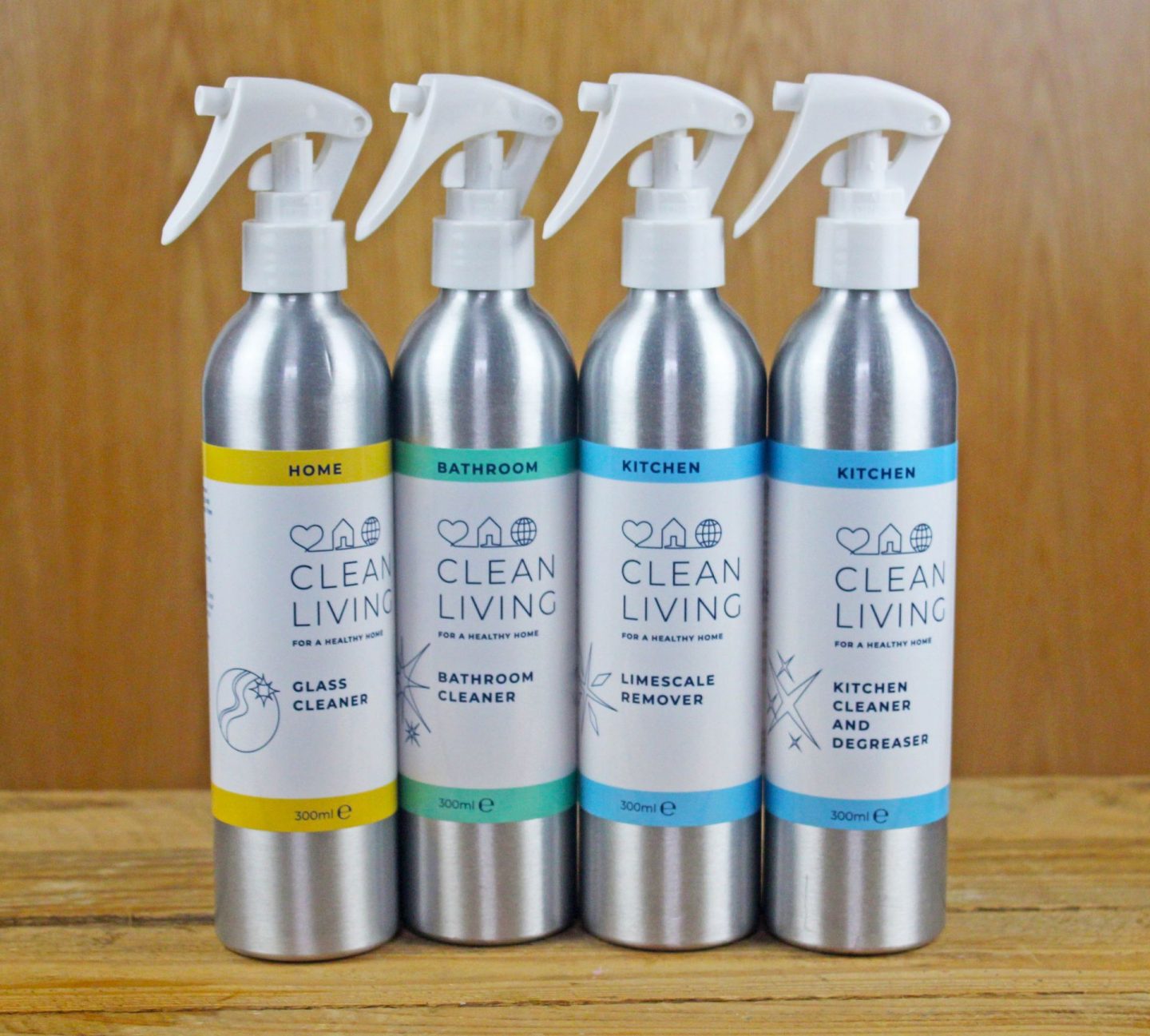 How the products performed
You might imagine that plant-based cleaners might not perform very well compared to those relying on hardcore chemicals. As it happens, the plant-based, bio cleaners held their own very well. Here's how I got on with them.
Kitchen cleaner and degreaser
This was the first product I used and I threw this bad boy in at the deep end. What impact would it make on our hob? The hob was not in a good way. It was greasy with some odd bits of food that had seemingly been spot-welded in place.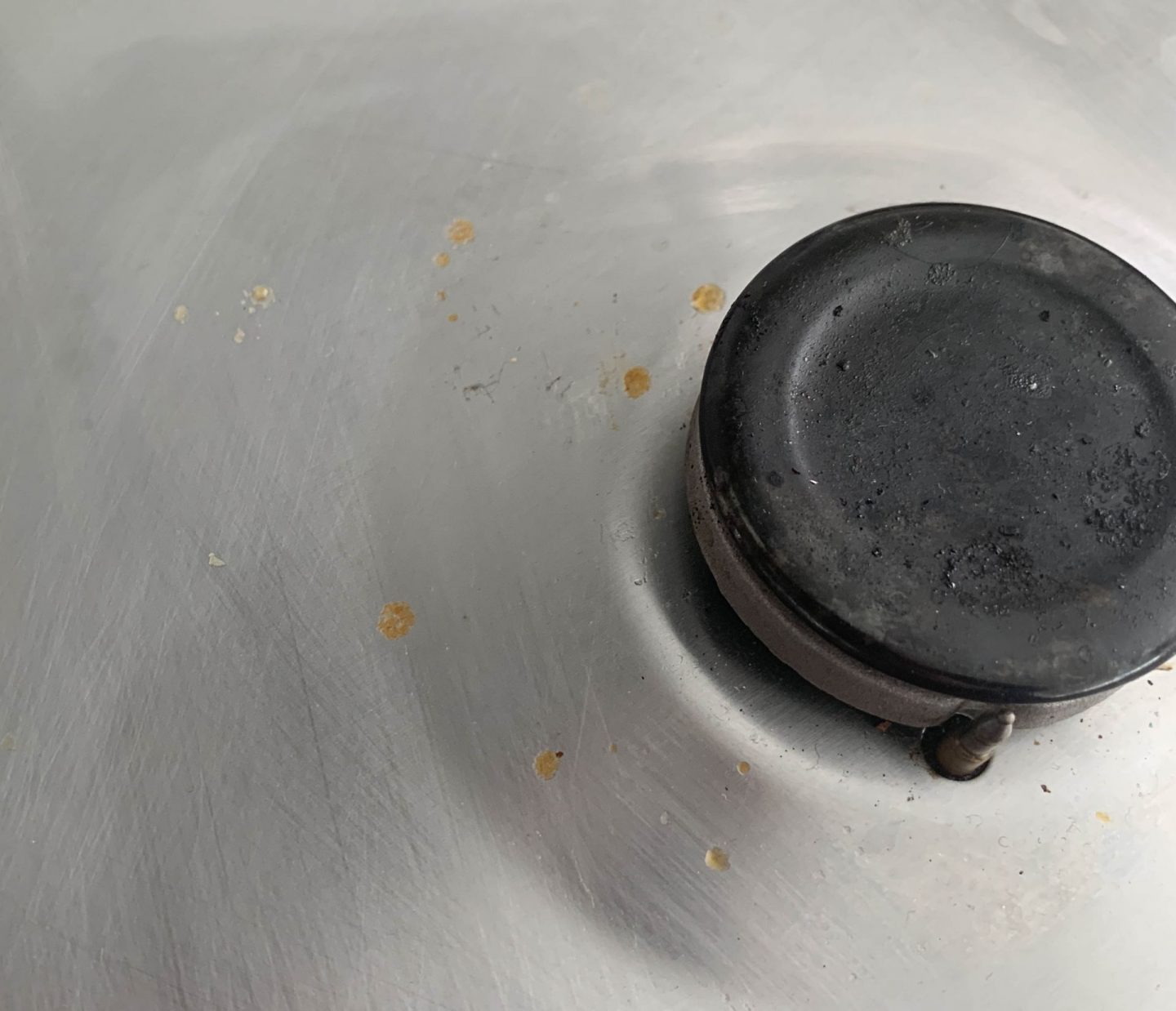 In fact the hob came up very well. Since that first outing I have used it to clean up food spillages, drink spillages and used it to clean the kitchen sink and taps, wipe down surfaces. Thus far, I'm yet to find any kind of kitchen clear-up job this product has been unable to handle.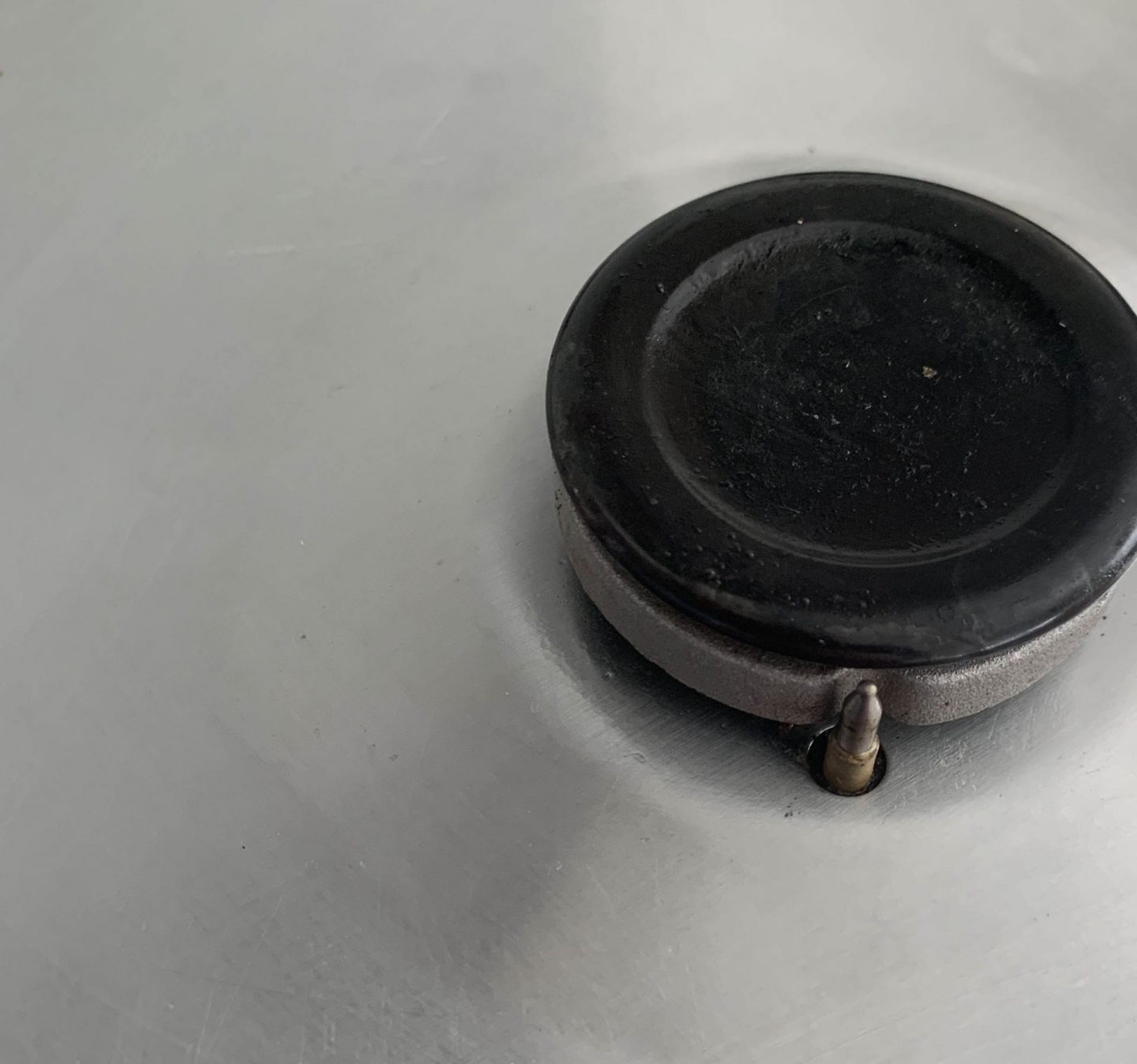 Glass cleaner
When I first used this, I only intended to clean the one mirror and try it out again a few days later. It actually ignited a cleaning frenzy that took me from the bottom to top of the house cleaning almost every single window and mirror I came across.
Sure, you need to rub quite vigorously to avoid any smears but that's no different to any other window cleaning product. It did as good a job as anything similar I've used in the past, but it was reassuring to know the cleaning agents were all natural and so more subtle and environmentally friendly.
Bathroom cleaner
From the family shower to sinks and lavatory lids, the bathroom cleaner has dealt with everything I have thrown at it. In fact, it dealt with a particularly nasty build up of soap scum that I had been ignoring (for far too long) along the edge of the bath. Taps also came up very well when I used this product on them.
I think you'd probably still want to use a cream cleaner to compliment this bathroom cleaner and to clean up things like spilled toothpastes. For day to day cleaning, however, I have no complaints whatsoever.
Multi-purpose cleaner
I have used this inside and outside the house on a variety of surfaces: Varnished wood, metal, uPVC and so on. It's cleaned everything I've asked it to from bird's mess on the outside of the house (yes really) to Nutella that somehow got smeared on the living room door, not to unidentifiable dirt on light switches. It's cleaned everything without leaving any smears and without damaging any surfaces, a problem I have had with other household cleaners. Again, I have been very happy with the results.
Biological bin odour eliminator
Nobody likes to talk about bin odour do they? More often than, this is an issue we have had to deal with during the summer months. Even so, I've used it on our recycling bins, food recycling bin and waste bin. It did exactly as it said on the bottle: It removed the odours! You simply spray a small amount in the bin, leave it for a few minutes and wipe dry. Voila! Your bin will smell floral instead of honking.
Other products in the caddy
The caddy also includes: Biological odour and spot remover, limescale remover and dry carpet cleaner. I haven't had any reason to use these items. Based on performance of other products, I would expect them to work very well.
Cost, final thoughts and further information
I was also happier using products like this in a family home. I've been getting increasingly concerned about all the chemicals in many household cleaners. I worry about the possible impact on my children, not to mention my wife and I. This was one clear benefit of the Clean Living range.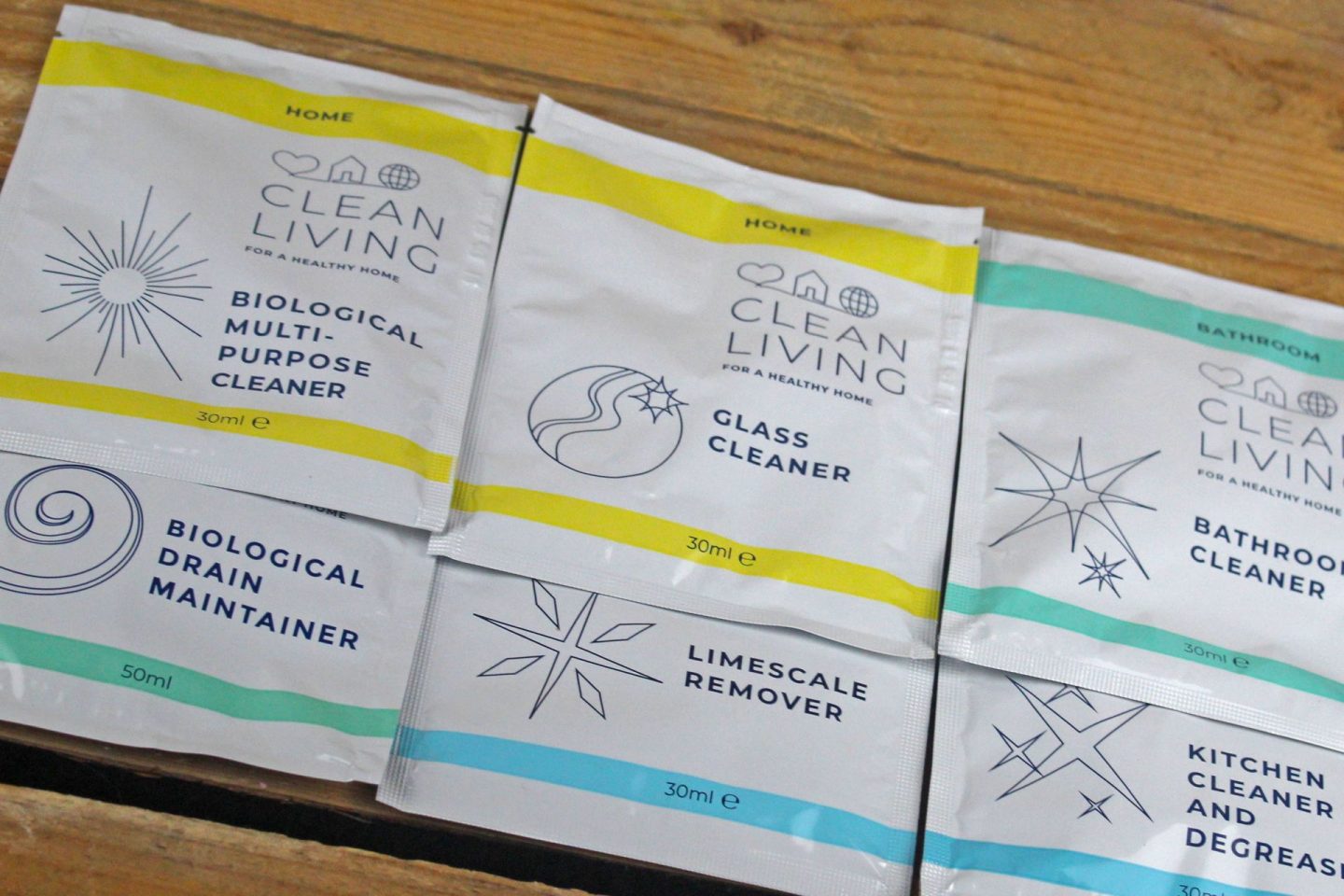 If you are interested in Clean Living products, you need to be prepared to pay out a small amount up front to get yourself set up. Once you have invested in the reusable bottles or the Complete Cleaning Kit, it gets much cheaper.
If you buy a Complete Cleaning Kit, you'll get everything you need for most day-to-day cleaning jobs for £43.99. You can also buy cleaning sets individually. The glass cleaner starter kit, for instance, costs £7.99 and comprises of an aluminium bottle, cleaning cloth and sachet of cleaner.
If you set up a subscription to buy sachets of cleaning products at regular intervals, it gets cheaper still. The kitchen, glass and multi-surface cleaners can all be bought for £1.97 a sachet and can be delivered monthly, every two months or every quarter.
You have to allow for the initial outlay on the Complete Clean Kit or the individual cleaning kits. Aside from that initial outlay, Clean Living really isn't any more expensive that buying branded products from the supermarket.
Performance wise, I found Clean Living's range worked very well. You also have peace of mind, knowing your choice of cleaning products are much easier on the environment.
To find out more about Clean Living or to buy items from the product range, pay a visit to its website.
Giveaway details
As I said at the start of this post, one Dadbloguk reader will win a Clean Living Complete Cleaning Kit. Simply enter via the Gleam below. All you need to do is leave a comment on this post explaining why you like the sound of Clean Living. You also have an option to tweet about the giveaway to get an extra entry.
Please note, the competition ends at 1159hrs on 27 October, 2020. Entrants must be at least 18 years of age. Winner will be notified via email and must respond within 72 hours or another winner will be selected.
Interested in this blog post? Well have a read of these...