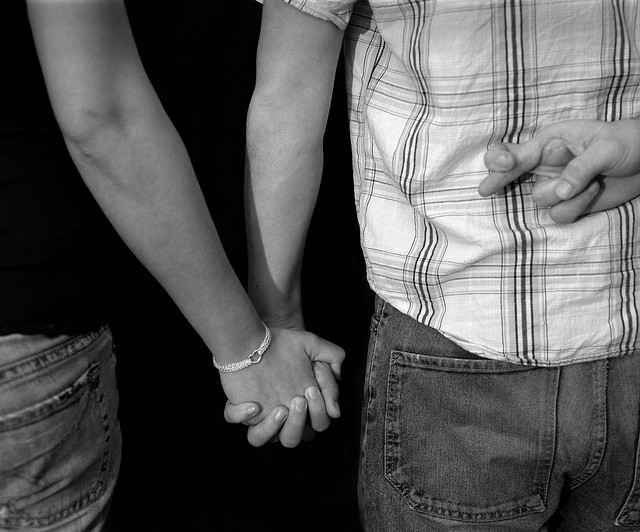 There has been a lot of discussion about friendships and relationships in this household over the past week or so. Toddler Adams has reached an age where she's started to make friends whereas Helen, who is six, has been presented with a few different issues that have necessitated "having a chat with dad" (or indeed "mum and dad" when Mrs Adams has been around).
A whole variety of circumstances have been up for discussion. For starters, there have been a couple of friendship issues that we've had to deal with.
It's mostly been playground stuff, the type of thing any six year old would experience. Although unpleasant, it is also the kind of thing she has to go through and figure out for herself. Even so, we've had to ensure Helen feels supported and has the confidence to tell friends when behaviour upsets her.
We've also had a few chats about adult relationships. We've explained that men and women often have boyfriends or girlfriends before getting married. Following a supplementary question from Helen, this also necessitated an explanation of why peopple usually get married and that married people shouldn't have boyfriends or girlfriends.
We've also talked about same sex marriage. We haven't yet got on to how people in same sex unions have children with each other. It can only be a matter of time before that one comes up.
The grand finale was a discussion about my past when Helen discovered a box of old photographs and started rummaging through them when I wasn't around. In amongst them was a picture of an ex of mine, someone I spent a significant number of years with. Shock horror, I had to admit to having a past!
Of course Helen left me speechless in the way only a six year old could after that particular chat. We discussed daddy's background and I asked her if she had any questions she'd like answering.
"Yes daddy, I do," she said.
"What's that darling?"
"Can I have some chocolate?"
I think such conversations are vital. With one or two exceptions, I don't recall having such chats when I was growing up. I like to think my generation of parents is more open, although I know of mums and dads who clam up and struggle with this stuff, especially when it comes to discussing sex and physical relationships.
I've also read a couple of very interesting blog posts about relationships and friendships. This one from Martyn of the InsideMartynsMind blog details how he's educating his boys to ensure they can avoid abuse. At the other end of the spectrum, this post from the ThirstyDaddy blog is about his teenaged daughter dating. Both are very poignant and highlight the need to equip children with certain skills.
I know I can't stop my children getting hurt. It's part of growing up. What I can do is help my kids identify abusive or inappropriate behaviour. I hope my wife and I can raise children that are strong enough to say "no" and walk away from a friendship or relationship if it isn't positive or has gone sour.
What's your experience? At what age did you have these chats with your kids? Or you one of those people that clams up and just doesn't know how to handle this kind of thing? Please leave a comment below, I'd be fascinated to hear more.
Pic credit; Kate Tegtmeyer. Reproduced under Creative Commons agreement. For more information about Creative Commons, see my disclosure page.
Interested in this blog post? Well have a read of these...