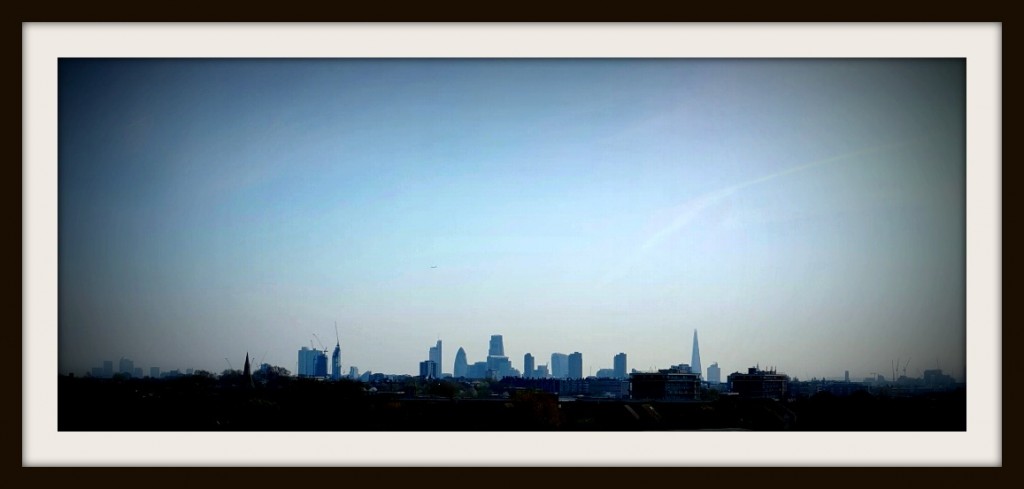 Earlier this week I spent the day in London with Toddler Adams. It was a significant excursion for several reasons, not least because we've been toilet training. This was the first full-scale excursion without nappies and there were no accidents whatsoever!
During the course of the day we ended up eating lunch at a cafe. This cafe was on the third storey of a building in Islington. It had a small balcony outside for smokers.
Although I'm not a smoker, I couldn't resist venturing outside and taking some pictures when I saw the view. If you're familair with London, you'll be able to identify many of the famous structures. If you're not familiar with London, this Wikipedia page may help.
Starting at the left of the picture you have Canary Wharf and both One Canada Square and Eight Canada Square (though you may need to squint!). Moving to the right I think I can see Strata plus the Heron Tower, the Gherkin (30 St Mary's Axe), the Walkie Talkie (20 Fenchurch Street) and at the other side of the River Thames the Shard. Look very closely and you'll even see an aircraft in the sky!
The picture was taken on a Samsung Galaxy S6 mobile phone that I was reviewing. I have had to edit image this image significantly as there was a lot of visual clutter in the forground and the lens could only focus in so closely. It's been cropped and put through the Lomo filter on Picmonkey.com, a filter I've not used before.
I hope you like the final edit. As is my usual habit for this time of the week, I have linked this image to the #MySundayPhoto linky hosted by the Onedad3girls blog. Click on the badge for more.
Interested in this blog post? Well have a read of these...